David Hochoy plans to retire when modern dance company Dance Kaleidoscope wraps up its 50th anniversary season in June, the organization announced Thursday.
Hochoy has served as Dance Kaleidoscope's artistic director since 1991, arriving in Indianapolis with a resume highlighted by work as a noted dancer and faculty member of the Martha Graham School of Contemporary Dance.
Founded in 1972 as an initiative of arts education organization Young Audiences, Dance Kaleidoscope launched its 50th anniversary season last week with performances of "Carmina Burana" at the Indiana Repertory Theatre.
The production was the seventh revival of Hochoy's acclaimed 1995 choreography for "Carmina Burana," a 1937 cantata by German composer Carl Orff. The remainder of DK's 2022-23 season includes "Wonders of the World," Jan. 12-15 at the Schrott Center for the Arts; the Beatles-themed "Magical Decades Tour," March 23-26 at the Indiana Repertory Theatre; and "Scheherazade," June 1-4 at the IRT.
On Jan. 27, Hochoy will lead a workshop on the Graham technique for dancers 14 and older at Dance Kaleidoscope Studios, 1125 E. Brookside Ave. Hochoy earned a role dancing for Graham, considered to be the architect of modern dance, in 1980.
He eventually worked as rehearsal director for Graham's company.
Graham died in April 1991 at age 96. When Hochoy opened his first season at Dance Kaleidoscope that October, he performed a solo dance titled "For Martha."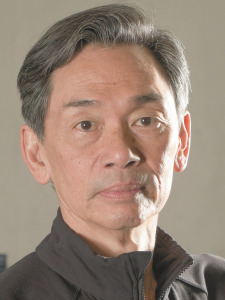 During most of Hochoy's tenure at Dance Kaleidoscope, the company rehearsed on the campus of Butler University. In 2020, DK moved into its own studios at the Circle City Industrial Complex.
"We've fought to be one of the city's jewels of the performing arts," Hochoy told the IBJ in 2021. "It's good to be able to say, 'This place is our home. This is where we belong. This is where all that art gets made.' "
The former factory space is now home to two rehearsal studios, locker rooms, a costume workshop, a physical therapy room and space for production storage.
Hochoy, 71, was born in Trinidad. He studied medicine at McGill University in Montreal and he earned a master's degree in theatre at Penn State University. Hochoy enrolled in his first dance class at Penn State.
He oversees a roster of 14 dancers at Dance Kaleidoscope, the city's longest-running professional modern dance company.
"My time with DK has been rewarding and rich, and I'm very grateful to the Indianapolis community for making it so," Hochoy said in a written statement. "It has been a pleasure to work with Lighting Designer Laura E. Glover who has been with me since 1991. I've enjoyed working with the best and most talented dancers and choreographers, costume designers, stage managers and technical crew, and our many dedicated board and staff members."
Hochoy's retirement date will arrive 32 years after he was hired. He succeeded Cherri Jaffee and Ginger Hall, who split the artistic director duties.
Kim Gutfreund has served as the company's executive director since June 2021.
A national search for a new artistic director will be conducted by Connecticut-based Management Consultants for the Arts.
"David leaves a legacy of excellence and has built a rock solid foundation upon which we can continue to grow," said Jessica Reckamp, co-chair of DK's board of trustees, in a written statement.
Hochoy's announcement arrives at a time when multiple leadership roles are in transition at Indianapolis cultural organizations.
Janet Allen, co-CEO of the Indiana Repertory Theatre, and John Vanausdall, CEO of the Eiteljorg Museum of American Indians and Western Art, each plan to retire in 2023.
In July, the American Pianists Association's board of directors accepted the resignation of Peter Mraz after he had served as the APA's CEO for 11 months.
Please enable JavaScript to view this content.