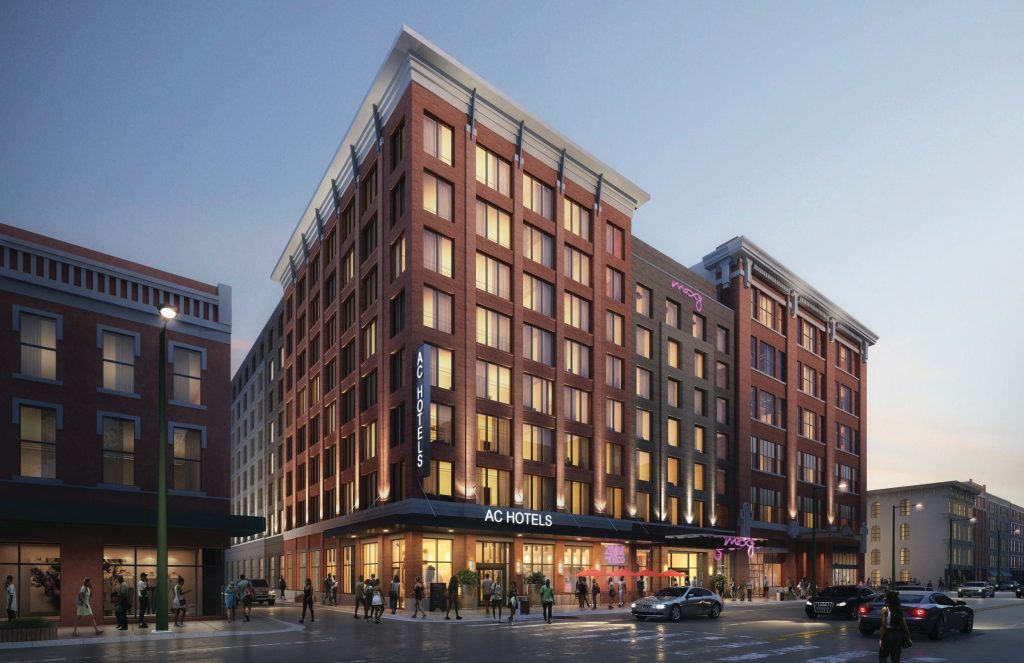 The developer behind a dual-branded hotel along Meridian Street plans to add another floor—and nearly 40 more rooms—to the project, in hopes of making the project more cost-effective.
Locally-based developer REI Real Estate Services LLC  in October received approval from the Indianapolis Historic Preservation Commission to build a 206-room Moxy/AC Hotel at 125 S. Meridian St.
The group will return to the commission Wednesday asking for approval to an altered site plan for the development that includes an eighth floor with 39 rooms.
Mike Wells, president of REI, said the company plans to spend up to $60 million on the project, with plans to start construction in the second quarter.
Original plans called for a 99,000-square-foot, seven-story building with 104 Moxy rooms and 102 AC Hotel rooms. The new plan includes 126 Moxy and 119 AC rooms in a structure of just more than 113,000 square feet.
He said the decision to add another floor to the structure—the only alteration being made to the building's design—is expected to make the project more profitable and the hotel more economical for guests.
"We're adding [rooms] because it will help us reduce the overall cost of each room because of the larger denominator," Wells said. "We think there will be demand for this product, so we feel comfortable doing that."
Each hotel will have its own entrance along Meridian Street, with AC guests entering from near Chesapeake Street to the north, and Moxy guests will have an entrance further south. Each hotel will have its own set of elevators, but they will share an outdoor courtyard.
Both hotels are Marriott brands focused on millennials and business travelers.
Rooms at the Moxy should start about $150 per night and rooms at AC Hotel beginning around $170. Downtown Indianapolis convention hotels typically start at about $200.
In addition to construction of the hotel, REI has already received IHPC approval for signage, facade lighting, outdoor seating and a roof overhang. The commission has jurisdiction over the hotel site because it is in the historic Wholesale District.
The Moxy/AC Hotel project is one of more than one dozen hotels expected to open in Indianapolis in the next few years.
Atlanta-based firm PFVS is the architect on the Moxy/AC Hotel project.
Please enable JavaScript to view this content.