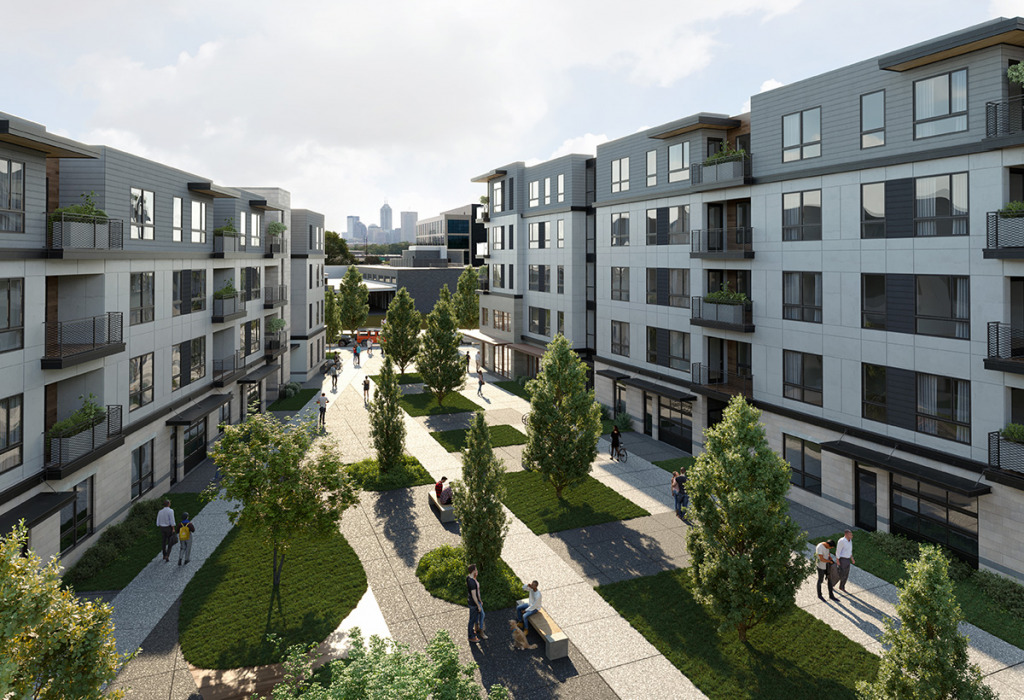 A pair of local firms plan to spend a combined $50 million or more to develop nearly 300 apartments on the 16 Tech campus northwest of downtown Indianapolis.
Browning Investments LLC has partnered with Barrett & Stokely Inc. to build a 279-unit, two-building multifamily project with a parking garage on the northwest end of the 50-acre property.  The complex would consist of a five-story, podium-style building with 201 units and a 291-space parking garage, and a second, four-story L-shaped building containing 78 units.
"There's a full spectrum of activities and uses that are going to go into 16 Tech, and we recognize people to want this to evolve and develop into a true live-work, walkable district," said Adam Chavers, chief development officer for Browning. "It's a very unique environment, and we're super excited to be able to bring the first multifamily project there."
16Tech is a master-planned development designed to attract firms in the biosciences, engineering, manufacturing, medical and tech sectors, as well as to provide space and resources for startups and entrepreneurs. It also includes the AMP, an extensive artisan marketplace and food hall.
The apartment project will include a mix of studios and one- and two-bedroom units, ranging from 490 square feet to 1,243 square feet, with several dozen units expected to have step-out balconies. The average unit size is expected to be about 810 square feet. The overall development is expected to cost $50 million to $55 million.
Browning, which is also developing the first two office buildings of 16 Tech, partnered with Barrett & Stokely following an extensive search, Chavers said. Barrett & Stokely also will manage the property once it is finished.
"We were comfortable that they [understood] the vision and know that this is not just going to be just another downtown option for renting apartments. It has to play into a bigger objective for 16 Tech," Chavers said.
The square, five-story building will be about 324,000 square feet, including the 112,000-square-foot parking garage on the first and second floors. The second building will be about 83,000 square feet. Amenities are expected to include a fitness area, a clubhouse space and bike parking. The development would sit on about 4.3 acres.
The project must receive approval from the city's Regional City Hearing Examiner, which will take up the matter at its October meeting.
The residential development would be directly west of a new 650-space parking garage now under construction. It will also feature an extension of a new trail that's expected to cut through the heart of the campus.
Part of that trail will run between the two buildings and could be used for recreational purposes or for special events. The tentatively-named Maker's Row portion of the trail could also potentially tap into a future rails-to-trails project on the western boundary of 16 Tech.
The apartments are expected to include an affordability component as part of an in-the-works incentive deal with the city: 5%—or 15 units—for individuals making up to 30% of the area's median income, with the rest at market rate.
"I think there's a real opportunity with this. It's a deep level of affordability that hasn't been done before," Chavers said.
The city recently implemented more stringent affordability requirements for multifamily projects vying for tax-increment financing dollars to offset construction costs.
Bob Coy, CEO of 16 Tech, told IBJ the inclusion of lower-rent units is integral to the success of the campus—particularly as more people come to work on the campus. By 2030, that figure is expected to be upward of 3,000.
He noted that not every person working there will have a high-paying job, with up to one-third expected to have entry-level positions or to work in fields that don't have high wages. The apartments will also not be restricted to those working at 16 Tech.
"These apartments are an important piece to the development—everything's mutually reinforcing," he said. "When people start to live here and are here 24 hours a day, then that makes it more likely the artisan marketplace can be successful."
Groundbreaking is tentatively set for early 2022. Indianapolis-based Studio M Architecture is the design firm on the project.
Please enable JavaScript to view this content.