Two developers on Friday announced designs for a $35 million project that is expected to bring 36 luxury condominiums to Fishers' Nickel Plate Cultural District.
Indianapolis-based Alboher Development Co. and Carmel-based Birkla Investment Group LLC plan to build a five-story, mixed-use building called The Rev at the intersection of East 116th Street and Municipal Drive.
The Rev would include 36 condominiums ranging from $600,000 to $1 million, 23,000 square feet of commercial and office space, and a parking garage.
"The Rev development provides us with a unique opportunity to diversify the housing market in Fishers," Mayor Scott Fadness said in written remarks. "These condos will offer residents all the benefits of downtown living, but also an opportunity to build equity during a time when real estate options are limited."
Birkla Investment Group previously developed the Rev at Proscenium in Carmel, which opened in 2021 and includes 22 condominiums. The Proscenium is on a seven-acre lot on the northwest corner of South Rangeline Road and West Carmel Drive.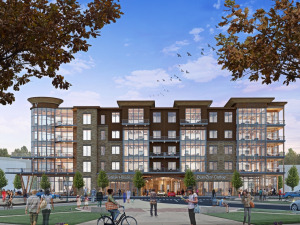 Alboher Development has owned the property at 8603 E. 116th St. since 1986. The company's president, Mike Alboher, said in a news release from the city that he previously sorted through "countless proposals" for the property before Birka Investment Group Owner Tony Birkla pitched the Rev project.
"We believe this development perfectly fits the advancing evolution of our downtown area, filling both housing and retail needs," Alboher said.
The land currently has a two-story building that houses Thai Sushi House, and a one-story strip center that includes Source Yoga Center, North Star Vitamins & Health Center, Burn Boot Camp and People Factor LLC. A Fishers spokesperson said Alboher Development is working with business owners on their next steps.
The Fishers City Council will vote on the project agreement and incentives at its Aug. 15 meeting at the Launch Fishers co-working space.
The Rev building, which will feature a wood and glass façade, is the latest major development in the Nickel Plate District.
The city will begin demolition of Fishers City Hall in October to make way for construction of the $22.8 million Arts & Municipal Complex. The new complex is expected to open in spring 2024.
Fishers officials in March released design renderings for the Hotel Nickel Plate, a five-story, 116-unit hotel under Hilton's high-end Tapestry Collection brand.
The hotel is part of the larger $157 million mixed-use project in the Nickel Plate Cultural District, which includes the six-story, 180,000-square-foot First Internet Bank headquarters, a 237-unit multifamily development called Nickel Plate Station and the rehabilitation of two older buildings in downtown Fishers.
Please enable JavaScript to view this content.