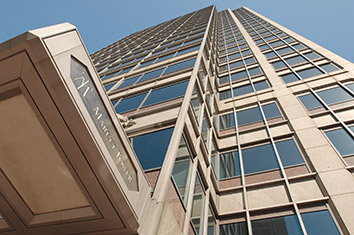 An Oklahoma City real estate firm is poised to enter the Indianapolis market by purchasing one of downtown's tallest towers.
Square Deal Capital has put under contract the 30-story Market Tower that overlooks Monument Circle from 10 W. Market St. and should close the deal within the next few weeks, several local office brokers said.
Boasting 517,500 square feet of rentable space, Market Tower is downtown's sixth-largest office complex, according to IBJ statistics.
"It's a Class A location, and it will compete extremely well with other Class A buildings in the market," said Bill Ehret, managing director of the local Avison Young office.
The building is owned by Zeller Realty Group. The Chicago-based firm bought it out of foreclosure in October 2014 for $52.7 million, after former owner and local developer HDG Mansur defaulted on loans totaling $60 million.
In the three years since, Zeller has spent more than $7 million on renovations, including updating the building's three-story lobby by swapping out the dated granite with a brighter material and replacing the fountain with a multilevel video screen.
Zeller also moved the fitness center to the second floor from the third and created both quiet and recreational common space on the second floor. In addition, it embarked on aggressive buildouts that transformed outdated floors into modern workspaces.
The efforts are paying off. Occupancy has jumped from 58 percent to 80 percent, with new tenants that include software firms Mimir Corp., Emarsys North America Inc., DemandJump and Return Path Inc.
The improvements are allowing Zeller to command a rent rate of $28 per square feet, tops in the downtown market. The amount is even higher than the $25-per-square-foot rate that Salesforce Tower commands, according to the latest IBJ statistics, which were current as of Aug. 25.
Tristan Glover, Zeller's senior vice president of leasing, declined to comment on the deal. Representatives of Square Deal did not return phone calls seeking comment on the acquisition.
But Glover told IBJ in late June, when the tower hit the market, that Zeller's "business plan was to make those investments and transition the building. We accomplished that."
Zeller took the building to market in a bid process that eschews an asking price—a common way to shop large office buildings. It's at least one of three downtown office buildings that are either for sale or in the process of being purchased.
IBJ reported on Saturday that locally based Keystone Group is buying the AT&T building at 220 N. Meridian St., and on Monday that the owner of the Pan Am Plaza building at 201 S. Capital Ave. has it listed for sale.  
Opening in 1988, Market Tower was built by Indianapolis developer Harold Garrison of HDG Mansur and former business partner Lee Alig during their time at Mansur Real Estate Services.
HDG Mansur and an unidentified investor paid $80 million for the building in 2004, buying it from Washington, D.C.-based The Carlyle Group and locally based Mansur Real Estate Services.
Founded in 2013, Square Deal is a private family fund that invests in real estate across the country.
Its roots date to the 1920s, when Gene McLaughlin founded Square Deal Grocery in Austin, Minnesota. In 1973, Dave McLaughlin, Gene's son, and a partner co-founded Advance Meat Co., a manufacturer of hamburger patties and breaded beef products based in Enid, Oklahoma.
Advance grew into one of the largest food-production companies in the country, before the families in 2010 sold a majority interest. The McLaughlin family took funds from the sale to create Square Deal Capital, naming the firm after the grocery store.
Please enable JavaScript to view this content.