When the pandemic quashed the 50th annual Broad Ripple Art Fair in May, art lovers lost a springtime tradition.
But artists and the show's sponsor lost even more.
The artists lost a valuable avenue to sell their wares, and the Indianapolis Art Center, which counts the show as its major fundraiser, lost a critical revenue stream.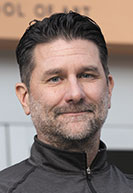 So when the art center hired Mark Williams this summer as its executive director, he wasted little time using his connections in the local technology sector to take action.
Williams had spent the previous 24 years running a local marketing firm—Imagenation—that worked with a number of tech companies, including Gazelle TechVentures and its portfolio companies. That experience led him to decide the art center needed to build and operate a digital marketplace for artists to sell their art, including paintings and drawings as well as works in clay, glass and textiles.
After all, the Broad Ripple Art Fair wasn't the only pandemic casualty. Nearly all art shows this year were canceled, which arts officials said had a devastating financial impact on artists.
Surveys by the Arts Council of Indianapolis found that almost all central Indiana independent artists and arts and culture workers have suffered severe income losses. And the council found that local arts- and culture-related not-for-profits have suffered $8.6 million in financial losses per month since March.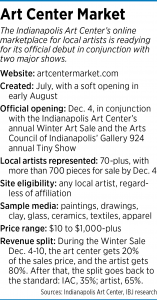 The Indianapolis Art Center lost $350,000, about 10% of its annual income, from the cancellation of the Broad Ripple Art Fair alone.
So, to boost its bottom line, and that of artists as well, the center created artcentermarket.com—a marketplace it says is distinct from the other online art markets in the region because it's open to all artists, regardless of their affiliation with the center or where their wares are displayed.
And Williams said he's committed to operating with lower sales commissions than other marketplaces and galleries.
During the site's official launch Dec. 4-10, the center will keep 20% of the price of art sold on the site. Artists receive the remaining 80%.
After Dec. 10, the split will reflect what exists in the center's shop—35% to the IAC and 65% to the artist.
Williams said that 35% commission is still below the cut of most art shows and galleries.
"I have a lot of friends who are artists, and they're struggling," said Williams, who has been a board member of several local arts organizations for more than 12 years. "The hope is, this will help hundreds of artists.
"The decision to lower the commission for our December opening," he added, "was a unilateral decision by me. If we can lift all of these boats at the same time, we all benefit."
Without such marketplaces during the pandemic, Williams said, artists are forced to try to sell their pieces on sites like eBay and Etsy, "where it's easy to get lost."
Pent-up demand
In July, Williams hired Ona Sircy—a website development veteran who worked for nearly 20 years at Williams' marketing firm and was a former adjunct professor at the Herron School of Art and Design—to develop Art Center Market.
The site quietly went up in August. "The site was developed in two weeks, and then we spent two weeks trying to break it," Williams said.
It started listing items in mid-September, with the first sale made on Sept. 25.
The Art Center Market was quickly embraced by local artists hungry for a way to sell their wares during the pandemic, Williams said.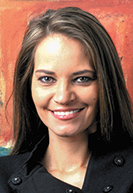 "The response from artists has been tremendous," he said.
Shannon Linker, vice president of artist services and engagement for the Arts Council of Indianapolis, wasn't surprised Williams got the marketplace up quickly.
"Mark has done a lot of [marketing] work for the Arts Council over the years, and whenever we needed something done fast, he delivered," Linker said. "He felt being new to the position [at the Indianapolis Art Center], he really needed to come in and make some big changes.
"Mark is ambitious and saw a need," she added. "He listened to artists and paid attention to what they needed. This is an example of what new energy can do."
This fall, more than 30 artists had more than 100 pieces of art for sale on the site—and many sold, for as little as $10, up to more than $1,000. On Dec. 4, the site expects to have at least 700 pieces created by 70 local artists.
Many will be part of two major area winter art events—the Indianapolis Art Center's Winter Art Sale and the Arts Council of Indianapolis' Tiny Show—that are running through Dec. 10.
The Arts Council was eager to have the Tiny Show—in which artists sell pieces that measure no larger than 6 inches tall or wide—join the Art Center Market's opening lineup.
"People want to buy art. If you are an art buyer, it's a bit of an addiction," Linker said. "People are a little obsessed about their tiny art. This marketplace allows those people to have a little normalcy in their holiday shopping. This keeps it local and gives our local artists a bit of hope."
Many artists count on sales from local art shows and fairs for 50% to 75% of their annual income.
"Emerging artists are really reliant on these shows," Linker said. "Many artists are trying to use social media or other digital means to spur sales, but it's difficult to do on your own.
"What's really important about the Indianapolis Arts Center is, they've opened up their marketplace to all artists. … It's critical for the entry of new artists and assuring a variety of works."
Sold!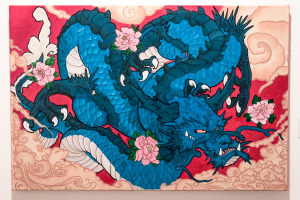 Blayne McCrary, a local artist who draws and paints, calls the marketplace "an awesome opportunity during a very difficult time for many artists."
McCrary, a 28-year-old Indianapolis native, became aware of the marketplace while working on a Black Lives Matter mural for the Art Center. He recently sold a painting of a dragon titled Harmony on the digital marketplace for $425.
"It really shocked me how quickly it sold," McCrary said. "As soon as the marketplace went up, it said 'out of stock' under the display of my painting. I thought, 'Oh my gosh, my piece sold already.'"
And he said the digital marketplace "provides an even wider audience than an artist might have access to at a physical show or gallery."
And McCrary thinks the Art Center Market provides some unique advantages for art lovers.
"The marketplace is like an online exhibition as well as a marketplace," he said. "It's a really cool place to jump from one piece of art and one form of art to the next and keep your mind flowing."
The Art Center Market will get a big boost, Williams said, from the Tiny Show and Winter Art Sale.
The Tiny Show features paintings, sculptures, drawings and textiles created by more than 100 artists and priced from $10 to $500. It draws new and seasoned art collectors, Linker said.
The Winter Art Sale is one of the Art Center's biggest annual events and is popular for art lovers and people looking for holiday gifts, he said.
'Amazon for art'
The digital marketplace will continue long after the holiday season and even after the pandemic wanes, Williams said.
"This site will not replace art shows, but it will be an important extension of them," he said. "People are most moved by art when they see it in person, and I hope that will never go away.
"But increasingly, people have become more comfortable buying art online, and that's only going to grow. The digital component is going to be with us for a very long time. So, we built an Amazon for art."
The marketplace will help the Indianapolis Arts Center play a more prominent role in the Indianapolis arts community, Williams said. "Ultimately, this will be used as a platform to market our regional artists more broadly, even nationally."
And as the site grows, it could be rebranded to recognize not only its local flavor but also national reach.
"We think this marketplace will uplift our entire arts community here," Williams said.
Through the marketplace, artists can set up their own storefront and showcase their art, complete with descriptions and dimensions, along with information about the artist.
Artists also can tag their art for inclusion in various collections and shows on the site. "Artists can essentially be in multiple storefronts," Williams said.
They can set up functions for their followers and on-site reviews as well as payment options, shipment of art and even coupons.
When a piece of art is sold, the money goes straight to the artist's bank account.
"We let artists own the relationship with the buyer," Williams said. "That was an important consideration in developing this site. We just create the vehicle that streamlines the transaction."•
Please enable JavaScript to view this content.