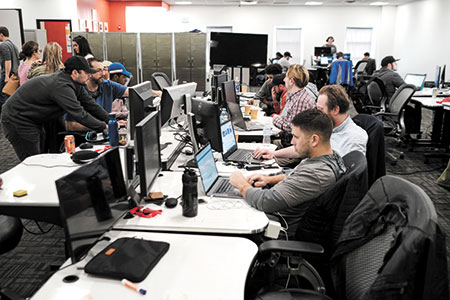 Eleven Fifty Academy, a growing Indianapolis-based computer coding school, received a $5 million grant from Lilly Endowment this week to fund a partnership aimed at increasing access to technology training.
Through its initiative, Enhancing Opportunity in Indianapolis, Lilly Endowment awarded grants to 28 organizations totaling $93.6 million to fund collaborative strategies and programs focused on helping Indianapolis residents living in or near poverty make progress toward achieving lasting economic self-sufficiency.
There were 220 applications submitted for the grants.
Eleven Fifty was among the five biggest grant winners announced Wednesday.
Eleven Fifty Academy is partnering with Martin University, Goodwill Industries' Excel Program, Eastern Star Church and Innopower on the project. They are among many organizations that will collaborate to implement strategies designed to improve the livelihoods of individuals and families facing complex and varied challenges associated with poverty and financial insecurity, Eleven Fifty officials said.
The grant will be used to build out a tech hub at Martin University and implement Eleven Fifty programming virtually and in-person at the university as well as expand access to tech in the 46218 zip code through digital literacy at Eastern Star and Rooted School Indianapolis.
"Transformational impact is the modus operandi for Eleven Fifty Academy and this opportunity with Lilly Endowment is the perfect accelerant to help leverage tech as an equalizer for our community's most vulnerable populations," said Scott Jones, Eleven Fifty president and founder. "We are grateful for Lilly Endowment for its support to positively impact individuals, and the Indianapolis community."
Eleven Fifty is dedicated to training individuals from diverse backgrounds, reducing barriers to entry for technology careers in web development, cybersecurity, application development, and user experience and user interface design, Jones said. The U.S. Bureau of Labor Statistics forecasts a job growth rate of 22% for software developers between 2019 and 2029, compared with 4% for other occupations.
Eleven Fifty Academy is working with organizations across Indiana, including Vincennes University, Elevate Ventures and Wabash Heartland Innovation Network, to bring their accelerated immersion bootcamps to communities across the state to boost the tech workforce. These cities include Fort Wayne, Evansville, and Gary.
Please enable JavaScript to view this content.