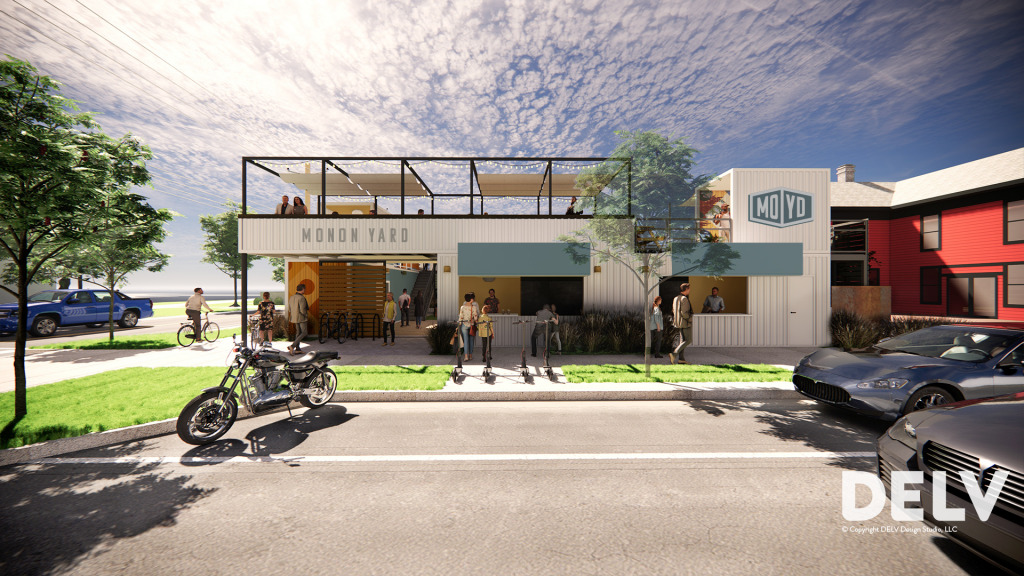 A local entrepreneur plans to redevelop the former Broad Ripple Steakhouse restaurant site and an adjacent property into a multi-tenant dining concept and outdoor recreation area known as Monon Yard.
The development at 927 and 929 Westfield Boulevard, adjacent to the Monon Trail, would include numerous shipping containers and a long-vacant bungalow. The containers would feature a variety of food concepts and seating areas, while the bungalow would contain a restaurant or tap house.
The containers would replace the former steakhouse building and wrap the property in an L-shape, with a large courtyard space with artificial turf on the interior that could be used for recreation and adult sports leagues such as bocce, cornhole and curling.
John Pantzer, owner and CEO of CCA Sports, an Indianapolis-based adult recreational sports league management company, is developing Monon Yard with an undisclosed partner. He presented the project during a meeting of the Broad Ripple Village Association's land use committee on Tuesday night.
The steakhouse building dates to the early 1900s and at various times was a boarding house and hotel. Broad Ripple Steakhouse spent more than two decades there, starting in the late 1980s. The building's last occupant, Ripple Inn, replaced the steakhouse in 2010 and closed two years later.
"We think it can activate a corner that's been dark for several years," Pantzer told IBJ. "It's been kind of an eyesore, along with being an area that needs some attention."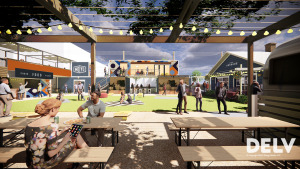 Pantzer purchased the property in January 2016 for $790,000 as part of an initial attempt to redevelop it with two traditional-built structures: a restaurant and an office building. But he later withdrew those plans due to overruns that upped the development cost to nearly $10 million.
"We're looking for a lower impact investment that can monetize and utilize the site," he said. "We're pretty positive on the concept overall and think the city will be positive on it as long as BRVA supports it."
He said a price tag for the new development has not yet been finalized, but said it's certain to be lower than that of the previous design.
Most of the feedback offered by the committee was positive, although some members indicated they'd like to see more street-side activation along Winthrop Avenue.
Pantzer said that would be taken under consideration, but indicated the design was meant to block noise at the property from polluting nearby apartment buildings and to offer passersby a look at the site without disrupting the curb cut. There is also an enclosed patio that faces the Monon on the east side of the property.
Shipping container-focused commercial development is a relatively foreign concept in Indianapolis. However, some single-family homes have been constructed locally using shipping containers or modular steel designs, and a new apartment project called the Pando Aspen Grove also is under construction using the method.
Indianapolis-based Integrated Modular Construction, a firm that specializes in build-to-suit projects using shipping containers and modular steel, has been consulted on the project, but Pantzer said the firm has not yet been formally contracted for construction.
Monon Yard would utilize about seven shipping containers, including two 20-foot containers and five 40-foot containers. Some containers will be stacked to create a second level, offering a mix of open air and closed-in dining and lounge space. The project also could be used for outdoor movie showings and live music performances.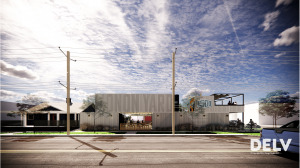 The bungalow home will be used for a grilled gourmet sausage eatery, the developer said. It will be able to seat at least 25 people inside, and will feature a deck with a pergola and outdoor seating.
The project will not have dedicated parking areas, instead relying on street parking and a mix of pedestrian and bicycle traffic from the Monon Trail and elsewhere in Broad Ripple.
The land use committee is expected to offer its recommendation on the project to the city. The city is likely to take up the matter early next year, as Pantzer looks for variances tied to parking space requirements. The property is already zoned to allow the proposed use.
A construction timeline has not yet been finalized.
Indianapolis firm Delv Design is the architecture firm on the project.
Please enable JavaScript to view this content.