Paul Dytmire and Andy Klotz are learning it requires patience and money to launch a business that helps cornhole players answer an often-heard question: "What's the score?"
The first-time entrepreneurs, who have day jobs at Muncie Community Schools, co-founded Revelry Games to sell a portable electronic scoreboard Dytmire invented a decade ago. They predict the product, billed as ScoreBox21, will connect with players at all levels of the cornhole pastime.
Cornhole, based on tossing bags (filled with corn in the early days of the game) at a hole in a slanted board, is played in backyards, at tailgate parties, in amateur leagues and in professional tournaments.
The journey to build a business with ScoreBox21 began when Dytmire noticed recurring questions among cornhole players—"Hey, what's the score?" and "Who's winning?"—during competitions he organized at area bars and restaurants.
"I kept thinking it would be cool to have something lit up in LED that everyone could see while we're playing," he said.
The director of facilities for Muncie schools had the mechanical skills to build a prototype of the scoreboard, which is a tower featuring two columns of 21 lights that correspond with the number of points needed to win a cornhole game.
Dytmire took his scoreboard to trade shows, where people responded positively to the concept. The scoreboard won a gold medal in the toy and games division at the 2013 Invention & New Product Exposition in Pittsburgh.
But the eventual destination for the portable electronic scoreboard was the back of a closet in Dytmire's home.
"It just came back to the same thing everything always comes back to: I didn't have the money to do anything else with it," he said.
The invention came up in conversation, however, when Dytmire met Klotz two summers ago. Klotz, who had worked in marketing for the Indiana State Fairgrounds and WFYI Public Media, was newly hired as chief communications officer for Muncie schools.
An instant fan of the concept, Klotz told Dytmire to reach out if he wanted help in spreading the word about ScoreBox21. They weren't yet full-fledged business partners.
"I always knew, based on what [Dytmire] told me, that at some point there's going to be a decision made whether or not you're going to actually dig into your pocket and try and make something work," Klotz said. "I wasn't willing to do that."
Encouragement arrived when Dytmire and Klotz entered the scoreboard in the 2020 Big Idea Pitch contest organized by Muncie's Innovation Connector. ScoreBox21 tied for first place with a 6-year-old boy's goggles designed to keep shampoo out of a youngster's eyes during bath time.
"I realized, 'Oh, people really can see this idea working and there's a lot of genuine enthusiasm for this,'" Klotz said.
Dytmire and Klotz established Revelry Games as an LLC in February 2021.
A surge in entrepreneurship accompanied the pandemic, according to SCORE Indianapolis business mentor Keith Pitzele.
"We increased our hours," Pitzele said of the local SCORE chapter, where 90% of clients are startup owners. "We added sessions. We were really stretched."
A chance to "hit the reset button" appealed to people during lockdown, Pitzele said. Klotz said he's had "an itch" to start a business, but day-to-day life took precedence.
"I have a curiosity about how I would run things totally under my control, as much as you can control," he said.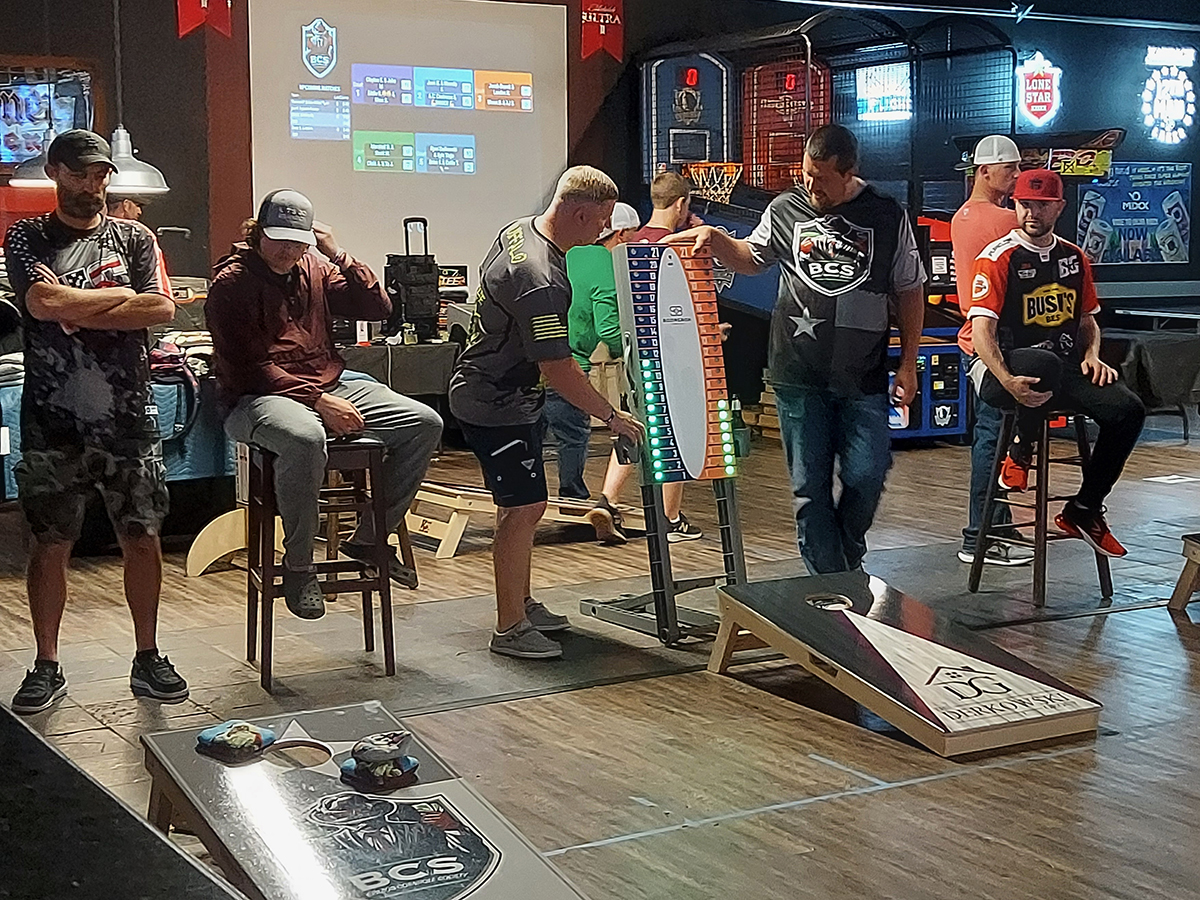 Physical product
Building a plastic mold for the cornhole scoreboard proved to be a challenge, Klotz said.
For starters, he and Dytmire struggled to communicate with an overseas technician who worked on the prototype.
"Every time you thought you'd have the next step, you didn't get it the way you wanted it," he said. "Or he added something you never discussed and approved."
Klotz said the pandemic played a role in delayed shipment of parts and a shortage of people being available to work on the project.
"Even though it's a very simple functioning product, there's a lot of design in here to make it portable and keep it durable," he said.
Bringing ScoreBox21 to market is a $190,000 task, Dytmire and Klotz said.
They're presently running a Kickstarter campaign to raise money for production. At the time this story went to print, fundraising had just exceeded the initial goal of $20,000. The campaign is accepting donations through Aug. 7.
Early adopters have a chance to receive a $69 discount on ScoreBox21's retail price of $179. The first 100 backers to pledge $110 will receive the scoreboard.
Business mentor Pitzele said crowdfunding is a good option for entrepreneurs, but it's not the only option.
Pitzele advises clients to consider U.S. Small Business Administration microloans that are available for up to $50,000.
He said the small loans are an alternative to being turned down for help at banks.
"The problem new businesses have is that banks don't like to extend money to startups," Pitzele said.
Supply and demand
Before spending money on an idea, Pitzele said, it's important to know if there's a public demand.
"The only way to test the market is to survey people and find out what they think," he said.
Pitzele said he's a fan of a Butler University course taught by fellow SCORE mentor Jeff Durham.
Entrepreneurship and innovation instructor Durham teaches a business canvas plan highlighted by these questions:
◗ Would you use this product?
◗ How much would you be willing to pay for this product?
◗ How far would you travel for the product?
In the case of ScoreBox21, Klotz said Dytmire has experienced years of in-person feedback.
"Everywhere we take this thing, people don't ask the price. They just say, 'Where can I buy it?'" Klotz said.
ScoreBox21 picked up a pair of cornhole industry insiders, thanks to an unexpected work connection. Dytmire said he mentioned the scoreboard to one of his supervisors at maintenance corporation SSC Service Solutions.
The supervisor told Dytmire that an SSC employee in College Station, Texas, moonlights as a professional cornhole player.
"He said, 'You need to talk to AJ Sims. He plays cornhole on ESPN,'" Dytmire said.
Sims and his teammate, Josh Groce, became design consultants for ScoreBox21.
"When [Sims] told me it was one of the sharpest things in cornhole he'd seen in a long time, I knew we were going to be OK," Dytmire said.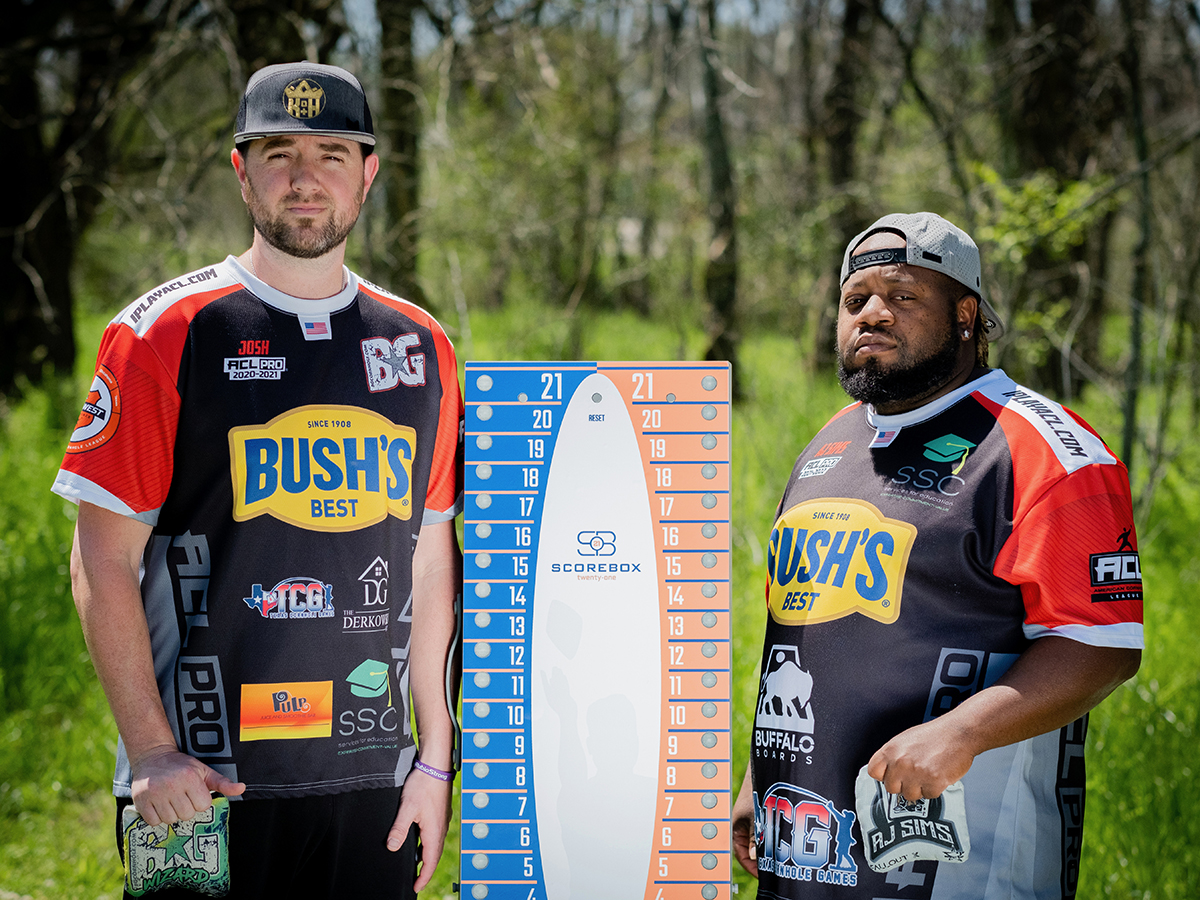 A growing game
Sims and Groce are two of 256 professional players in the American Cornhole League. In 2019, they won the ACL world doubles championship.
This year's ACL world championships are scheduled for July 29 to Aug. 7 in Rock Hill, South Carolina.
Two additional cornhole groups are the American Cornhole Association and the American Cornhole Organization.
"Millions of people are playing cornhole," Klotz said. "Millions of people are putting a lot of money into their boards and their backyards and their setups."
Scott Melby, who started playing cornhole in 1998, said he's one of the longest-serving officials in the American Cornhole Organization.
"Scoreboards are important," Melby said. "People tend to throw some adult beverages with their cornhole games. That's when you really need a scoreboard."
Melby organizes tournaments for his company, Indy Custom Cornhole.
He said an app for mobile devices is gaining popularity as a scorekeeping tool at tournaments. Scoreholio, made by a company in Santa Clarita, California, has a feature that submits a game's final score to the tournament's online bracket.
Melby said that doesn't rule out an audience for ScoreBox21.
"Competitive players who play all the time make up a small percentage of cornhole players," he said. "At my house? I think [ScoreBox21] would be kind of cool."
On July 30, the ScoreBox21 team will display scoreboard prototypes at Carmel's Brews on the Boulevard event.
Although a cornhole scoreboard isn't a conventional product, it's been met by open minds, Klotz said.
"We've had a lot more positive reaction and encouragement," he said, "than anybody's who's said, 'Really? You think that's going to sell?'"•
Please enable JavaScript to view this content.