A group of high-profile filmmakers want to create visual effects their way, so they're launching a company in Indianapolis to make it happen.
Directors Josh Boone, known for 2014 hit "The Fault in Our Stars," and Josh Trank, whose credits include the 2020 movie "Capone," are two of 11 partners in new digital filmmaking company Helix Pictures Inc.
Three of those partners are from Indianapolis, including Danny Chan, a graduate of Indiana University and North Central High School. He said a career involving films wasn't a realistic goal during his teenage years in the 1990s.
"If you would have told me growing up in Indianapolis I could work on movies, I would have said, 'You're telling me a cruel lie,'" he said.
Today, Chan cites the local tech environment, including a booming software-as-a-service sector, and talent pools at area universities as reasons for establishing Helix Pictures here.
Visual effects, or VFX, include computer-generated imagery, motion capture animation and green or blue screen video compositing. Chan said the Helix partners hope to hire as many as 35 staff members, including 15-20 computer artists.
"I bet we have a lot of people in town who understand rendering and how to make that work," Chan said. "I don't think there are a lot of movie producers in town, but that's OK. We have the people we need on that side."
The company's roster of producers includes Steve Ponce ("Bill & Ted Face the Music"), Alastair Burlingham ("Moonfall") and Gary Raskin ("Hot Seat").
Chan said the Helix partners finance and produce about 50 films per year.
"It's a pretty prolific group, and I always thought that it made sense for us to have a VFX company that we're all partnered in," he said.
In addition to Chan, the two partners who live in Indianapolis are Luke Bosso, managing director of government advisory for Katz, Sapper & Miller, and Roger Reeves, vice president of corporate affairs and business development for LifeOmic Inc.
This trio is scouting a site for Helix Pictures headquarters, with Chan mentioning downtown or Broad Ripple as possible spots. While the size of the building is to be determined, a substantial amount of processing power will be housed there.
It's also possible actors will visit Indianapolis to work at Helix, depending on the film project.
"If we become a pretty big hub for this, I have no doubt there's opportunities for things like that," Chan said.
Helix will apply its first effects work to two films scheduled to be made this year.
Up first is "Samuel Archer," a metaphysical drama directed by Boone with a $10 million to $12 million budget. The movie will be made in Virginia, and the team of producers includes Boone, Chan and Helix partner Darius Shahmir. The second film will be directed by Trank.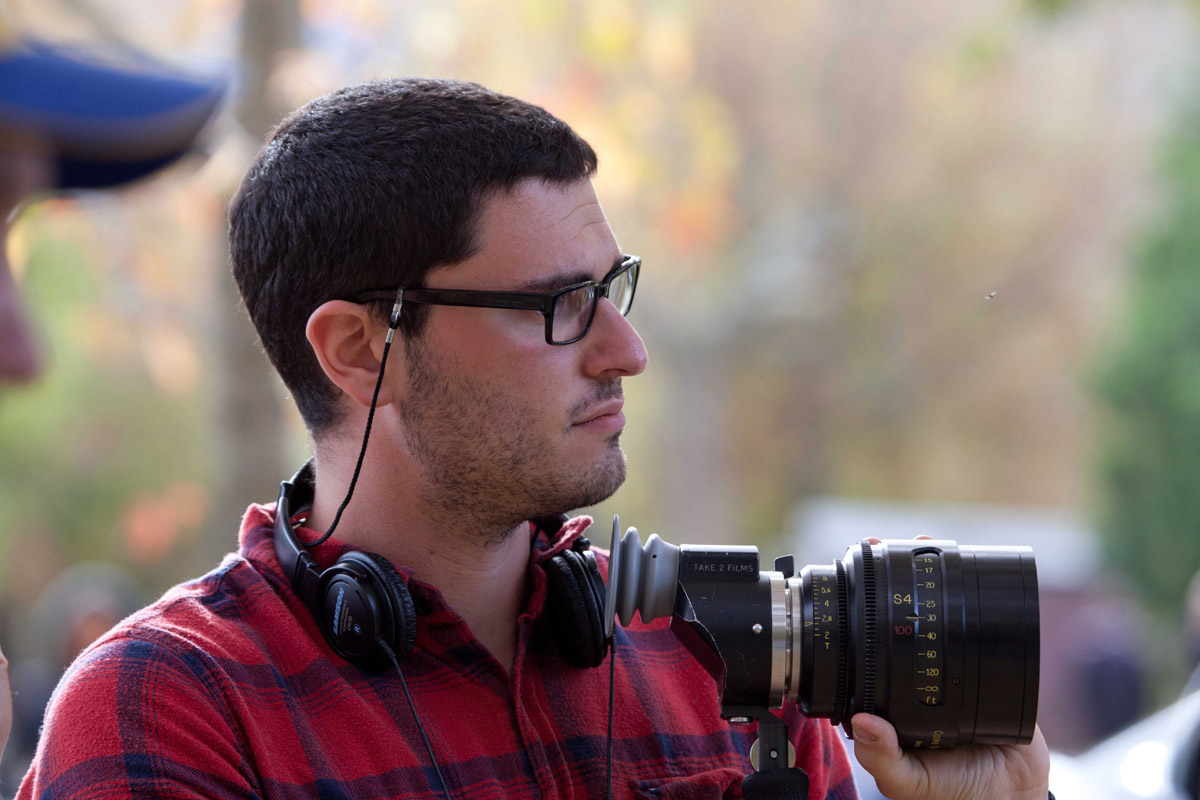 The local advocate
The biggest film Chan has worked on to date will be released Sept. 9.
He's an executive producer of "Barbarian," a horror film starring Bill Skarsgard that's been described as the ultimate vacation rental nightmare.
The companies behind "Barbarian" include major players 20th Century Studios and New Regency Productions, as well as Chan's Almost Never Films and Hammerstone Studios—co-founded by Helix Pictures partner Steve Ponce.
Chan, who graduated from North Central in 1996, is managing director of Iconic Private Equity Partners, a Hong Kong-based firm that specializes in investing in companies looking to do business in Asia and the United States.
He lived in Hong Kong until his return to Indiana in 2014.
"I live here, so I'm biased," Chan said of placing Helix in his home state. "I had to convince everyone else it's a great spot. I think everyone believes me so far."
Simon Hansen, the acknowledged VFX expert among the 11 partners, grew up in South Africa. Hansen produced "Alive in Joburg," a 2005 short film that inspired "District 9"—a 2009 sci-fi film that sold $210 million in tickets worldwide.
"I say, 'Wherever these guys want to go,'" Hansen said. "If they want to be on Mars, I'm going to Mars."
Hansen said filmmakers are embracing the idea of "digital backlots," with CGI, blue screen and motion capture effects giving way to LED walls that display scenery behind actors.
"The sheer volume of content that is generated digitally is exponentially increasing every single day," he said.
Hansen credits George Lucas as a pioneer in digital filmmaking. In 1995, the "Star Wars" creator told The New York Times, "The idea is not creating the perfect environment. It's creating the illusion of one."
Helix Pictures will strive to be on the cutting edge, Hansen said.
"Every kind of digital filmmaking innovation would be considered in any given project," he said.
Hansen also emphasized the importance of "story level" visual effects, in contrast to effects arriving as add-ons.
"This is a collaboration between directors, producers, writers and then the technology inside that, before the script is even complete in some cases," Hansen said.
Craig Mince, artistic director of Indy Film Fest, described Helix Pictures as a way to hold Indiana's brain drain at bay. Consider, Mince said, people who study film and video production at Purdue University, cinema and media at Indiana University, and media at Ball State.
"They tend to leave the state to do production work elsewhere, because there's just none of it here," Mince said. "Something like this would maintain and recruit those talents to Indianapolis."
Mince sees the possibility of additional digital filmmaking companies setting up shop here.
"Once one comes in, more and more would give Indianapolis a keen eye," he said.
Morgan Snyder, director of public relations and film at Visit Indy, said Helix will be a welcomed addition to the city's entertainment infrastructure.
"We need more people playing in the creative space," said Snyder, who manages the permit process for film and TV productions visiting Indianapolis. "It's another avenue toward Film Indy being able to entice national and regional productions to the city. And it provides more job opportunities to the creatives who call Indianapolis home."
Hollywood, USA
On July 1, Indiana again became a state where filmmakers can claim a tax credit, following a decade without any incentives. The new Film and Media Tax Credit—which was included in legislation that expanded the Indiana Economic Development Corp. incentives toolbox—offers an income tax credit up to 30% of a project's production costs.
It's merely a coincidence, however, that Helix Pictures is launching at the same time in Indiana. Chan said his local roots and the area's rising tech reputation influenced the decision.
The movies Helix works on won't necessarily be filmed in Indiana. Chan said directors select locations based on what's suitable for their stories.
"Then the producers work with the directors to figure out what makes sense financially," Chan said.
During the era when Indiana offered no tax credit, Boone made "The Fault in Our Stars" in Pittsburgh—even though novelist John Green wrote the story with Indianapolis as its backdrop.
20th Century Fox saved money during production, and the movie sold more than $300 million in tickets worldwide. (The next adaptation of a Green novel set in Indianapolis, "Turtles All the Way Down," was filmed this spring in Cincinnati.)
The movie industry, meanwhile, has become decentralized to the point that it's reasonable for Indianapolis to be home for a visual effects company.
"I've never made a movie in Los Angeles," Boone said. "I've shot in Vancouver, I've shot in Pittsburgh, I've shot in Wilmington, North Carolina. We like L.A., but we've never made anything there. It's not the place to shoot, but the place to go have meetings."
Origin story
Boone said the Helix team began to take shape when he and production partner Shahmir met Chan. Boone then introduced Chan to "Capone" director Trank and VFX expert Hansen.
Chan brought in fellow film financiers Burlingham and Raskin. Chan met another Helix partner, Nick Manganiello, when they worked together on 2020's "Archenemy," a film that starred Nick's brother, Joe Manganiello.
"We created a community and friendship between a bunch of guys who were looking to do stuff outside of the Hollywood system," Boone said.
In recent years, Trank and Boone made superhero films that weren't profitable at the box office and were marred by controversy during production.
Trank's "Fantastic Four" was released in 2015 after 20th Century Fox took away his authority regarding the movie's final cut. Boone reportedly clashed with 20th Century Fox executives on how 2020's "The New Mutants" should be made.
"Josh [Trank] and I have been friends for many years," Boone said. "We had very similar experiences within the studio system that have led us here to do things in a different way."
By incorporating visual effects early in the storytelling process, Boone said, Helix can be economical and not be susceptible to unexpected cost-cutting.
"Studios usually back you into a corner where you lose things as the budget becomes apparent," Boone said. "We want to do things the opposite way, where we don't lose things. We are transparent, upfront and immovable on the things that we need to make the movie what it needs to be."•
Please enable JavaScript to view this content.