It would be understandable if you mistook Mom Water for a hard seltzer, because stores tend to group the alcoholic drinks together. But non-carbonated Mom Water isn't a bubbly seltzer.
The beverage industry commonly classifies Mom Water as a canned cocktail, but the drink's recipe is less complicated than a mojito or a paloma.
For the record, Mom Water is flavored water infused with vodka. Or to quote the product's Instagram bio: "It's just fruit water … with a lil' vodka."
However you define Mom Water, it's a hit. Launched in Ferdinand, 15 miles south of Jasper, and manufactured in Indianapolis, Mom Water debuted in March 2021. About 40,000 cases were shipped that year, but 2022's projected production is more than 1 million cases.
"It's like a rocket ship," CEO Bryce Morrison said of the Hoosier company's growth.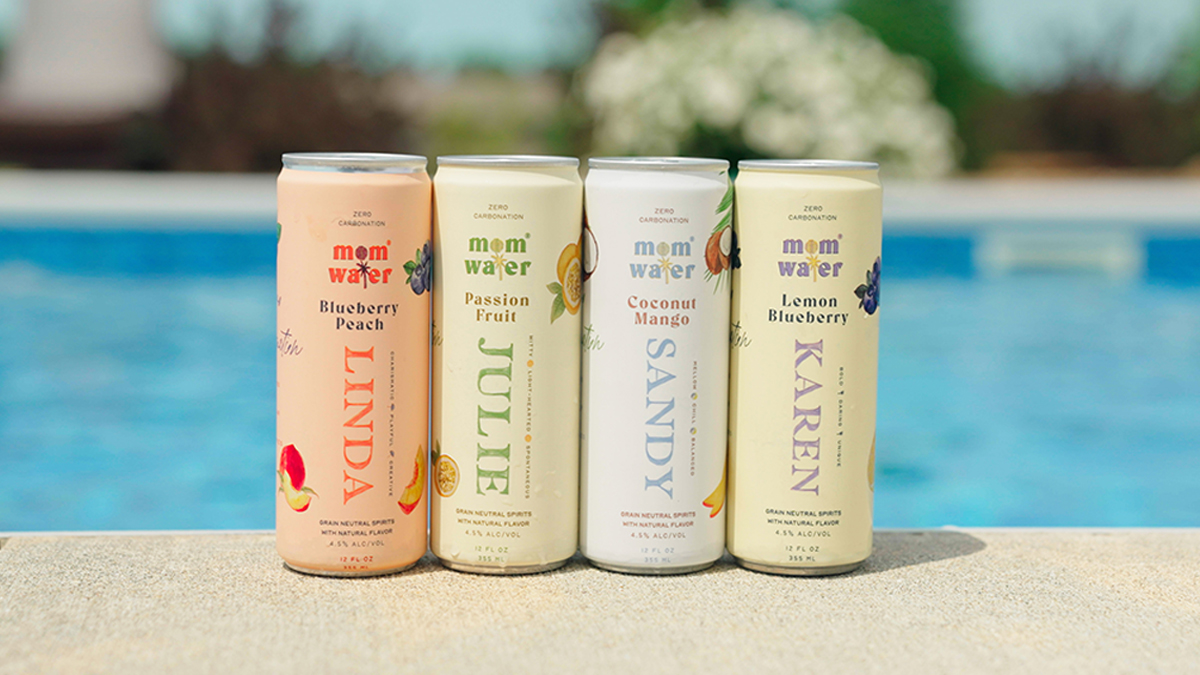 Husband-and-wife team Bryce and Jill Morrison had no experience in the beverage industry when they devised the drink as a part-time pursuit away from Bryce's job as a hospice consultant and Jill's work as an occupational therapist.
"We thought, 'It would be cool to be on shelves regionally,'" Bryce said of an initial modest goal for Mom Water. "We would be able to buy our own product and drink it."
Mom Water is now available for purchase in 10 states. In Indianapolis, Mom Water is on the alcoholic beverage menu at Gainbridge Fieldhouse. The company also signed a contract with American Airlines Center, home arena for the NBA's Dallas Mavericks and the NHL's Dallas Stars. (Morrison, who studied business management at Indiana University, has yet to meet fellow IU alum and Mavericks owner Mark Cuban.)
Given a choice to self-classify Mom Water, the Morrisons are attempting to make "Easy to Drink" catch on.
With "refreshing" and "light" as selling points, Mom Water emphasizes its lack of carbonation and the accompanying bloating associated with other beverages.
"I can't drink more than two seltzers at a time," said Manbir Sandhu, general manager of Kahn's Fine Wines & Spirits, 5341 N. Keystone Ave. "The bubbles are just too much. [Mom Water] is easier to drink."
Of course, there's another sizable factor in this success story. Even if Mom Water were a hard seltzer—which it isn't—it would generate "Sure, I'll try it" sales simply because of its name and flavor nicknames sold in individual four-packs and variety eight-packs.
"Julie" is passion fruit, "Linda" is blueberry peach, "Sandy" is coconut mango, and "Karen" is lemon blueberry.
The nicknames were mined for mom-themed comedy last August by online personality Loryn Powell in one video review. Powell said it tastes like Linda is sitting in a pool float listening to music because "she doesn't want to hear everyone complaining." Julie, meanwhile, is going to give you something to cry about. Sandy is getting her steps in ("Real nice lady," Powell said), and Karen wants to speak to the manager … to tell him how great of a job his staff is doing.
Morrison said the public's curiosity about Mom Water opens doors to sales.
The discovery process is "very organic," he said. "Someone will find the product. They think it's funny or cool or they like the branding. They take it to a party, where it becomes the center of conversation. Everybody there does the same thing at their next party."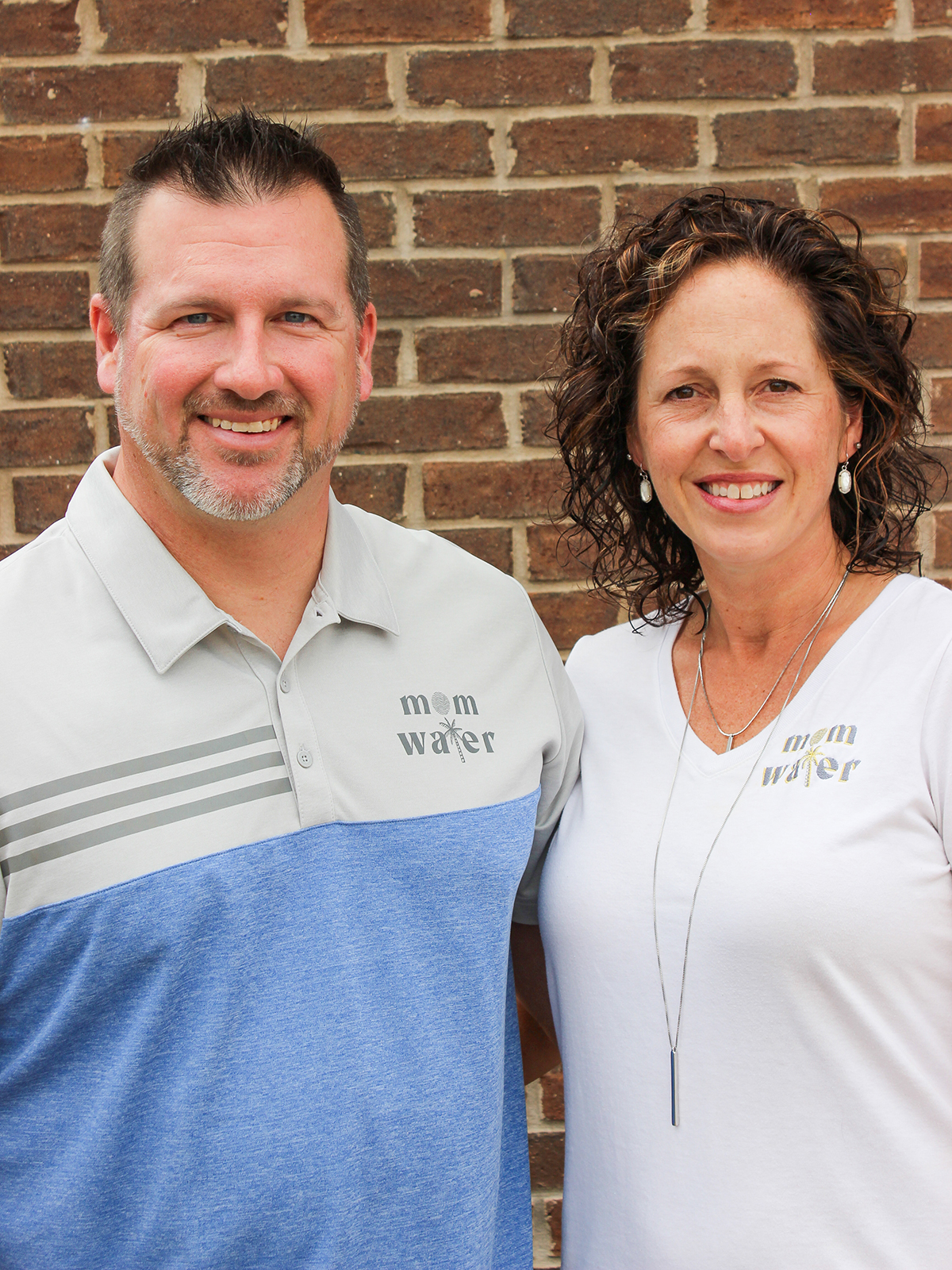 Poolside appeal
One way Mom Water followed the lead of hard seltzer brands was to package in specialty "sleek" cans that are taller and slimmer than conventional 12-ounce cans.
When boxes of Mom Water are placed in stores near boxes of White Claw, Truly and Bud Light Seltzer, the profiles are similar.
"Most of our moms around the pool don't want to drink out of the short, squat cans," Morrison said.
The sleek cans carry a higher price tag during production, as much as 6 to 10 cents more per can, he said.
"When you're talking about millions of cans, it's quite a bit more expensive," Morrison said. "But it's paid dividends for us. It goes perfectly with our branding. And we didn't want to make a lot of compromises."
Anderson resident Shannon Graham first learned of Mom Water during a visit to T.M. Nortons Brewing Co., where a chalkboard message suggested, "Ask us about Mom Water."
Describing her experience as "love at first taste," Graham compared Mom Water's drinkability to tea and lemonade.
"I've turned so many people on to it," she said. "When I have one, I make every person sitting at my table taste it."
Despite the product's catchy name, Graham wonders if the branding excludes potential customers.
"Maybe they need to do something for the dads, because I don't know if every dad wants to carry around a cute little can that has a girl's name on it," she said.
Morrison said Mom Water is intended to be a celebration of moms. The company's research indicates a fan base that includes men as well as women who aren't moms, he said.
"The brand has really transcended a specific demographic," Morrison said. "Everyone loves moms, so it's really hit home with a lot of folks."
Making it themselves
Jill Morrison, Mom Water's original mom, and Bryce are parents to two sons, 17 and 15, and an 11-year-old daughter. Jill grew up in Ferdinand, and Bryce grew up in nearby Huntingburg.
The prototype for Mom Water more or less was invented when Jill and Bryce vacationed in the Dominican Republic in 2018. Finding herself a fan of passion fruit water provided by the hotel, Jill asked a bartender to add vodka to her Yeti tumbler.
"Everything just kind of happened from there," Bryce said. "She loved it all week, and then she came home and started making it around the pool."
An entrepreneurial light bulb switched on as the couple discovered they couldn't find a similar drink in stores.
"Jill asked, 'Well, how do we make it?' I said, 'I don't know,'" Bryce said. "This persisted for about a year. Finally, I said, 'Let me do a little digging and see what we can figure out.'"
After connecting with a flavor laboratory in Louisville to finalize the formulas for Julie, Linda, Sandy and Karen, the Mom Water duo sought a distributor and production facility.
Today, Republic National Distributing Co. works with Mom Water clients in most of the 10 states where the drink is sold. Other distributors place Mom Water in stores where Republic National doesn't have a presence.
Mom Water outgrew one co-packing production facility within months, and the drink has been made at Blue Marble Productions Inc., 7520 Georgetown Road, since March.
Blue Marble, a 423,000-square-foot facility where high-profile beverages such as Crown Royal Canadian whisky and Tanqueray gin are co-packed, handles the tasks of blending and batching Mom Water.
Ben Miller, Blue Marble's vice president of sales and director of business development, said Mom Water will reach the milestone of 1 million cases this year with relative ease.
"Their volumes and numbers just continue to grow, faster than what we're used to seeing," Miller said. "We're glad that they came to us. Our facility is built to scale people up. That means they're not going to have shortages in production. There is no roof on what they can do."
Mom Water isn't the first product to feature non-carbonated flavored water spiked with vodka. Milwaukee-based Central Standard Craft Distillery introduced Hard2O in 2019, and the drink is available for purchase in Wisconsin.
But Mom Water's multi-state reach gives it the chance to be perceived as an industry unicorn: a 4.5% alcohol by volume, no sugar, no carbs, 90 calories per can "Easy to Drink" trailblazer.
"We think we have a chance to be first to market, which is why we're aggressively expanding into a lot of these states," Morrison said.
The company plans to add two flavors by the end of summer and expand beyond 10 states by the end of the year.
It's logical to look to White Claw, the brand that ignited hard seltzer's popularity in 2019, as an example of what's possible when a new style of beverage catches fire.
Blue Marble executive Miller said it's premature to envision a comparable trajectory for Mom Water. "White Claw was a worldwide takeover of a new product category," said Miller, who estimates White Claw produces hundreds of millions of cases each year.
Still, Mom Water is attracting industry attention.
Michael Bilello, executive vice president of strategic communications and marketing for the Wine & Spirits Wholesalers of America, said Mom Water is part of the premixed cocktail category of spirits that's expected to outsell cordials, Canadian whisky, gin and brandy by the end of the year.
Mom Water's "growth is no surprise to me, as premixed cocktails have more than doubled their share of total spirits since February 2020, moving from a 3.5% share of volume to 7.9% share," Bilello said, citing Wine & Spirits Wholesalers of America research.
Walmart, Target, Kroger and Meijer stores sell Mom Water. At Kahn's, general manager Sandhu said he orders four to eight cases every week, and they reliably sell out.
It might be a compliment that Kahn's staffers didn't realize Mom Water was an Indiana product until it had been in the store two months.
"We said, 'Oh, this is local,'" Sandhu said. "We thought it was based in California."
Far from the West Coast, the Morrisons oversee Mom Water from Ferdinand, in Dubois County. Bryce and Jill quit their day jobs last fall, and Mom Water's staff has grown to 13 full-time employees. Roles include three regional vice presidents, a national chain manager, head of sales, chief operating officer and two social media experts.
Regarding potential pitfalls or growing pains, Miller said it's important for an independent company to be aware of regulations and general beverage landscape when entering a new state to do business.
Different states, for instance, require different labels on cans for refundable recycling deposits.
"Every state wants Mom Water," Miller said. "What are the rules? Who are the distributors? How much do I charge on the shelf?"
Morrison said no corporations have contacted Mom Water with overtures to acquire the company. He said he's fine with that.
"We're having too much fun," he said. "We think we do have something extra special, and I don't think anybody's going to be willing to come in and give us the value of what we need."•
Please enable JavaScript to view this content.