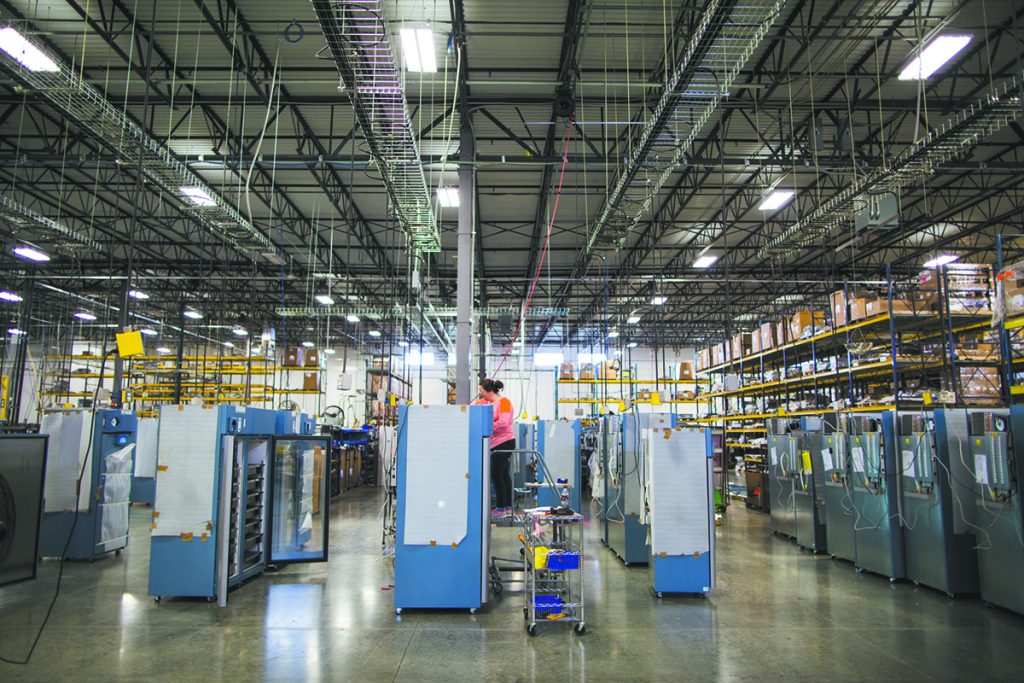 The coronavirus pandemic presents Noblesville-based Helmer Scientific Inc. with a tricky challenge—how to keep employees safe while also ramping up production to prepare for an anticipated surge in customer demand.
The company, which has about 350 employees, makes medical-grade refrigerators, freezers and defrosters for vaccines, medicines, blood products and other perishable medical supplies. Its customers include hospitals, clinics, blood centers and state, local and federal health agencies throughout the country and abroad.
"Frankly, right now, we have more business than we can handle, but we're trying to ramp up to serve some real emergency needs right now," said Helmer CEO Bruce King, 52.
Typically, Helmer produces 5,000 to 10,000 units per year. Though the company has received hundreds of customer orders over the last few weeks, King said, it's difficult to know how much Helmer might need to increase its production this year. "I'll be honest. We have no way of predicting at this stage."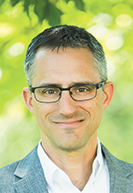 King declined to provide revenue information for the privately held company. But if history is a guide, Helmer is in the early phase of a huge demand for its products.
In 2009, during the H1N1 influenza outbreak, health care providers needed temperature-controlled storage for doses of H1N1 vaccine. Mostly due to that outbreak, Helmer saw a 73% increase in demand for its laboratory and pharmacy refrigerators over 2008.
The equipment customers purchased then is at the end of its life cycle, King said, and now COVID-19 is causing another big surge in demand. Orders are coming from health care providers who need additional storage for medicine and COVID-19 testing materials as patient counts increase.
The products now being developed for possible COVID-19 treatment will also need refrigeration, King said, as will the future vaccine.
"I hope for other reasons that there's a vaccine for this, eventually," King said. "But we think that, if there is, it's also going to really highlight the need for our equipment. And we have to be ready."
On Monday, 10 new production employees started at Helmer. The company expects to hire more, King said, and it's also ordered $500,000 to $1 million of new production equipment that should be up and running over the next few months.
The company is also researching what federal stimulus aid it might tap. "We are trying to figure out what sort of assistance we might be able to get in ramping up our production," King said.
Staffing complications are making the work more challenging.
Helmer's office employees are working from home, but that's not an option for production employees. And between illness and employees' child-care obligations, Helmer is operating with an absentee rate of 15% to 27%, King said. "We don't have enough people."
To allow for social distancing, the company has rearranged its production schedule so that employees take their breaks and meals in smaller groups. The facility is also restricting outside visitors.
"We're looking for anything we can do to keep people safe at this point," King said. "It's not an option for us to just shut down. Our customers desperately need our equipment."
The lack of widely available COVID-19 testing makes things even trickier because there's no easy way to tell which employees might have been exposed to the virus.
King, who also serves as chairman of Community Health Network's board, is himself working from home with respiratory symptoms this week. As of Tuesday, he had not been tested for COVID-19.
"We desperately want to understand when there will be enough testing so that we can understand who is safe to re-enter and stay in our production environment," King said.
"The fact that we're just flying blind on who might be sick, and just going based on symptoms, is not sustainable."
Please enable JavaScript to view this content.