One of the original stands to open in the Test Kitchen at Fishers District will be leaving—but not to open a full-service eatery in Fishers, which was one goal when the restaurant accelerator opened in November 2019.
Instead, Lil Dumplings, founded by chef Carlos Salazar, will move in August to the recently opened Garage Food Hall at Bottleworks District.
"I am very excited about the next Lil Dumplings," Salazar told IBJ. "[I'm] most excited about being back downtown."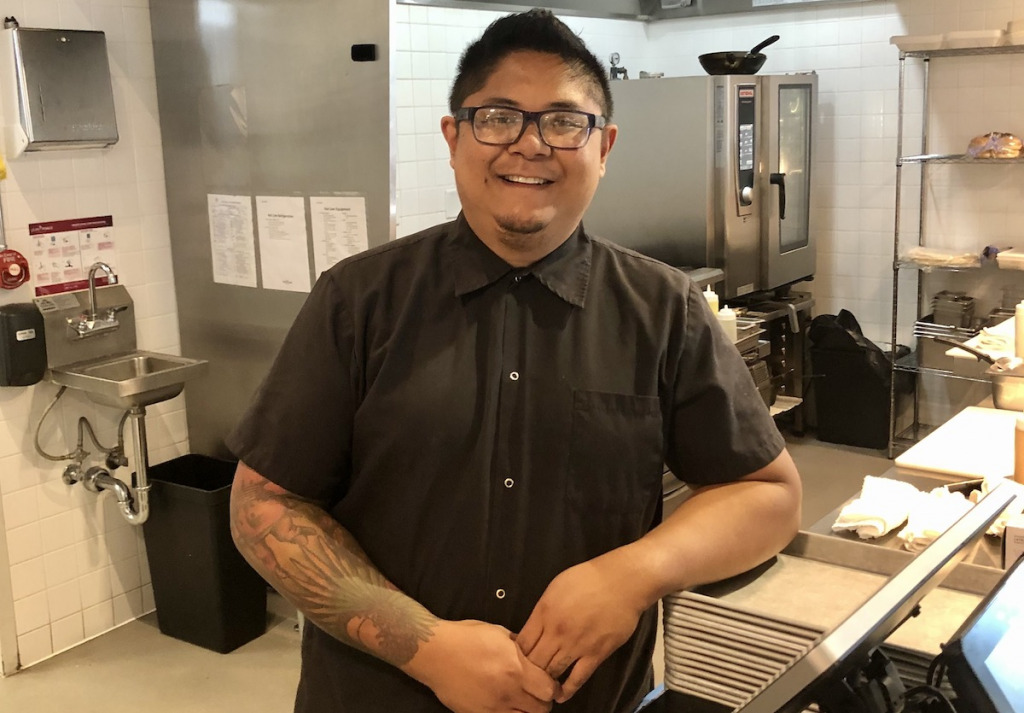 Salazar–who was named an IBJ Forty Under 40 in 2020—was actually approached to open a booth at Bottleworks almost two years ago, before the food hall was even up and running. But Salazar said it was only about five months ago that he became seriously interested in the offer, in part because he thinks customers there will be more open to the global street food he serves.
Salazar is inspired by his Filipino heritage. Before Lil Dumplings, he was a chef and partner for seven years at Rook, an Asian-inspired restaurant in Fletcher Place that closed during the pandemic.
Salazar left Rook to open Lil Dumplings, which serves global street food from a menu that changes every few months. The menu has included egg rolls, sliders, loaded fries, corn dogs and most recently ramen. His new location in The Garage at Bottleworks District will be a noodle bar and will serve ramen, stir fry noodles, Filipino lumpia and kakigori, a Japanese shaved ice.
"The customers downtown are so much more interested in great food, how it's prepared and the quality of ingredients," Salazar said. "The food I make has always been very unique with flavor profile, techniques and plating. I will put something in front of you nine out of 10 times you haven't had before."
The Garage is a 36,000-square-foot restaurant and retail space that opened in January as part of Phase 1 of the $300 million Bottleworks mixed-use real estate development at 850 Massachusetts Ave. The development also includes a hotel, residential and office space, an eight-screen movie theater called Living Room Theaters, and a bowling-and-pinball focused entertainment spot, Pins Mechanical.
The Garage currently has 17 restaurant and retail tenants, with another two scheduled to open in June, and still others (including Lil Dumplings) to come. Tenant spaces range from 500 square feet to 1,000 square feet.
Jolene Ketzenberger, co-founder of the Fishers Test Kitchen and The Signature Table culinary performance space, holds Salazar and his cooking in high praise—and noted he stayed open throughout the pandemic when other eateries closed.
"You can always trust that his flavors will be spot on, whether he's cooking a fancy chef dinner or making chili dogs," Ketzenberger said. "He really wants to share the foods that he loves with all of us in Indy."
Though Salazar will be missed, Ketzenberger said that moving on is the purpose of the Test Kitchen. She said it's a place "for chefs to try out new concepts for a year or two and gain a following before opening in another location. And that's just what he's doing."
Ketzenberger said she's not surprised that Salazar is moving to Indianapolis, given that real estate is tight in Fishers right now, which makes opening a restaurant there more difficult.
"We're just happy that he's found a location for his next venture," Ketzenberger said.
Even though Salazar and Lil Dumplings are leaving Fishers, Ketzenberger said new cuisine has recently moved into the Test Kitchen, including a pop-up called Gordito's Rust Belt Tacos & Tortas.
The Test Kitchen website says the site is taking applications for new chefs.
"The Fishers Test Kitchen concept has definitely been a success, especially as we've made it through such a challenging year," Ketzenberger said. "It's been so gratifying to see our Test Kitchen chefs do well, despite all the challenges that were thrown at them."
Please enable JavaScript to view this content.