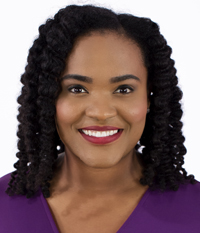 WISH-TV Channel 8 has hired a reporter that it will dedicate to multicultural issues, the Indianapolis station announced Friday.
Katiera Winfrey, who grew up in Indianapolis and previously worked at WISH, will be "the state's first-ever television journalist dedicated exclusively to covering stories affecting Indiana's diverse population," according to station officials.
Winfrey is coming to WISH after a two-year stint as a reporter at WFMZ-TV in Allentown, Pennsylvania. She previously held reporting and editing positions in the the Texas cities of Tyler, Midland and Houston.
She spent 14 months at WISH in 2010 and 2011 as behind-the-camera web producer and associate producer.
WISH said the Texas Southern University broadcast journalism graduate will focus on news and issues of concern to women, Hispanics, Latinos, African Americans, Asian Americans, Middle Eastern Americans, Native Americans and the LGBTQ community.
"Katiera will report on issues and topics, ranging from serious to positive news, from different cultural perspectives," said WISH News Director Al Carl in written remarks. "This new position marks a commitment on the part of WISH-TV to showcase Indiana communities and people of all cultures in a profound way."
Winfrey graduated from North Central High School and is a member of the National Association of Black Journalists.
"Not only is returning home a blessing for me and my family, but I'm equally excited and honored to be the state's first dedicated multicultural reporter," Winfrey said in written comments. "I'm very eager to report on and share the many unique multicultural stories that are not currently getting the coverage they deserve."
WISH said earlier this week that it plans to expand its 10 p.m. Saturday newscast from a half-hour to a full hour starting this week, raising its weekly total of news-related programming to 76.5 hours.
DuJuan McCoy, owner of Circle City Broadcasting, which acquired WISH from Nexstar Media Group this year for $42.5 million, told IBJ earlier this month that hiring a multicultural reporter would be part of his plan to grow the station's staff and news coverage.
Please enable JavaScript to view this content.