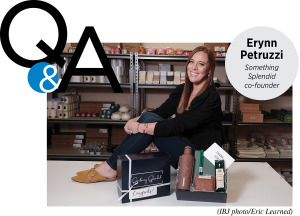 Erynn and Elyse Petruzzi—whose father, Dean Petruzzi, started and sold several Indianapolis-based battery companies with his brothers in the late 1990s and early 2000s—started Something Splendid as a side hustle two years ago. The sisters and their friend, Allison Pirtle, now work full time filling gift boxes with curated products from local-, woman- and minority-owned businesses. Erynn Petruzzi said Something Splendid's revenue has grown 1,000% year-over-year, fueled in part by the pandemic that has separated people from their loved ones.
What need was Something Splendid originally supposed to address?
Not everyone has that knack for gifting, and we wanted gift-giving to be as simple and personalized as possible. The three of us have come together and built boxes that are essentially ready-to-ship, so consumers can come on our site and buy that directly. But we also want it to be customized to the recipient, so someone can also go on our website and build their own.
Was there a need in the market for such a service?
There is competition out there for gift boxes and curated gift boxes. However, we wanted to put our own twist on it. We knew we wanted to incorporate items that have meaning to them, we wanted to bring our values into our shop. When we go and find partnerships with our product vendors, we know we want woman-owned, we want gifts that give back, we want to support the local Indianapolis community.
We also have a face to our business. When you're emailing us, it's one of us there responding. We're putting our personalities into our responses—we're not just, you know, a robot, or something like that.
How have things changed with the pandemic?
Fortunately, prior to COVID, we had already invested our time and our energy into creating our e-commerce site. So, through the pandemic, we just stuck to our roots: thoughtful, personalized gift-giving. Our consumer sales have increased, but the largest change for us was the demand for corporate gift-giving. We saw that employers were wanting to engage with their employees and clients … at a time when engagement is really challenging, because people are working remotely. The higher demand for that was a huge turning point for us.
What makes you and the other co-owners good gifters?
We're watching market trends, we're seeing what others are buying and using word-of-mouth within our own networks. The items that we sell are items that we personally use, enjoy, or want to give. For example, pamper and self-care items—there has been a huge increase [in demand]. It's a learning curve; you have to be willing and able to try new techniques. Try new products; you know, take a little bit of a risk on something.
How did your father's family businesses influence Something Splendid?
We always knew as young girls that we wanted to start something from nothing. That was always a passion of ours. Growing up, having seen my dad do the same thing … it wasn't, you know, a far-fetched idea to go work with my sister. We're best friends outside of work as well, so I think it gives us that one-up where we can work well with one another. We really drive each other to be our best versions of ourselves in professional and personal settings. I guess you could say we have this entrepreneurial blood; we have this drive to start something from nothing. That was instilled in us at a young age—to always reach for the stars and do something that we're passionate about.•
Please enable JavaScript to view this content.