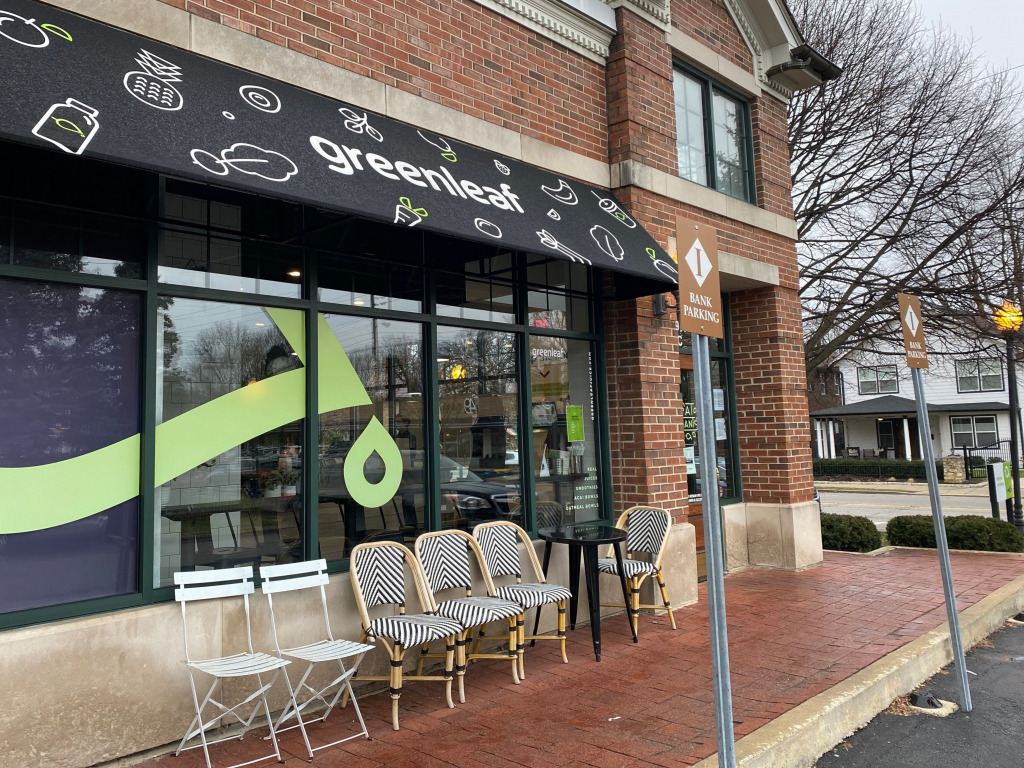 A smoothies-and-salads company with Indianapolis roots executed a soft opening Tuesday in the Nora Plaza Shopping Center.
Greenleaf Juicing Co. added its Nora location, 1250 E. 86th St., to a Meridian-Kessler store, 4930 N. Pennsylvania St., that opened in 2019. Six other Greenleaf sites serve customers in Oregon and Colorado.
Founded in Portland, Oregon, by Indianapolis native Garret Flynn, Greenleaf Juicing Co. specializes in acai, oatmeal and grain bowls as well as juice recipes made of two pounds of produce.
The company is expanding in Indianapolis—with plans to open locations in Carmel and downtown Indianapolis in 2022—following the 2020 closure of its first Indiana store at 18 N. Meridian St.
Laura Flynn, who manages Greenleaf stores with her husband, Garret, and business partner Joe Peoni, said she believes Midwestern lifestyles are following trends established on the West Coast.
"It was a little bit of a foreign business in Indianapolis," Laura said of the Meridian Street location that opened in 2017. "Now the city is ready for it. We think there's an appetite for more healthy options. One of our big tag lines is, 'Healthy made easy.' We want healthy food to be accessible, almost like fast food except the healthy version."
She said Greenleaf didn't renew its lease at the Meridian Street site just south of Monument Circle partly because of pandemic conditions that depleted the day-to-day population of downtown workers.
Another pandemic development for Greenleaf was the company's sale to Indianapolis residents Brian and Karen Jefferson, who previously purchased Sanders & Morley Candy Makers in Michigan.
Karen Jefferson, Garret Flynn and Peoni are alumni of Cathedral High School. Laura Flynn grew up in Zionsville and attended Brebeuf Jesuit Preparatory School.
The Nora Greenleaf store, which shares a retail strip with Artisano's Oils & Spices and a Starbucks, will be open 8 a.m to 4 p.m. Monday through Friday and 9 a.m. to 4 p.m. on weekends. Laura Flynn said business hours likely will expand in the spring.
Please enable JavaScript to view this content.