Local venture studio High Alpha is on a roll.
In less than a month, it has rolled out three startups.
The latest is Casted, a software-as-a-service firm that markets a platform for branded podcasts—those produced by businesses and other organizations.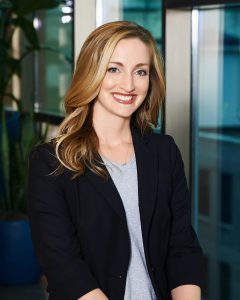 Casted is off to a good start. On Wednesday it announced it recently closed on $2.35 million in seed funding, has already grown to 10 full-time employees and recently moved out of High Alpha's downtown office into its own space at 129 E. Market St., where it plans to grow its staff this year. The company officially, and quietly, launched in late April.
Casted's round of funding includes institutional and individual investors, including High Alpha Capital, Elevate Ventures, Michigan-based Tappan Hill Ventures and other SaaS angel investors, company officials said.
"In recent years, we have all seen an explosion in podcasting," said Casted founder and CEO Lindsay Tjepkema. "Today, brands and audiences alike are embracing podcasting because they are uniquely founded on authentic conversations; they create a connection. That's a win for both the brand and its audience."
Tjepkema told IBJ the company has 15 customers and she expects that number to grow rapidly this year. She said the company already has a national footprint.
Tjepkema, a marketing veteran, said she came up with the idea for Casted when she launched a podcast for her previous employer, marketing software company Emarsys, which has its North American headquarters in Indianapolis.
"I saw a real limitation in the podcast space," Tjepkema said. "All the technology that was out there was for solo podcasts and influencers. There was nothing out there for brand podcasts. What I needed was technology that could prove a podcast could impact my company's brand and fuel my company's bottom line."
Casted's platform is designed to help companies and organizations manage, activate and measure the effectiveness of their podcasts.
"We knew with Casted we had to go beyond vanity metrics—like number of downloads—that are commonly used," Tjepkema said. "Our software points to engagement with the brand."
Casted will use the funding to grow its product, sales, and marketing teams, Tjepkema said. Casted also will continue to expand its platform, adding new features and evolving to meet market needs.
Casted is using its own podcast to market the company as well as other forms of social media. It's also reaching out directly to brands in a number of categories.
"We can go into any industry or vertical," Tjepkema said. "I think there's a huge opportunity for this company. There's nothing else like what we're doing on the market. And I think podcasting will be at the center of all marketing strategies within the next several years."
Casted's list of customers already includes notable brands like Boston-based Drift; Raleigh, North Carolina-based Pendo; Atlanta-based Terminus, and Chicago-based LogicGate.
"We signed with Casted for the daily #FlipMyFunnel podcast early-on because it's the first podcasting platform I have seen that is made for brand marketers. It provides advanced analytics into our show and it's a central place to manage and activate each episode," Terminus co-founder Sangram Vajre said in a statement. "Casted allows marketers to be more efficient and strategic about using our podcasts to grow our audiences."
The rollout of Casted comes on the heels of two other High Alpha launches; meeting management software company Docket in early January and two weeks later, Relay, which makes software designed to help citizens connect more easily with police departments for non-emergency calls.
Please enable JavaScript to view this content.