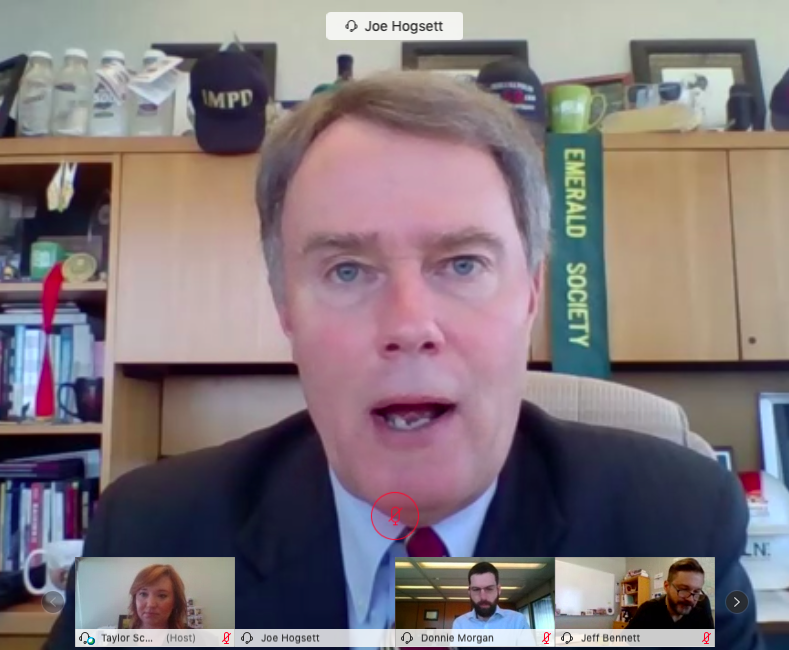 Mayor Joe Hogsett's administration is seeking to immediately deploy nearly half of the $168 million it has received in federal coronavirus relief funds to help residents and businesses that have been affected by the pandemic and subsequent shutdowns.
The administration will introduce the plan to spend $76 million—in the form of fiscal ordinances—to the Indianapolis City-County Council at a meeting at 7 p.m. Monday night.
The proposal includes $20 million for contact tracing and virus testing and $15 million for rental assistance to needy residents. It would also pay for masks for people who need them, provide personal protection equipment and grants for small businesses; and grants for not-for-profits that need PPE.
The plan also includes spending on technology and government expenses related to the virus.
At this point, however, the city is holding back a larger portion of the federal funding, in hopes Congress will allow cities to use some of the money to shore up budgets that will be hit hard by the pandemic in the next year or two.
"I'll admit that sounds like a lot of money, and it is," Hogsett said in a media briefing on the proposal Monday morning. "It is clear these dollars will be helpful but not sufficient."
Hogsett said his administration continues to talk with Indiana's congressional delegation about needs the city will have in future years because of hits the budget will take to a variety of funds.
Here's how the Hogsett administration's spending proposal breaks down:
| | | |
| --- | --- | --- |
| | Coronavirus Relief Fund | FEMA Funding |
| Public Health Investments | | |
| Contact Tracing and Testing | $20,000,000 | |
| Purchase and Distribution of Cloth Face Masks | $3,000,000 | |
| Face Covering Public Awareness Campaign (Partnership with Arts Council) | $20,000 | |
| Social Service Investments | | |
| Rental Assistance | $15,000,000 | |
| Meal Deliveries for Homeless Neighbors | | $49,725 |
| Support to Food Agencies | $1,826,000 | |
| Food Home Delivery project | $450,000 | $750,000 |
| Hotel Housing for Shelter Social Distancing | $1,800,000 | |
| At-Risk Homeless Hotel Housing | | $398,275 |
| Nonprofit PPE Grants | $2,000,000 | |
| Economic and Small Business Recovery | | |
| Rapid Re-Employment Hub | $1,050,000 | |
| Adult Basic Education | $1,500,000 | |
| RESTART Grants | $5,000,000 | |
| Music Cities Strategy Recovery Program | $125,000 | |
| Street Modifications for Expanded Outdoor Seating | $350,000 | |
| Participation in State Small Business Program | $5,000,000 | |
| Technology and Government Expenses | | |
| Public Safety Overtime | $3,200,000 | |
| Local Units Coronavirus Relief Allocations | $2,000,000 | |
| Technology – Desktop Replacement | $3,600,000 | |
| Technology – Remote Collaboration Tools | $550,000 | |
| Cloud Hosted Phone System & Cloud Call Center Implementation | $5,550,000 | |
| Technology – Modernize 311 | $536,363 | |
| Technology – Implement Grants Management Solution | $350,000 | |
| Technology – Remote Court Solution | $150,000 | |
| PPE for the Continuation of the Construction of the CJC | $2,000,000 | |
| Reopening Local Government Offices | $664,000 | $2,050,000 |
| Court Streaming Solution | $100,000 | |
| Ability to Collect Revenue Anywhere | $250,000 | |
| TOTAL | $76,071,363 | $3,248,000 |
Please enable JavaScript to view this content.