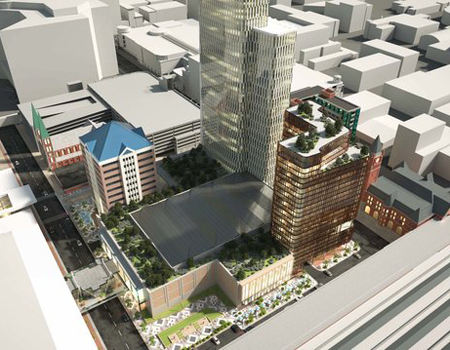 Downtown Indianapolis hotel developments—including the high-profile convention center expansion project at Pan Am Plaza—could be delayed or altogether derailed by the spread of COVID 19.

Altogether, Indianapolis was expected to see at least a half-billion dollars in new hotel developments and another 4,200 rooms added to the marketplace over the next five years But those efforts have taken a hit in recent weeks.
Several developments in recent days have been thrust into holding patterns, as banks and financial institutions have stopped approving new construction loans for hotels and other projects.
They join others that have been sidelined for the past few months as developers deal with issues related to financing and bureaucratic approvals.
One of the biggest projects that is expected to be affected by the pandemic—and the sudden, potentially long-term drop in tourism—is Kite Realty Group Trust's proposed 1,400-room, two-hotel development at Pan Am Plaza.
Kite executives have been meeting with city officials for more than a year to iron out a project agreement for the hotels and an accompanying $120 million expansion to the Indiana Convention Center, directly across Capitol Avenue.
The parties had expected to finalize a deal yet this month, but it's not entirely clear if that will still happen. City officials did not respond to a request for comment and Kite declined to discuss the project.
Andy Mallon, executive director of the Capital Improvement Board of Marion County, which owns the convention center and is directly involved in negotiations, said in an email to IBJ that "there is no known impact at this point."
But industry experts predict the hotels, expected to cost hundreds of millions of dollars, are likely to be delayed by at least a few months—if not entirely rethought, since financing had not yet been finalized.
"The last thing that a public entity ought to do is get in the business of building or subsidizing a hotel in the current market environment," said Heywood Sanders, a University of Texas at San Antonio professor and convention center expert. "That's exactly what you don't want to conceive of doing right now."
The virus has already pushed the hospitality industry in Indianapolis and elsewhere to the brink of a complete shutdown, as most have seen occupancies dip well below 20%. Conventions have canceled or postponed for the next several months.
Sanders said the CIB should be limiting its financial exposure and "rethinking a great many of its long-term commitments."
He said projects like the $360 million overhaul to Bankers Life Fieldhouse, which has already been bonded, are safe to move forward—but noted social distancing protocols may be in place for quite a while, which could affect construction timelines and the health of the project.
But proceeding with the Pan Am project may not be in the best interest of the board or taxpayers, Sanders said. It's also not clear whether the board would have the financial wherewithal to take out new debt for such a large-scale project because of the tightening markets and the expected loss in tax revenue from conventions and other massive events that have been canceled in recent weeks.
About two-thirds of the CIB's budget—this year about $143 million—comes from taxes and other public-funded mechanisms.
The Indiana Restaurant and Lodging Association on Wednesday asked state leaders to consider deferring the innkeepers and food and beverage taxes, which together account for about 45% of the board's budget, for at least one year.
If that request is adopted, it would slash up to $66 million from the CIB's bottom line, although the board has more than $100 million in unrestricted cash reserves.
"The CIB is going to have much less capacity to fund anything, including its daily operation—let alone tackle issuing new debt," Sanders said.
Mike Wells, president of REI, has been a critic of the Pan Am Plaza project. He said because of Kite's prominence in the retail industry, which is suffering its own blows because of COVID-19, the company has likely had to put the hotel project on the back burner.
"I would guess that at a minimum, this project would have a significant delay," he said. "All of us in the real estate business have our hands full right now."
He added the city is likely to face problems with offering any sort of subsidy—as is expected—for the project, because its own belt will be tightened by the loss of millions of tax dollars. '
Vincent Dora, president of Fishers-based Dora Hospitality Group, said while construction is still under way on the firm's two active projects in downtown and Fishers—banks are still backing previously approved loans—others that haven't yet been financed are in a holding pattern.
They include the Avid, the Even and the Cambria hotels, all on the south side of downtown and in the late planning stages. With those, he said, "we were still in equity-raise and other phases of the process, and the banks there have said we're going to wait a bit until this all settles down."
The three hotels would add about 370 rooms to the market, with a combined development cost of $60 million.
It's not clear what will happen with Sun Development & Management Co.'s projects.
The Indianapolis-based firm has three hotels in the works, including one already under construction along Vermont Street. The other two have not yet secured financing. Together, they would total about 500 rooms and nearly $90 million in development costs.
Representatives for Sun did not return calls requesting comment.
And Bruce Bodner, whose firm B.A. Bodner Co. LLC, is hoping to add up to 18 floors to the Morrison Opera Place Building at 49 S. Meridian St. for a new hotel, said he is still working with city officials to see if he can get any financial support for the project. He has said city incentives are a linchpin for the $60 million project.
Bodner noted he's still in the early stages of finding investors in the project before going after a loan.
REI's Wells said his own project, a dual-branded Moxy/AC Hotel development along South Meridian Street, is expected to move forward but is currently in a holding pattern.
Since it already has financing in place, he said construction will likely be delayed by a few months, but it won't be scrapped altogether.
The $60 million project has already seen its costs balloon because of recent rises in construction prices, but that figure could go higher due to the outbreak's impact on the economy. But for most companies, the focus is on projects already underway or under their management purview.
Wells said most of the industry is trying to deal with the bottom falling out from under the hospitality industry in recent weeks. This includes determining whether hotels might have to be temporarily closed to weather the storm.
It's a consideration Wells, whose firm co-owns the downtown Marriott with White Lodging, is making amid sub-5% occupancy at some of his largest hotels.
Even after that problem is taken care of, he said, it could be some time before attention turns back to new construction.
"Everybody's dealing with the problem at hand—which is the immediate impact on existing hotels," Wells said. "We're not really spending even 10 seconds thinking about future projects."
Please enable JavaScript to view this content.