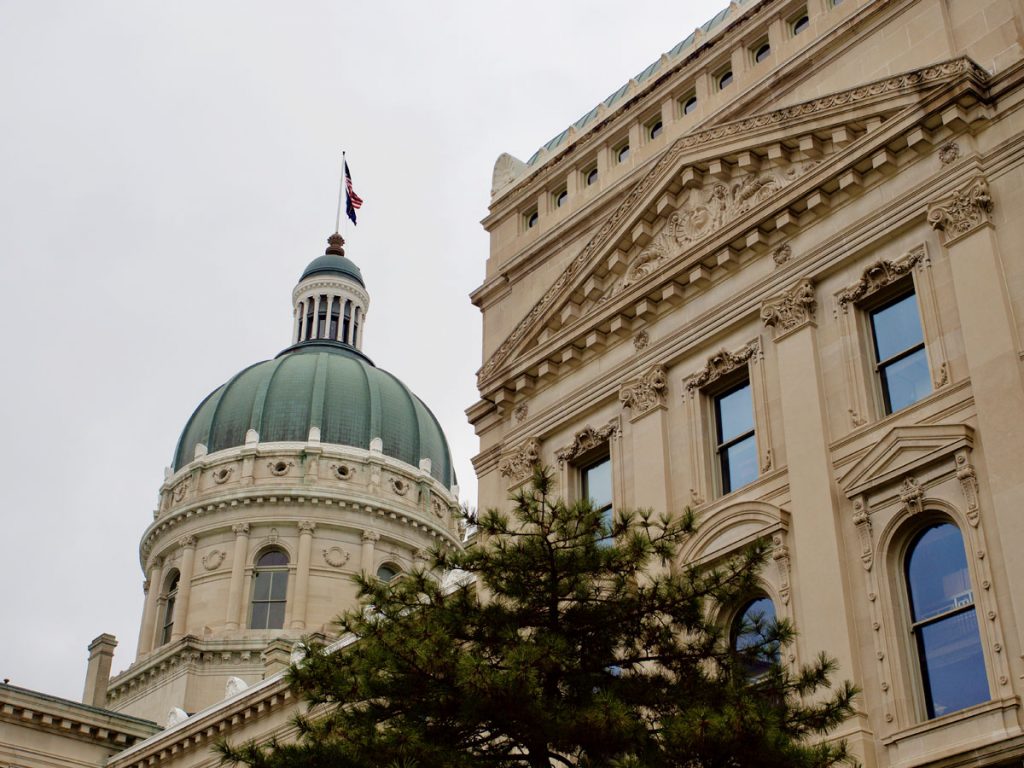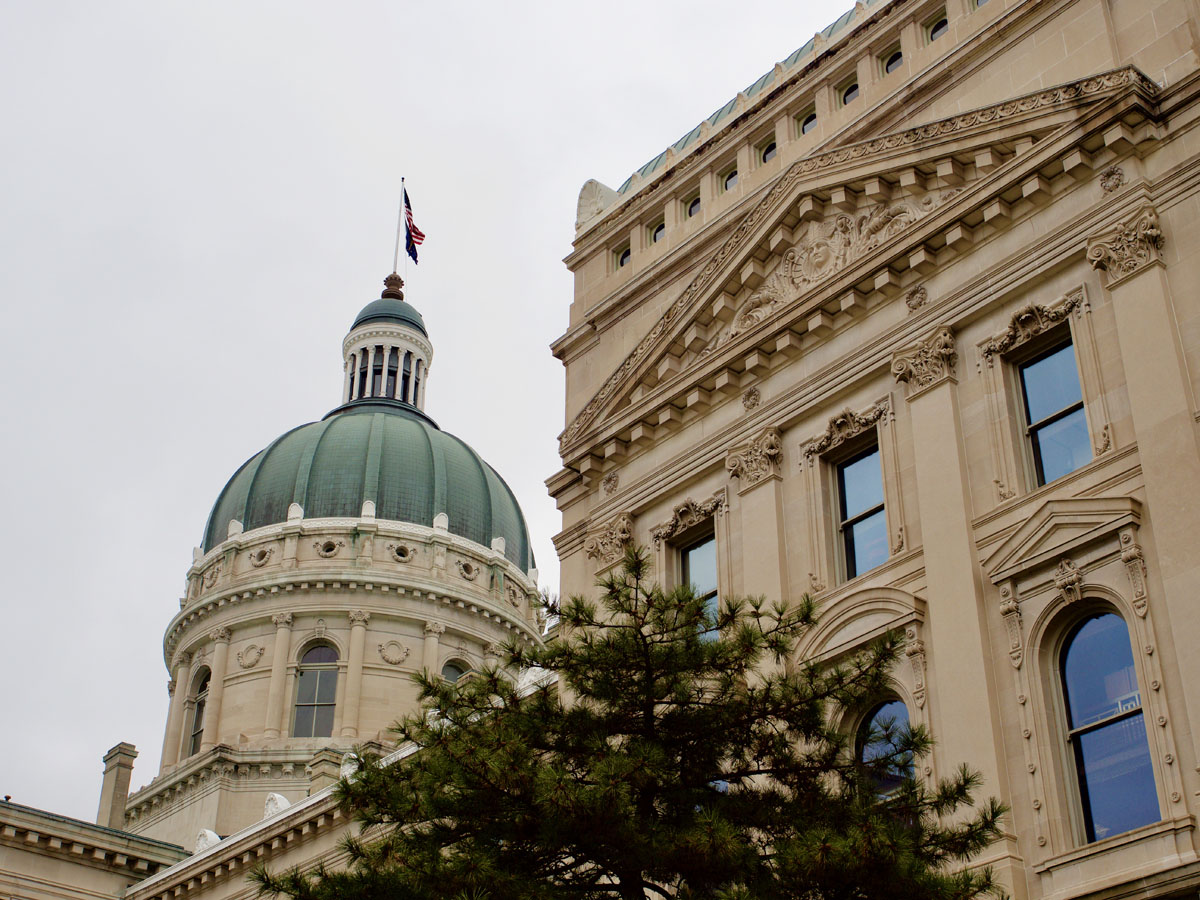 Indiana House Republicans are nixing Gov. Eric Holcomb's plan to use more than $700 million to pay down debt and instead want to use the money for one-time grant programs.
The $36.3 billion two-year budget proposed by the House GOP on Thursday would make a handful of one-time investments in small businesses, regional projects, student learning loss, health initiatives, broadband and police training.
Holcomb had proposed using $302 million to retire debt from several capital projects, including the remaining bonds for the Interstate 69 project, and $400 million to pay down a teacher pension obligation—something that he initially proposed in his January 2020 State of the State address. That move would have saved the state $69 million annually.
But House Republicans instead want to use only $110 million to pay off debt from capital projects—a plan that would not include paying down the bonds from I-69 and not dedicating any funding toward the teacher pension obligation. Those payments would come from the current budget.
"We thought we'd invest in businesses and economic activity in the state, that we wanted businesses to be prepared to come out of this recovery," House Ways and Means Committee Chairman Tim Brown said. "We just made a different priority rather than pensions."
The budget includes $150 million for a learning loss grant program, $30 million for a small business grant program and $70 million to pay for upgrades at the Indiana Law Enforcement Academy in Plainfield, which would all be appropriated in the current budget year.
Other one-time expenses in the budget include $50 million for a health grant program and $150 million for the regional collaboration program that Holcomb pitched during his State of the State address this year. When Holcomb made that announcement, he did not attach a dollar amount to it.
The budget also significantly increases the amount of funding dedicated to expanding broadband internet access from $100 million to $250 million. Holcomb's administration established the Next Level Broadband Grant Program in 2018 with $100 million in one-time dollars from an increase in the toll road fees for heavy vehicles. He had proposed allocating another $100 million toward that effort over the next two years.
House Republicans also added in $10 million to help local law enforcement agencies buy body cameras.
And the budget includes $50 million for the proposed new swine barn at the Indiana State Fairgrounds—a project that has been discussed since July 2019.
For K-12 funding, the House Republican budget allocates $378 million in new dollars over the biennium, which is $1 million more than the governor suggested.
But the $378 million in new dollars includes $66 million that would be dedicated for an expansion of the school voucher program, which Holcomb's budget did not include.
The House GOP budget does not address any of the recommendations from the governor's Teacher Pay Commission's report, which recently concluded that $600 million would be needed to address the pay shortfall for Indiana educators.
Brown said it's up to local school districts to address teacher pay.
"You don't want the Indiana General Assembly to become a school board," Brown said.
Democratic State Rep. Greg Porter, the ranking minority member of the Ways and Means Committee, described the K-12 funding as "punitive" and "shortsighted".
"Republicans brag about increased K-12 spending while siphoning money from the schools educating a majority of students," Porter said in a prepared statement. "Hoosier school districts and educators, who have already been facing the repercussions of the supermajority's financial apathy, are in dire need of tangible support from the Statehouse, not another legislative session spent fighting for scraps."
The budget would restore higher education funding, as Holcomb proposed, but instead of adding 1% for universities each year, the budget would keep funding flat in fiscal year 2022 and increase it by 2% in fiscal year 2023. Holcomb asked higher education institutions to take a 7% cut in fiscal year 2021 to adjust for revenue shortfalls caused by the COVID-19 pandemic.
The budget also includes a cigarette tax increase, but it's only half of what was proposed in a bill that has already passed out of a House committee.
The cigarette tax would increase from $1 to $1.50 under the House GOP budget. House Bill 1434 would have increased it to $2. Advocates for the tax increase argued that $2 didn't go far enough and have pushed to raise it to $3.
State lawmakers have not increased the cigarette tax since 2007.
Brown said the 50-cent increase is a compromise.
"Some people don't want to do any tax increase at all," Brown said.
The tax would generate an estimated $150 million in new revenue for the state, and the funding would support Medicaid expenses, Brown said.
As for e-cigarettes and e-liquids, the budget proposes a 10% retail tax. HB 1434 would have imposed a 39% tax on the wholesale price.
The state would have a surplus of $130 million in fiscal 2022 and $227 million in fiscal year 2023. Reserves would be at 11.9% in fiscal year 2022 and 11.7% in fiscal year 2023, which Brown said would be about $2 billion.
The House Ways and Means Committee on Thursday voted 16-8 to approve the budget and send it to the House floor for consideration.
Please enable JavaScript to view this content.