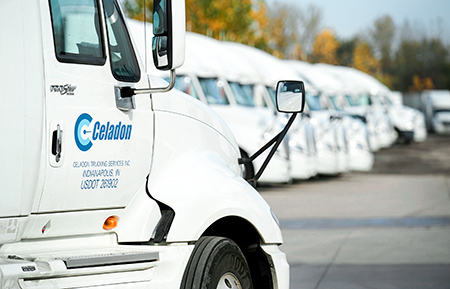 Celadon Group Inc. on Dec. 9 filed for bankruptcy and abruptly shut down, eliminating nearly 4,000 jobs and bringing to a bitter close one of central Indiana's great entrepreneurial success stories.
The trucking company launched with a single truck in 1985 and grew into the largest provider of international truckload services in North America, with more than 150,000 annual border crossings between the United States, Canada and Mexico.
But in the years after its co-founder and longtime leader, Stephen Russell, retired and then died, the company went in new directions that led to financial problems and accusations of fraud.
Podcast host Mason King talks with IBJ Editor Greg Andrews and reporter Susan Orr about Celadon's rise and fall as well as what role the fraud allegations played in its demise.
You can read more about the alleged account scheme and the people accused of wrong doing in Andrews' Behind the News column published on Dec. 13.
And you can read Orr's account of the company's closure here.
Click here to find the IBJ Podcast each Monday. You can also subscribe at iTunes, Google Play, Tune In and Spotify. Here are some of our recent podcasts:
IBJ Podcast: Butler prez talks university's finances, future as challenges loom
IBJ Podcast: Pat Sullivan makes business case for store's North Pole train
IBJ Podcast: How an Indy group will use $11.6 million to help black students achieve
IBJ Podcast: The new owner of WISH is investing $3 million. He explains why.
IBJ Podcast: Roger Penske wants to create an 'entertainment capital' in Speedway. What does that mean?
News clip is from WISH-TV Channel 8. 
Please enable JavaScript to view this content.