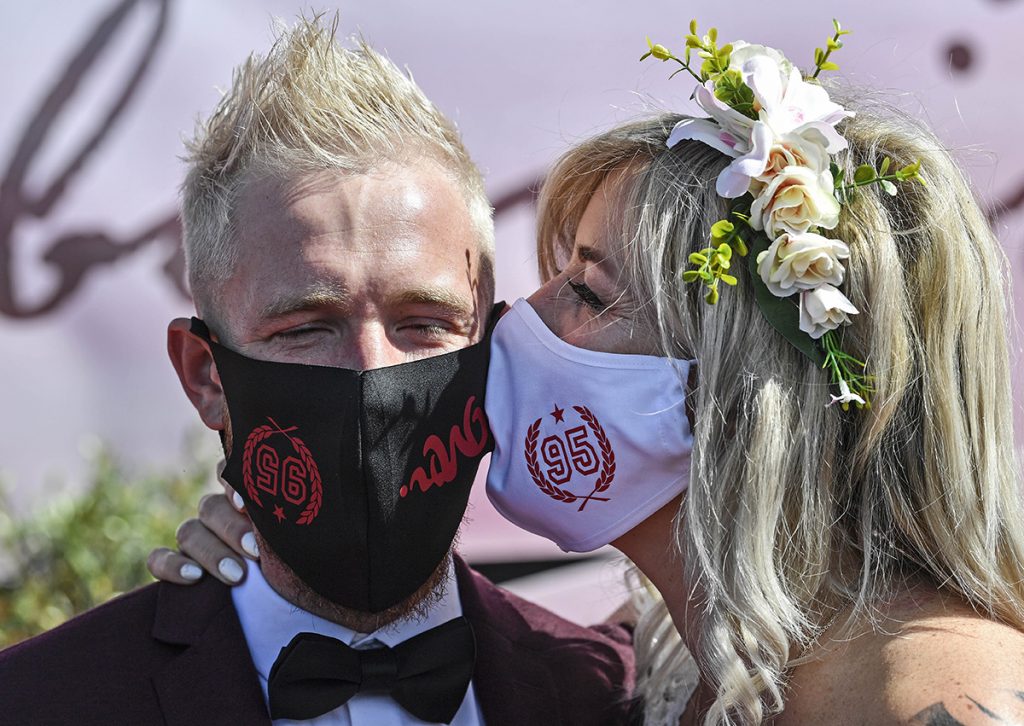 Hundreds of thousands of couples who for months have been picking preachers, flowers, venues, bridesmaid dresses, reception menus and deejay playlists now find themselves making a heart-wrenching, no-win decision: Do we keep the dates for our spring 2020 wedding and scale it way down, or do we reschedule the whole shebang and hope the new date isn't in the middle of another wave of infections?
The coronavirus crisis and its social-distancing protocols have wreaked havoc on the multibillion-dollar wedding industry—not to mention the lives of an untold number of couples who thought they'd be betrothed by fall. In this week's edition of The IBJ Podcast, host Mason King explores the tumult from the perspective of two Indianapolis women: a bride who decided to keep her wedding date—May 2—and scale down the festivities  (including an after-party with pizza); and a wedding planner who had 23 weddings on the books for this year but now spends much of her time working on Plan Bs and Plan Cs for clients.
For more on how wedding season has been disrupted and how brides are deciding how to proceed, check out Samm Quinn's story in the May 8 issue of IBJ.
Click here to find the IBJ Podcast each Monday. You can also subscribe at iTunes, Google Play, Tune In and Spotify. Here are some of our recent podcasts:
IBJ Podcast: The rent is due, and tenants are struggling as unemployment soars
IBJ Podcast: What will restaurants, offices look like after economy reopens?
IBJ Podcast: How buying and selling homes has changed in the COVID era
IBJ Podcast: The pressures of working and parenting at home in a pandemic
IBJ Podcast: What you need to know about unemployment now
IBJ Podcast: Sahm's—one restaurant company's story about the impact of coronavirus
IBJ Podcast: Pete the Planner talks about the virus, the impact on the economy and what to think about your portfolio
IBJ Podcast: How can companies survive the economic calamity of COVID-19?
——
Felix Mendelssohn's "Wedding March," from "A Midsummer's Night Dream," arranged for drunk organist (or sober organist pretending to be drunk) by Jonathan Mui.
Please enable JavaScript to view this content.