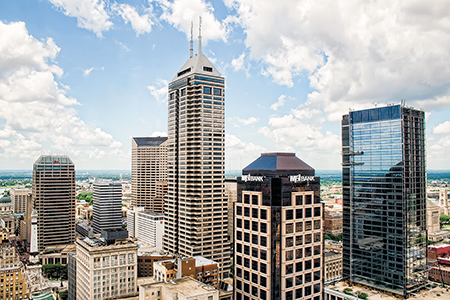 Before the pandemic hit Indianapolis in March, some 155,000 people were working regularly downtown. In the weeks after Gov. Eric Holcomb ordered all non-essential workers to go home, just 5% or so of those workers remained. Essentially, the Mile Square became a ghost town.
Today, some of those workers are returning. Many restaurants are open again. And a few offices are open.
But IBJ reporters Samm Quinn and Anthony Schoettle spent a week talking with the leaders of downtown companies and learned that many are delaying plans to bring workers back to the office.
What are the ramifications for downtown? That's the subject of this week's podcast.
Want to know more? See Quinn and Schoettle's story at IBJ.com.
Click here to find the IBJ Podcast each Monday. You can also subscribe at iTunes, Google Play, Tune In and Spotify. Here are some of our recent podcasts:
IBJ Podcast: Pete the Planner explains what's scaring him about the economy right now
IBJ Podcast: Advice for hiring and nurturing a diverse workforce
IBJ Podcast: Indy Black Chamber of Commerce wants city support
IBJ Podcast: Will the Indy 500 run with fans in the stands? IMS officials say yes.
IBJ Podcast: Should the city help pay for damage done to businesses downtown?
Please enable JavaScript to view this content.