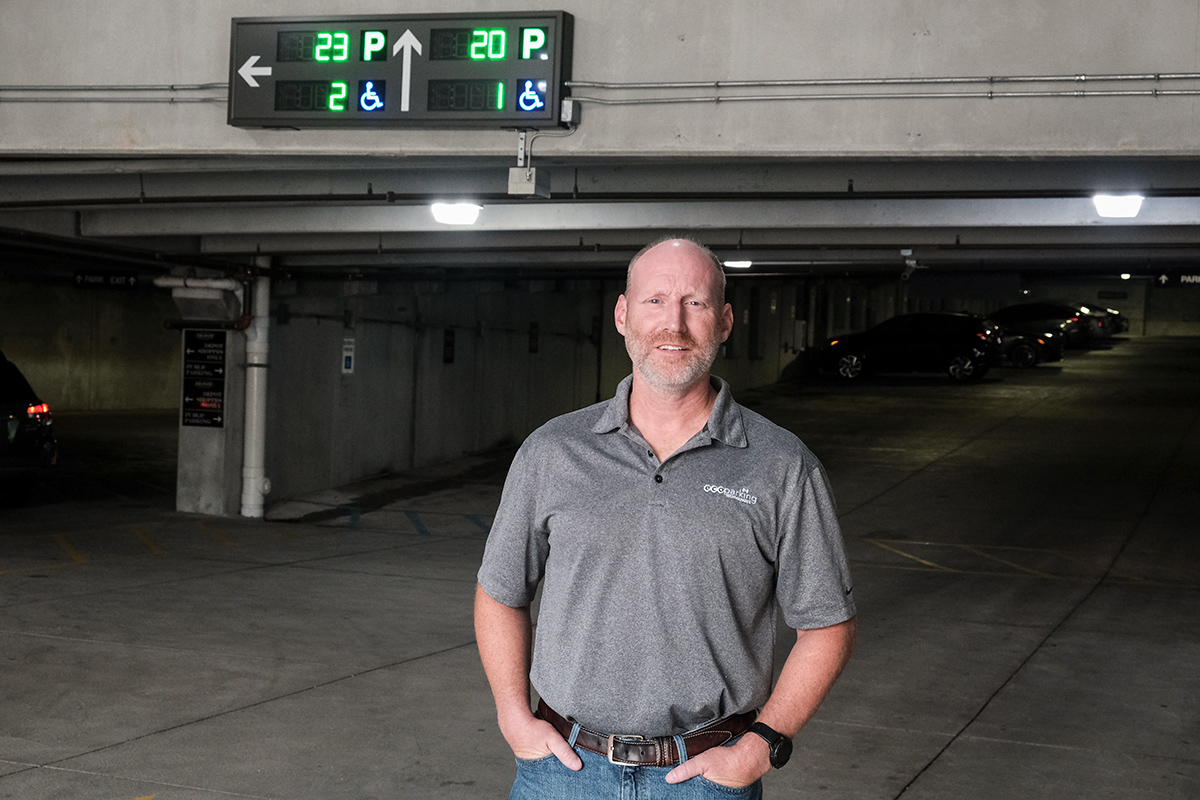 At first blush, a parking garage may seem pretty low-tech. It's just a place to put your car, right?
But Indianapolis-based Eco Parking Technologies sees parking garages as a source of big data that has huge business potential for both the company and its customers.
The 11-person business, which started in 2007 to sell parking-garage lighting, launched a parking guidance system in 2017 that has attracted customers from coast to coast, though none yet in the Indianapolis area.
Current customers include Yale New Haven Hospital in Connecticut, an Amazon.com facility in Cincinnati, The Ohio State University, the University of Florida, and various municipalities, among others.
California State University-Sacramento was the first customer to install a system in 2018. Currently, Eco has 12 parking guidance customers that have installed the technology in a total of 21 garages. The company also has more than 100 garages that use Eco's lights but not its parking guidance.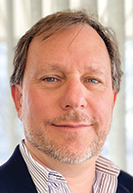 The patented guidance system, called Falcon Vision, uses cameras and sensors to detect which garage spaces are empty and which are occupied. That triggers overhead signal lights that alert drivers to available spaces: A green light means at least one space is available in the immediate area, while a red light means "keep looking." The system helps owners sell more spaces, while also allowing customers to easily find a spot in a crowded garage.
Market potential
As of now, guidance technology isn't widely used in garages. Eco's cofounder, president and chief strategy officer, Jeff Pinyot, estimates that only about 5% to 10% of garages currently use it. But he sees a huge potential market—perhaps 50% of all U.S. parking garages are potential customers for this type of technology.
"People want the data," Pinyot said. "Our system helps sell every space."
David Packard, another of the company's cofounders, agrees. "I would say we're still at the beginning of that curve right now. All of that huge growth is right in front of us."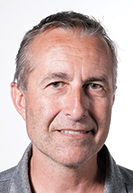 Eco is not the only company that offers parking guidance technology. Connecticut-based Park Assist and Austria-based Indect, which entered the U.S. market in 2011, are its main competitors. Both are larger companies that also do business overseas.
But Andy Teed, who joined Eco as its majority owner in 2019, thinks his company has an edge over its competitors. The wireless guidance system integrates into Eco's lights, which means garage owners can add the technology without installing additional wiring. And when there's no activity in the garage, the guidance system's sensors can dim the lights for energy saving. "I really believe we're the emerging market leader," Teed said.
The company is on track to earn between $3 million and $3.5 million this year, Teed said, growing to a projected $5 million next year. Teed also expects that 2022 will mark a return to profitability for the company, which he said was "mostly profitable" in its early years before returning to startup mode and investing heavily to launch its parking guidance system.
Seeing opportunity
Packard, Pinyot and a third partner, Steve Little, formed the company originally known as Level Solutions ET Inc. in 2007. Its first product was energy-efficient lighting for parking garages, and the company changed its name to Eco Lighting Solutions LLC in 2009.
Packard recalled that in those early years, the partners settled on parking guidance as a new line of business that could complement their existing lighting lines. They thought customers who had grown to trust Eco's lights might also be interested in adding parking guidance to their garages.
Eco hired an outside firm to develop the technology through a product development agreement, later bringing Falcon's product design and development in-house. A Fishers parking garage owner agreed to let Eco use the site as a real-world test lab for the technology.
After several years of development and testing, Eco released its first version of the technology. "It was very limited in features, but it still had the primary concept that we wanted to do," Packard said.
The company adopted its current name in 2019 and moved to its current location, in a business park near Castleton Square Mall, several weeks ago.
The purpose of the guidance system is twofold. It gives drivers real-time information about where to park. But it also allows garage owners to collect and analyze usage data—and to ultimately make more money from the garage.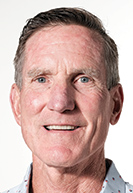 "You want to know as much about your customer as you possibly can," said William Longardner, who joined Eco in 2009 and now serves as its chief technology officer. "Ultimately, that's how you're going to increase your occupancy—by knowing how many spaces you have available and being able to sell them."
Maximizing use
The village of Arlington Heights, a Chicago suburb, offers some real-world examples of what garage owners can do with that information.
About 18 months ago, Arlington Heights installed Eco's guidance system and lighting for one of its four public garages, an 1,100-space, five-story structure whose customers include downtown residents as well as those who come downtown for business or entertainment. The cost of the equipment was about $450,000, said Bill Enright, Arlington Heights' deputy director of community development.
"We've been very happy with the system," Enright said. "It's been a great tool."
The Eco system, Enright said, allows the suburb to make parking decisions based on actual usage. For instance, the garage sets aside a certain number of reserved spaces for permit holders—people who live or work downtown.
The village doesn't yet have a year's worth of solid data because the pandemic has had a big effect on traffic and parking patterns, Enright said. But as more normal life returns, officials can use Eco's system to analyze how many of its permitted garage spots are being used and at what times of day. It might learn, for instance, that the permit-only spots are not in continuous use. Officials might then decide to make some of those spaces available to shoppers.
In another example, the town is currently analyzing garage use to help it decide how many spaces to sell to a developer for use by a new downtown tenant.
The system also makes it easier for garage owners to quickly change the pricing or use of its spaces, Pinyot said. In addition to the green and red guidance lights, the Eco system is capable of displaying other colors: blue for a handicap-permit-only spot, yellow for spots that offer electric vehicle charging, or some other color for another specialty use.
This feature, Pinyot said, made it possible for Eco customers to create new categories of parking last year in response to the demands of the pandemic. Arlington Heights, for instance, reserved some spaces for downtown restaurant carry-out customers. California State University-Sacramento reserved some spots for Wi-Fi users.
Post-pandemic bounce
The pandemic put many garage owners into a financial pinch because work-from-home arrangements and stay-at-home orders meant many customers didn't need garage parking last year.
But as the pandemic recedes, Eco is optimistic that business will rebound.
"We believe there will still be demand," Teed said.
The company is also debt-free, which its executives see as a big advantage.
"That's really good in an industry like this. A lot of people that live in this industry aren't" debt-free, Pinyot said.
Eco also used the time during last year's lull to redesign its lighting fixtures, giving them a sleeker look. The new fixtures are more appealing to project architects, Teed said, which has given the products a measurable sales boost. "It's made a pretty incredible difference."
The company is also working on additional features such as license plate recognition, which garage owners could use to track customers without the need for gate arms or physical tickets. Another upcoming feature: giving customers the ability to watch live images from Eco's cameras—a feature that right now only Eco boasts.
Rachel Yoka, vice president of program development at the Fredericksburg, Virginia-based International Parking and Mobility Institute, said conditions are right for a boom in parking guidance technology. "There's actually a really big market right now for upgrading facilities to make them better."
No one yet knows to what degree driving and parking habits have permanently changed, Yoka said, but garage owners are keen to make up for the revenues they lost during the pandemic.
Selling more parking spaces is one way to do that, she said. So is making the garage more appealing to customers, through things like parking guidance systems, good lighting and easy navigation. "That customer experience is more and more important, to make sure folks come back."•
Please enable JavaScript to view this content.