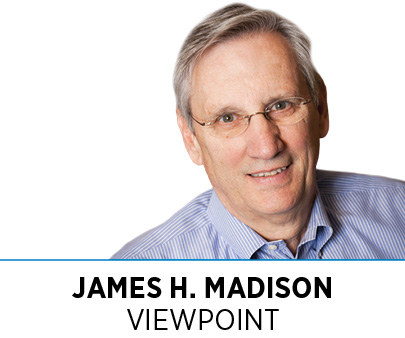 Every day brings laments about the nasty conflicts swirling around us, the anger, and the failure to get along. We want more civility and less violence, of course, but I'm convinced we just have to accept disagreement. It's the burden of our past.
American history is full of anger, division and violence. Perhaps a third of American colonialists sided with the British Empire in 1776. Then there's the Civil War, with more than 600,000 dead Americans and a legacy of emancipation scarred by the rise of Jim Crow segregation.
We've often embraced a consensus history, one devoid of conflict. A bloody civil war becomes a noble cause. The white supremacy that began in 1619 to build the largest system of forced labor in world history becomes a sidebar with modest significance. Such myths are prerequisites for so-called patriotic history. They comfort us, at least until we understand them as simple propaganda ill-suited to democracy.
The best example for Hoosiers is our own Ku Klux Klan of the 1920s, a tragedy long ignored because it was so discomforting. Mixed with polite silence were the myths Hoosiers told of a Klan composed of ignorant fools, the "great Unteachables," as one journalist wrote. Hoosiers in white robes and hoods really didn't mean to hurt anyone. They were a marginal group or dupes not to be taken seriously. Forget it, move on.
I've just spent three years writing a book about Indiana's Klan. I read thousands of primary sources (newspapers, letters, court documents and many others). They tell a very different story, one of conflict and small comfort.
We now know that Klan members were respected Methodists, lawyers, Masons, police officers, churchwomen, teachers, mayors and businessmen. Indiana's governor, a majority of the General Assembly, and the Indianapolis mayor had Klan allegiances. Ordinary Hoosiers joined eagerly and knowingly. Middle-class, native-born and exclusively white, they saw themselves as 100% Americans, superior to immigrants, Catholics, Jews and African Americans, people they labeled aliens.
The Klan skillfully folded its messaging into Christianity and patriotism to make division and bigotry respectable. Smart leaders packaged traditional prejudices in fancy bows and magnified them via the Klan newspaper, parades, cross burnings, phonograph recordings and Klan films.
Klan leaders were not rubes. They built a sophisticated organization, with "Klaverns" in all 92 counties. Paid staff and volunteers recruited members who paid dues that brought in huge sums of money. On Election Day in 1924, this political machine swept into office.
There was opposition. Catholics, Jews, African Americans, the Indiana Bar Association, some newspapers and a few politicians stood up. Critics were small in number. Silence was the road chosen by many. The Klan's downfall was slow and painful because the ideals it had put in the spotlight were deep in the culture.
An honest history of Indiana's Klan forces us to acknowledge the conflict among Hoosiers a century ago. There is little space for comfort history here.
A phony patriotic history that diminishes and evades what divides us will not bring peace. Only if we can honestly look at the mirrors of our past can we acknowledge the origins of our conflicts and anger today. There is no magic bullet, but honesty about our past is essential to a better future.•
__________
Madison is IU professor of history emeritus and author of "The Ku Klux Klan in the Heartland" (Indiana University Press, 2020).
Please enable JavaScript to view this content.