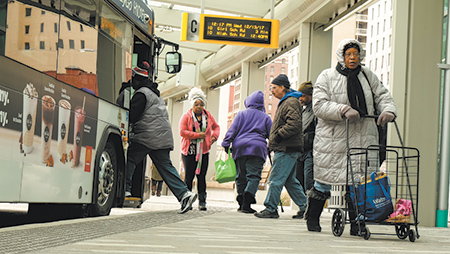 IndyGo is temporarily eliminating fares, reducing its service schedule and taking other actions starting Sunday in response to the coronavirus.
"These measures are intended to increase the safety of transit riders and employees by lessening the need for non-essential interactions and reducing service frequency to reflect declining ridership," IndyGo said in a prepared statement issued Thursday evening.
IndyGo spokeswoman Lesley Gordon told IBJ that the bus system has seen "an expected steady decline in ridership with the travel restrictions in place," but she did not provide specifics about how much ridership has fallen off.
To reduce interactions aboard buses, IndyGo is suspending all fares and will require riders to board through the vehicles' rear entrances. Riders who need to use a wheelchair-accessible ramp will continue to board the buses via the front door.
IndyGo said it will begin running routes on a Saturday schedule six days a week, which means buses will be running less often than usual on weekdays. Sunday service will remain as scheduled.
IndyGo also said it's advising riders to "practice social distancing by maintaining as much space between themselves and other riders as possible."
The coronavirus-related adjustments will be in effect until further notice, and IndyGo said it is "monitoring the situation closely and may implement additional adjustments as deemed necessary."
Please enable JavaScript to view this content.