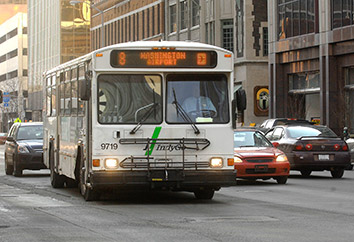 The Federal Transit Administration announced Friday that it will provide $55.5 million in relief for Indiana's public transit agencies, with most of that money earmarked for IndyGo.
Of that $55.5 million, $44.6 million is earmarked for the Indianapolis metro area. IndyGo says a small percentage of the $44.6 million will go to the Central Indiana Regional Transportation Authority, but exact figures were not immediately available.
The Indiana award is part of $25 billion in aid that the federal government is making available to transit agencies nationwide as part of the Coronavirus Aid, Relief and Economic Security, or CARES, Act, which President Donald Trump signed into law March 27.
"We know that many of our nation's public transportation systems are facing extraordinary challenges and these funds will go a long way to assisting our transit industry partners in battling COVID-19," FTA Acting Administrator K. Jane Williams said in a written statement. "These federal funds will support operating assistance to transit agencies of all sizes providing essential travel and supporting transit workers across the country who are unable to work because of the public health emergency."
The funding comes in the form of grants—they do not have to be repaid and require no local match. Transit agencies can use the money to support capital, operating and other eligible expenses, including COVID-19-related expenses such as employee leave and the sanitizing of buses and transit facilities.
Other Indiana transit operators set to receive funding through the program are in Anderson, Bloomington, Columbus, Elkhart, Evansville, Fort Wayne, Kokomo, Lafayette, Michigan City/La Porte, Muncie, South Bend and Terre Haute.
Please enable JavaScript to view this content.