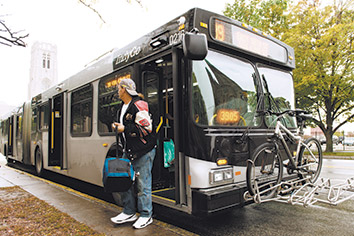 The Indianapolis Public Transportation Corp., better known as IndyGo, launched a hiring campaign Tuesday after driver shortages contributed to service reductions this month for 15 bus lines.
The agency said it's "calling all friendly people who love people, enjoy driving and are seeking an office with a view to apply to be an IndyGo Professional Coach Operator today!"
IndyGo plans to hire 10 to 15 drivers a month to maintain operations "for the foreseeable future," said spokeswoman Carrie Black. The agency will also need more drivers for its Red Line and upcoming Purple Line, according to the news release.
There's no set hiring goal, Black said, "because the need is constantly changing."
"We feel confident that if we're hiring 10 to 15 operators a month, that we are meeting our changing demand," she added. "We're not overshooting it, where we've got people hired and not able to work because we don't need them, but then we're not undershooting it to the point where we're having to make major route cuts because we don't have enough drivers. So that's giving us a steady flow, a steady influx."
IndyGo announced in September that it would cut bus frequencies on 15 routes, effective Oct. 10, driven by its workforce and ridership numbers. Eleven lines dropped higher-frequency rush hour service, two went from 30-minute to 1-hour frequencies and two others went from 1-hour to 2-hour frequencies.
IndyGo makes schedule changes three times a year, so they'll next be tweaked in February, but the agency is also making other bids to bring in new hires.
Black said IndyGo has bumped up its starting pay, so that drivers earn $17 to $18.50 hourly while in an 8-week training program and begin regular work at slightly over $20 per hour. IndyGo has also started a new mentorship and apprenticeship program to help new drivers adjust, and help IndyGo maintain its existing workforce.
It also already offers full health insurance and retirement plans, tuition reimbursement, and eligibility for the Federal Loan Forgiveness Program, according the IndyGo website.
Please enable JavaScript to view this content.