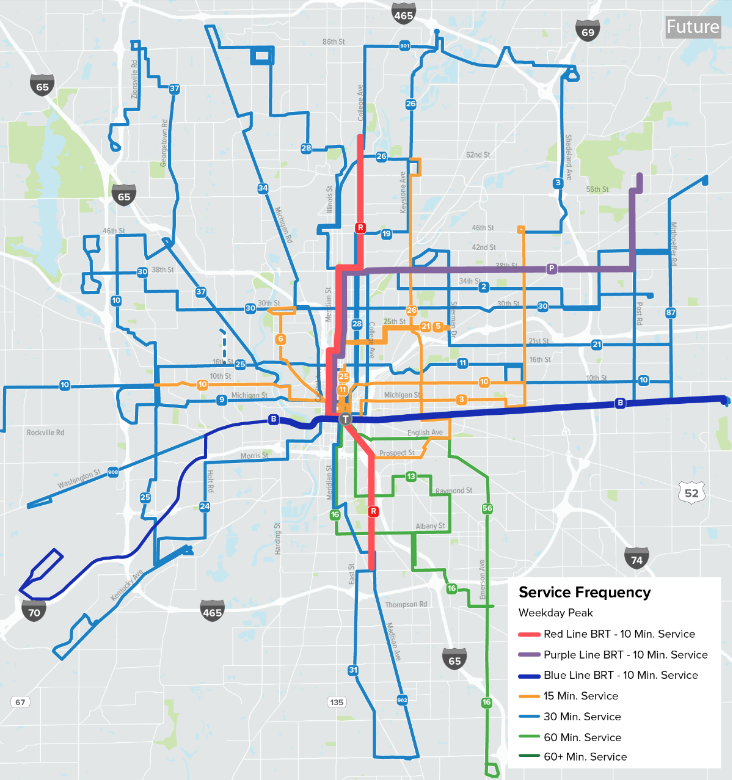 IndyGo is asking for feedback on a five-year plan that aims to provide more reliable and frequent service that will operate 21 hours a day, seven days a week.
The draft future service plan includes a network redesign that would remove less-used routes and integrate rapid transit lines. It also aims to increase service frequency, with an emphasis on weekends. IndyGo also plans to extend crosstown routes to connect riders with grocery stores, medical facilities, colleges and retail locations.
Before restructuring routes, the transit agency aims to restore bus service to pre-pandemic levels. In the plan, IndyGo notes that "the sudden decrease in ridership in 2020 continues to have a direct impact on the agency's ability to move forward with the implementation of the network redesign."
In the five-year period, IndyGo plans to complete the Purple Line and the upcoming Blue Line. Once they are operational, the routes will be restructured accordingly.
The Blue Line is depicted in the plan as running on Interstate 70 for the western portion of the route. This is intended to reduce costs after it was announced in late August that a previous design would be $300 million over budget. The change hasn't been finalized by the board but is reflective of the current proposal.
The build-out involves retiring eight routes, adding two new ones and expanding others. Route 9, a new route, would run from downtown to the far-east side. The other new route, Route 56, would run from downtown to the west side, and then south. 
The changes would take place in six phases with unspecified completion dates. The first phase involves system-level corrections, like restoring Red Line frequency and reducing route duplication. In the second phase, south-side routes would be restructured, and on-demand service would be introduced.
The IndyGo Board of Directors will vote on the plan at its November meeting. Prior to the meeting, IndyGo will present the plan and receive public comment at three upcoming meetings:
Tuesday, Oct. 11, 5:30 p.m. – Community Justice Center, 675 Justice Way
Thursday, Oct. 13, 5:30 p.m. – P30, 3039 N. Post Road
Tuesday, Oct. 18, 5:30 p.m. – Virtual via Zoom
Please enable JavaScript to view this content.