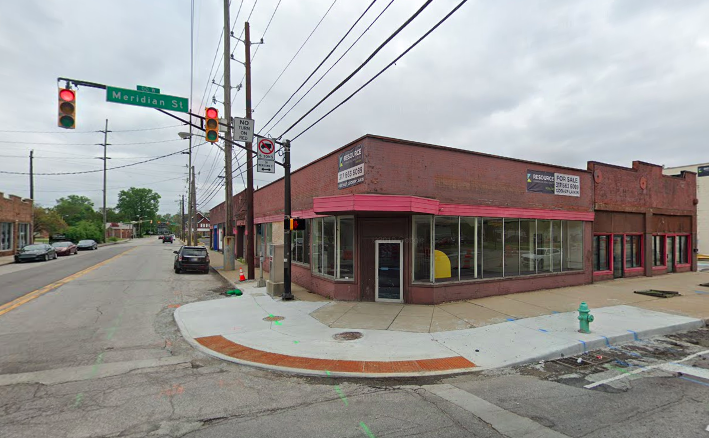 The Indianapolis Neighborhood Housing Partnership has purchased three more sets of properties strategically located by IndyGo bus lines in its quest to spur the development of affordable housing near the routes.
The acquired properties—located at the former headquarters of retail developer Sandor at 22nd and Meridian Streets, the northwest corner of 25th and Delaware streets, and the northeast corner of New York and Rural streets—are the latest acquisitions in INHP's $15 million Equitable Transit-Oriented Development Fund.
The fund was launched February in collaboration with Michigan-based Cinnaire, a community development financial institution with offices in Indianapolis, which will manage the fund. At that time, INHP announced it had already purchased 401 E. Southern Ave. near Garfield Park and 2163 N. Illinois St.
The objective of the fund is to preserve or create 1,000 affordable housing units within walking distance to bus stops over the next five years.
"We're acutely focused on the ability of the low- and moderate-income individuals that would ultimately live in the units on these properties to access transit, and through transit, jobs, healthcare, education and cultural amenities," said Joe Hanson, INHP's executive vice president of strategic initiatives. "We see this as an economic mobility strategy for residents."
Cinnaire has aggregated $8.1 million in lending capital from seven financial institutions so far. It hopes to raise $12 million. INHP, the city of Indianapolis and JPMorgan Chase are contributing the other $3 million to the fund.
INHP will not act as a developer on the properties. Rather, it will seek developers for projects. The developments will likely not be entirely affordable housing. Rather, they will offer some affordable units among market-rate units and, in some cases, retail.
"We're simply holding these and selling them to someone who will agree to develop affordable housing on them," Hanson said. "We have to live in realities of negotiations and trying to get the most [number of affordable units] that we can get. We fully recognize the value of mixed-income properties."
The property at 2810 New York St., near the intersection of New York and Rural streets, is expected to be developed by a partnership of the John H. Boner Center and Englewood Community Development Corp. Hanson said it would likely be a mixed-use property.
The cluster of properties at the northwest corner of 25th and Delaware were purchased from King Park Community Development Corp. INHP is searching for developers for that land, which is adjacent to the Red Line.
The most recently acquired property is at the northwest corner of 22nd and Meridian streets, which used to be the Sandor headquarters. The properties were recently purchased from the Indiana University Foundation. INHP is still working to identify a developer.
The property is right at a Red Line stop, where residents "could walk out the front door and get on the bus," Hanson said.

"We have developers interested," he said. "That would definitely be mixed-use. You could imagine the retail potential on the first-floor."
INHP declined to provide the purchase prices for the properties.
Hanson said there is a misconception that Indianapolis has a plethora of affordable housing, as the city frequently is heralded as one of the most affordable cities in the country. But he said those measures frequently don't take into account income.
"Rents may be lower here than our peer cities, but apparently so are incomes," Hanson said.
In fact, INHP says there's a shortage of affordable housing in Indianapolis, according to research conducted for them by consultant Greenstreet. There are about 100,000 Marion County households that earn less than 80% of the area median income and are housing cost-burdened, meaning that more than 30% of their gross income is spent on housing.
"When we're talking about 1,000 units, that's a drop in the bucket relative to that number," Hanson said. "But it's a very aggressive number for us and this initiative."
The properties would likely not be permanently affordable. Like other affordable units in town, a developer could agree to a period of affordability, usually at least a decade, and then eventually take the units market-rate.
Hanson said that's an unfortunate economic reality, but the group "would rather see some affordable housing done than none."
"We would love to see them retained as affordability for as long as absolutely possible," he said. "Part of our strategy is also acquiring existing affordable housing and preventing it from converting to market-rate."
Please enable JavaScript to view this content.