Owen Washburn is vice president of global philanthropy at New York-based JPMorgan Chase, where he oversees the company foundation's grant-making strategy for Indianapolis as well as for Chicago, Minneapolis, St. Paul and Toronto.
That means Washburn is looking for opportunities to translate the foundation's larger goals into programs and strategies in those local communities.
For Indianapolis, that's meant helping the Indianapolis Neighborhood Housing Partnership launch the Equitable Transit-Oriented Development loan fund to help preserve and create affordable housing along bus lines. It's meant $1 million in grants to Indianapolis Public Schools' career-focused high schools. And it's meant multiple investments that have helped the Local Initiatives Support Corporation of Indianapolis launch and implement its Great Places 2020 initiative.
IBJ talked to Washburn about the JPMorgan Chase Foundation's efforts in Indianapolis and how those investments fit into the organization's larger goals.
What are the foundation's missions?
We have an overall mission at JPMorgan Chase of trying to create inclusive economic growth in the communities where the firm does business. And I think of that as: How do we help more people both benefit from but also contribute to local economic growth?
There are four areas that the firm has been focused on for about the last probably five or six years that are distinctive.
So those four areas are jobs and skills, where we're thinking about how to help people access and advance on career pathways. Neighborhood revitalization, where we're thinking a lot about particularly how people are able to live in amenity-rich communities with affordable housing and access to key regional assets. Small-business development, where we're thinking a lot about how to ensure that all entrepreneurs, particularly entrepreneurs of color and women, have access to capital, markets, technical assistance or management, and … those capabilities or resources that we know are critical to start and grow a small business. And then financial health, where we're thinking a lot about how individuals and families build wealth, grow assets, build their credit. We know that that is a key component to creating that inclusive growth.
There are two themes that run across those four areas. One is around equity. One of the assessments that we do when we're creating our strategy is [ask]: What are the factors that are driving or contributing to unequal growth, particularly around the racial wealth gap? And the other is an orientation towards systems change. The initiatives that we typically invest in are multi-stakeholder, public, private.
Why do you find it important to work with partners in communities?
We know that, on our own, we do not have the ability to address the challenges that we face, that our communities face, at scale. And so, by aligning with really thoughtful, innovative public-sector institutions and leaders, we're able to amplify the work that we're doing or put some wind in the sails behind those initiatives.
The two really clear examples from our work in Indianapolis that are really exemplary of this sort of approach include the work that we've done with Indianapolis Public Schools and EmployIndy around the career academies.
The other, which is just really happening in real time now and is exciting to see, is, we helped capitalize the first round of the Equitable Transit-Oriented Development Fund that is hosted by INHP. There's a big public investment obviously with the Red Line and the other bus rapid transit lines that are going to be built out. How do we ensure that those realize their biggest promise, which is that folks who live in neighborhoods around Indianapolis can access those key institutions, whether it's a job center, health care, all the kinds of things that we think are critical? And so, we invested to try to ensure that there would be affordable housing and there would continue to be affordable housing along those transit lines.
I saw that you've also invested in the River West neighborhood a few times. What about that area is attractive to you?
In 2016, we made our first substantial investment in the Great Places 2020 strategy that LISC, in partnership with community organizations, started with three, and now there are five, neighborhoods.
There were a few things that were really compelling about that. One was that there was significant resident and community engagement in terms of identifying the priorities for each neighborhood. There's no way that an investor like us can go around and obviously say what each neighborhood might need. We believe that communities should be able to determine and drive their own sort of destiny. And so, there was a really rigorous community-led process to develop quality-of-life plans that then would be advanced through Great Places 2020.
And in River West, one of the sort of key things that was identified was the lack of small-business activity and a desire to be able to start and grow more small businesses. So in addition to supporting that sort of network of neighborhoods through a grant for LISC, we have supported directly through another public-private partnership, an investment in IUPUI, so that they could take some of their expertise from within the business school and deploy it in a neighborhood context. So they set up Source River West, which provides technical assistance and access to a range of resources for aspiring entrepreneurs or early-stage business owners focused on the River West neighborhood.
Why do you think it's so important to help start small businesses when you're trying to revitalize an area?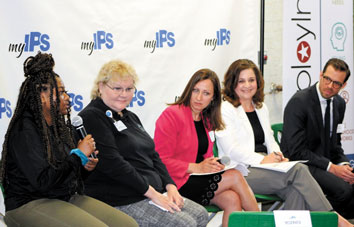 When a small business starts and grows within a community, it's an engine for wealth creation in that community. In one way, for that small-business owner, they become the owner of an asset in that neighborhood. And then they are also much more likely to hire folks from within the neighborhood to fill the roles in that business as it grows.
The other is that, depending on the nature of the business, many sort of consumer-oriented businesses—it might be a restaurant, might be a grocery store or other sort of smaller retail establishment—those are community assets that help build the fabric of a community. They help inspire safe, walkable neighborhoods that are really critical to creating a sense of place.
Is there anything about Indianapolis that stands out among the cities where you do work?
One thing that I am really excited about in Indianapolis right now is the commitment to inclusive growth. And we see that from the Mayor's Office to the Indy Chamber. … Seeing that leadership from the private sector and the public sector together, I think, is really unique.
More broadly, we look at a ton of data when we're trying to identify what is needed in a particular community, and along with that resident input, we're trying to take some empirical measures to inform our strategies. And so, we know that the small-business ecosystem in Indianapolis is underperforming … some of the other regions that we look at. One of the ways of measuring that is the amount of small-business lending that happens from nonprofit lenders, who are most likely to serve communities of color or very, very early-stage entrepreneurs. And so, in looking at that data, it helps us understand there might be an opportunity here for more small-business supports.
I'll just tease a little bit and say we will have more to say soon about our work, both focused on some of those communities and just the way that we're thinking about capital access for entrepreneurs in Indianapolis.•
Please enable JavaScript to view this content.