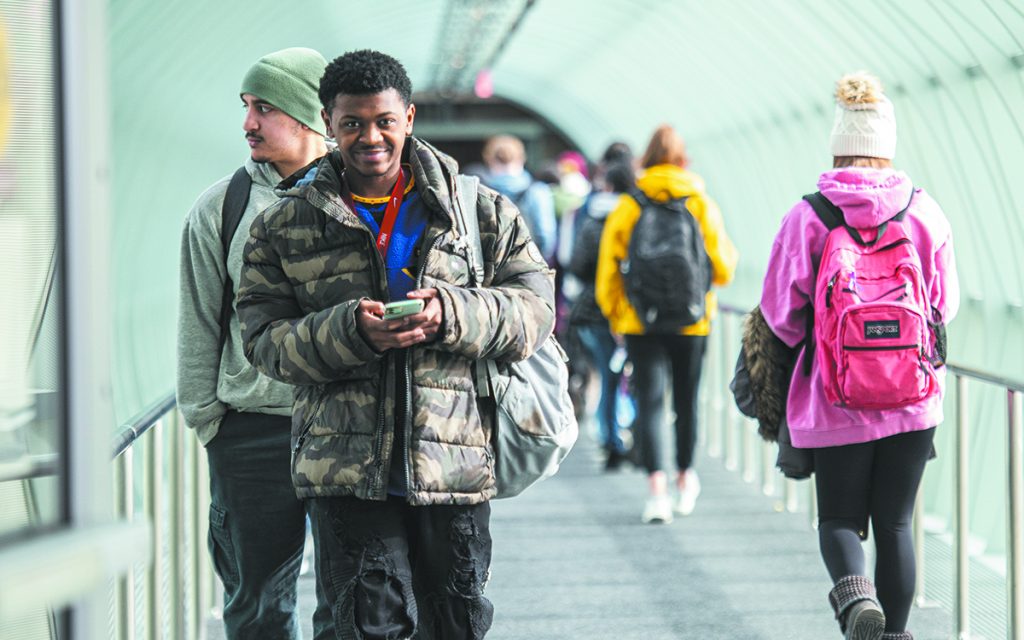 About a third of IUPUI's freshmen this year are minorities, the most in the university's history, after officials made a concerted effort to increase the number of under-represented students.
The school enrolled 1,280 freshmen students of color this school year—out of 3,777 total freshmen.
Across Indiana's public four-year universities, IUPUI's freshman class ranks among the most diverse. Only Indiana State University has a higher percentage of minority students—at 37%, though the university in Terre Haute hasn't made a special effort to increase that population, a spokesperson told IBJ. Other universities, including Indiana University's Bloomington campus, also reported a record number of minority students.
IUPUI's effort to attract more students of color is part of a nationwide trend, with officials enrolling more nonwhite students as the country becomes more diverse.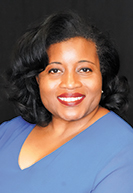 A recently released analysis from Pew Research Center found that, during the 2015-2016 academic year, 47% of the 20 million undergraduates across the country were nonwhite. That's up from 29% two decades earlier. But the study found that growth is largely taking place at community colleges and the least selective four-year schools, indicating there is still work to be done to move the needle forward.
And that work might be even more important at IUPUI. Given its urban location, the school can play a major role in ensuring that all types of students, including minorities and non-traditional students, have access to higher education, Chancellor Nasser Paydar told IBJ.
School leaders and higher education experts say it's important that the student body of an urban university, such as IUPUI, is representative of its city. In Indianapolis, nearly 30% of the population identifies as black. Another 10% is Latino or Hispanic, according to U.S. Census figures.
While the total number of minority students at IUPUI has increased the past few years, the number of black students has plateaued, and in some years dropped.
Other universities have experienced similar decreases. In Illinois, for example, African American enrollment at public higher education institutions fell 26% from 2013 to 2017, according to Crain's Chicago.
Black freshman enrollment nationwide fell 8 percentage points from 2010 to 2017, according to The Chronicle for Higher Education. Experts say the dip can be attributed to a number of factors, including the fact that African American students disproportionately enrolled in for-profit colleges and universities, some of which shuttered their doors, and a small decrease in the number of black high school graduates. Also, more students are now identifying as two or more races rather than black.
A former IUPUI professor who researches African Americans in higher education cited another factor that has added to the dip. Lori Davis, chairwoman of educational studies and professor of higher education and student affairs at Ohio State University, said historically black colleges and universities are experiencing renewed popularity and energy.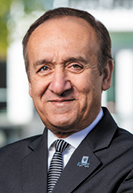 While African American enrollment at IUPUI has fluctuated, the number of Latino students has more than doubled since 2010—from 958 to 2,290.
The lion's share of Indiana's Latinos live in Marion County (more than 87,000 people), so it's important for Latino or Hispanic students to have a university nearby where they feel comfortable and well-represented, said Yecenia Tostado, associate director of Indy Achieves and soon to be executive director of Project Azul Foundation. Family is of upmost importance to Latinos, she said, so many students—or their parents—might look only at colleges close to home.
If IUPUI plans to target that population, it's important the university understand the uniqueness of the culture and the role it plays in a student's pursuit of higher education, Tostado added.
Setting a goal
IUPUI has already been recognized for its commitment to diversifying its student body. The university is one of only nine in the country to be honored by INSIGHT into Diversity magazine with its Higher Education Excellence in Diversity Award each year since the publication was established in 2012.
The university has been on a path to become a majority-minority university since Paydar was installed as chancellor in 2015 and has made strides each year to increase its students-of-color population while ensuring the campus is prepared to best serve those students.
In his installation address in 2015, Paydar laid out goals for his tenure that included increasing the number of African American students 50% in five years.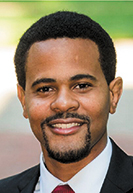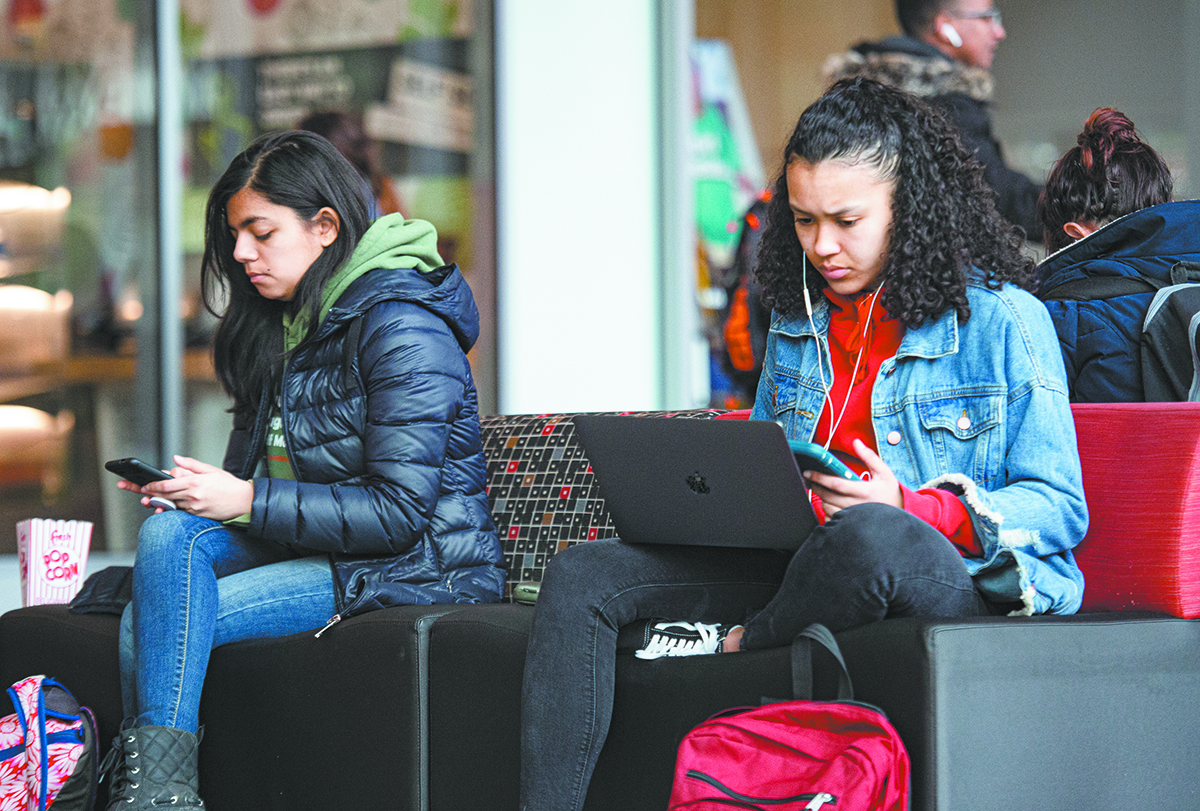 That year, the university launched two task forces focused on recruitment and retention of African Americans and Latinos, with the goal of assessing their experiences from the admission process to graduation. The groups expanded Paydar's 50% goal to include all students of color. In 2016, the groups laid out recommendations, which included:
◗ Increase financial aid to cover gaps that can keep a prospect from enrolling or a current student from staying.
◗ Build onto transition programs and learning communities.
◗ Enhance IUPUI's diversity recruitment by expanding the number of and providing funding for targeted middle school and high school visits.
The result has been an 11% increase in students of color since 2016. The gain is even greater when the first half of the decade is included—a nearly 50% increase since 2010. The school enrolled 5,360 students of color that year; this year, the number is 7,838, more than a quarter of the student body.
The biggest recent jump is in the number of Latino students, which has risen more than 40% since 2015. IUPUI leaders say they expect that trajectory to continue in coming years—consistent with national trends—while the number of African American students will be relatively flat.
The number of students identifying as two or more races has also risen, from 993 in 2015 to 1,195 this year.
In 2015, the year Paydar set his goal, the university enrolled 2,783 African American students—down from more than 2,900 the three years prior. In 2016, the number rose before falling again in 2017 and 2018. This year, the university enrolled 2,624 African Americans, a slight increase from 2018 but still down from 2015.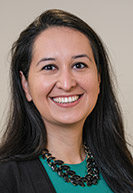 Still, the school has more black students than any other university in the state, IUPUI reports. And black enrollment in spring 2019 increased 3% over 2018, showing IUPUI's recruitment efforts are working, the university said.
The number of students of color earning bachelor's degrees is also rising, indicating retainment strategies are working.
Last school year, more than 1,700 students of color earned a bachelor's degree, up from about 900 in 2010.
"That's what we are proud of," Paydar said. "Getting them here is one thing. Keeping them and making them successful is another."
Enrollment strategies
As IUPUI has worked to increase its number of minority students, it's deployed new recruitment initiatives aimed at getting students in the door.
Errol Wint, director of undergraduate admissions, was hired about 18 months ago to drive minority enrollment.
Before moving to Indianapolis, Wint worked at the University of Louisville, where he was also responsible for increasing the number of African American and Hispanic students. There, he increased freshman African American enrollment 10% and nearly doubled the number of incoming Latino freshmen.
At IUPUI, Wint works with a few admissions counselors dedicated to enrolling African American and Latino students, both locally and beyond.
The university has also made an effort to hire admissions counselors who self-identify as African American or Latino, Wint said. And they're trying to ensure that students who enroll and go through orientation actually show up for the first day of classes.
Wint said schools across the country are affected by a phenomenon called "summer melt," in which students who graduate high school with intentions of going to college never wind up on campus that fall.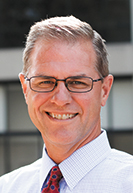 A variety of factors can lead to students committing to a college but not actually enrolling, but the phenomenon disproportionally affects low-income students and students of color.
Wint said some reasons students don't show up are simple to address. Maybe they don't realize they need bedding, furniture and supplies, and they get overwhelmed. Or maybe they just forget to submit required paperwork.
To combat summer melt, the university has employed a multi-channel approach for keeping students apprised of deadlines and details, reaching them by calls, texts and email.
The university has also taken deliberate steps to engage African American and Latino students through community partners.
In August, for example, the Office of Community Engagement and the Enrollment Department hosted an event for community partners who serve Latinos. Before the recruitment year started, IUPUI officials briefed those partners on changes to the enrollment processes, available scholarships and more, hoping they could pass that information on to prospective students.
"There's a recognition that, a lot of times, colleges spend time with high school counselors, but students from these populations are making connections oftentimes outside of those," he said. "[We're] meeting them where they're at."
Family first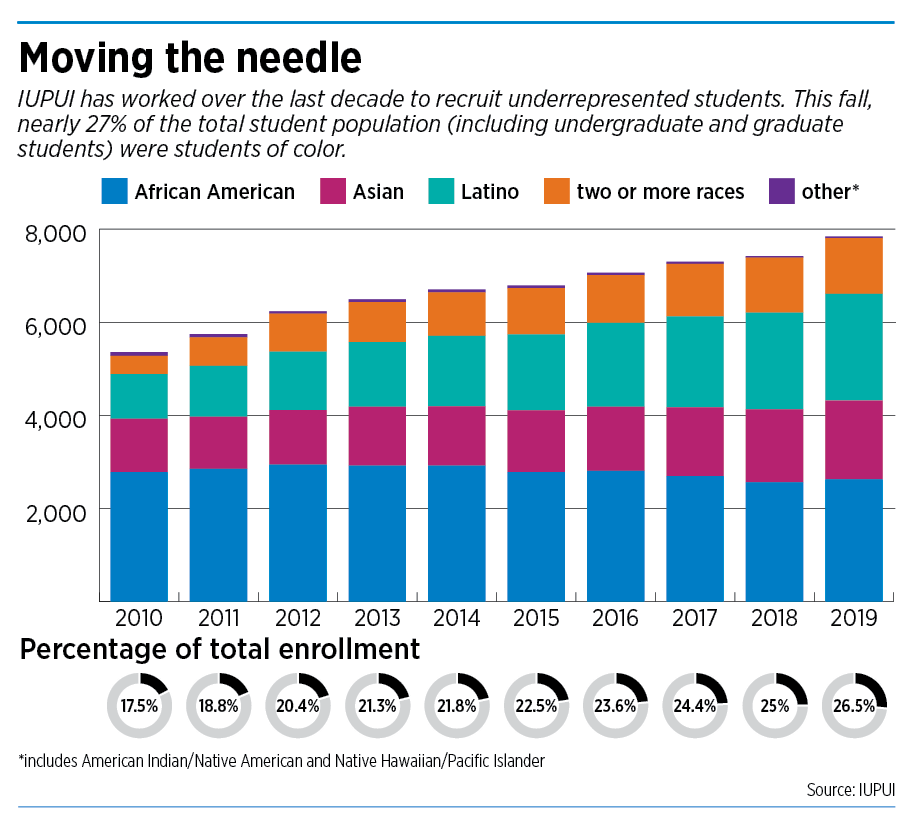 Tostado said that, as IUPUI recruits Latino students, the university needs to make sure it "brings families along"—something Wint said the university is cognizant of. Because Latinos are generally loan-averse, it's also important for universities, while recruiting students, to provide education about responsible borrowing and involve parents, she said.
"The family, they need to be part of the process, understanding why a student would continue in a post-secondary program they're paying for versus going to the workforce," Tostado said.
It's also important the university understand that families might have mixed immigration statuses and what that might mean for a student, especially given the national dialogue about immigration, she said.
Another factor university officials say is driving up the number of students of color is a change in the way it awards scholarships.
Since Paydar took the helm, the university has substantially increased its amount of need-based aid—in addition to merit-based aid already offered. By next year, the university expects to offer more than $10 million in need-based aid each year. For low-income students, who often happen to be minority students, the aid can make a difference in whether they're able to attend college at all.
Reports on recruitment and retention show access to financial aid and scholarships was among the top two reasons Latino and black students initially chose to attend IUPUI. For all students, that factor ranks seventh.
Davis, the Ohio State professor, said pre-college programs and increased financial aid have helped universities and colleges across the country recruit more students of color.
IUPUI has plans to eliminate another potential barrier for nonwhite students. Starting in 2021, it will eliminate standardized tests as a requirement in the admissions process.
Other universities—including Ball State University—have been eliminating test scores for admission because experts say the tests have historically been biased against students of color.
Retention strategies
Davis said dropping standardized test scores as a requirement is a step in the right direction.
She told IBJ that, while many schools have deployed programs and initiatives that have increased enrollment of students of color, they haven't dedicated as many resources to ensuring those students graduate.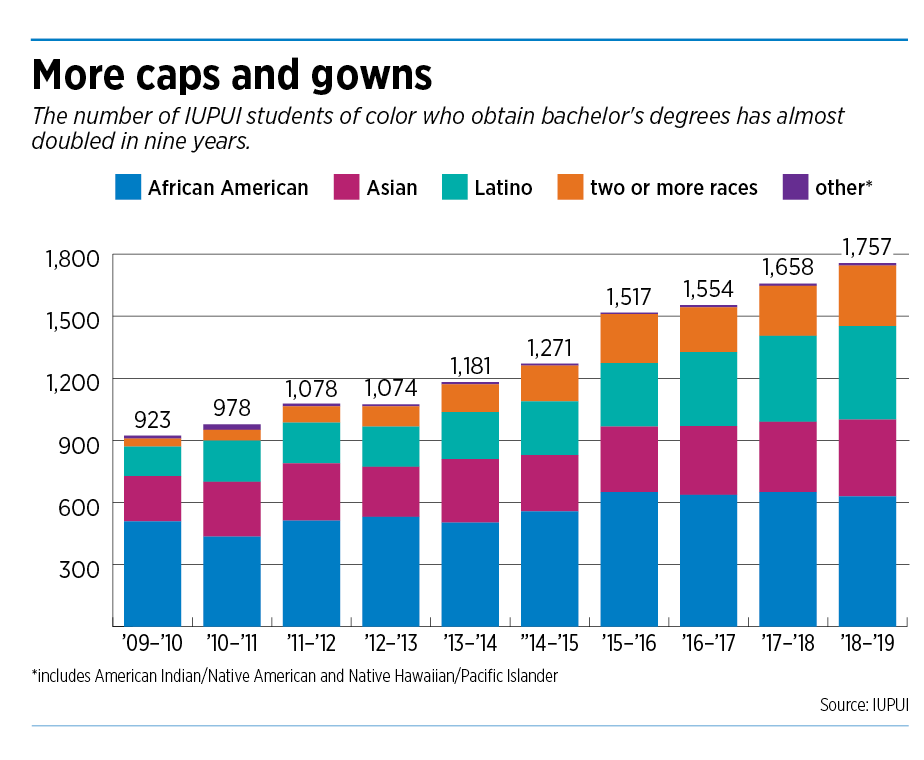 It's imperative that black students coming into predominantly white institutions, including IUPUI, know what resources are available to them, such as a black cultural center or black mentors, Davis said.
In the past few years, IUPUI has increased its wraparound programs that aim to make students comfortable at IUPUI so they're successful.
The programs offer mentoring and help with study skills and give students a safe place to connect, said Jay Gladden, associate vice chancellor for undergraduate education.
One program that primarily serves African American and Latino students is the Diversity Enrichment Achievement Program, known as DEAP. The program provides students a place to hang out and study, but it also provides programming, such as bringing in people of color who are professionals in the community.
The goal is to "enhance the transition and success" of IUPUI students from populations that have been traditionally underserved by higher education by addressing academic, social and personal matters that could affect their persistence to finish school.
Other wraparound programs that seem to be making a difference serve all students but have had an especially positive impact on black and Hispanic students. There is space dedicated on campus for 21st Century Scholars, for example, and the PAWS Pantry provides lower-income students access to food. The PAWS Closet provides students with clothing, especially professional outfits for interviews and internships.
"One of the things we're trying to do is to help every student … feel like they belong at IUPUI," Gladden said.
The university is also employing educational experiences they hope lead to better retention.
For example, IUPUI has long offered a summer bridge program, in which freshmen can come to campus a few days before school begins to get oriented. In the past, only 25% to 30% of freshmen participated, but in the next two years, all incoming freshmen will go through the program.
Students who have participated in the summer bridge program the past three years have had higher one-year retention rates than those who didn't, especially among minority students, IUPUI data shows.
In 2018, bridge participants overall had a retention rate of 78% compared with 72% for non-participants. For minority students and low-income students, the retention rates were 7 percentage points to 11 percentage points higher, Gladden said.
"Our perspective is, if we know this works, then what we need to do is ensure every student has an opportunity to experience it," he said.
Succeed, not survive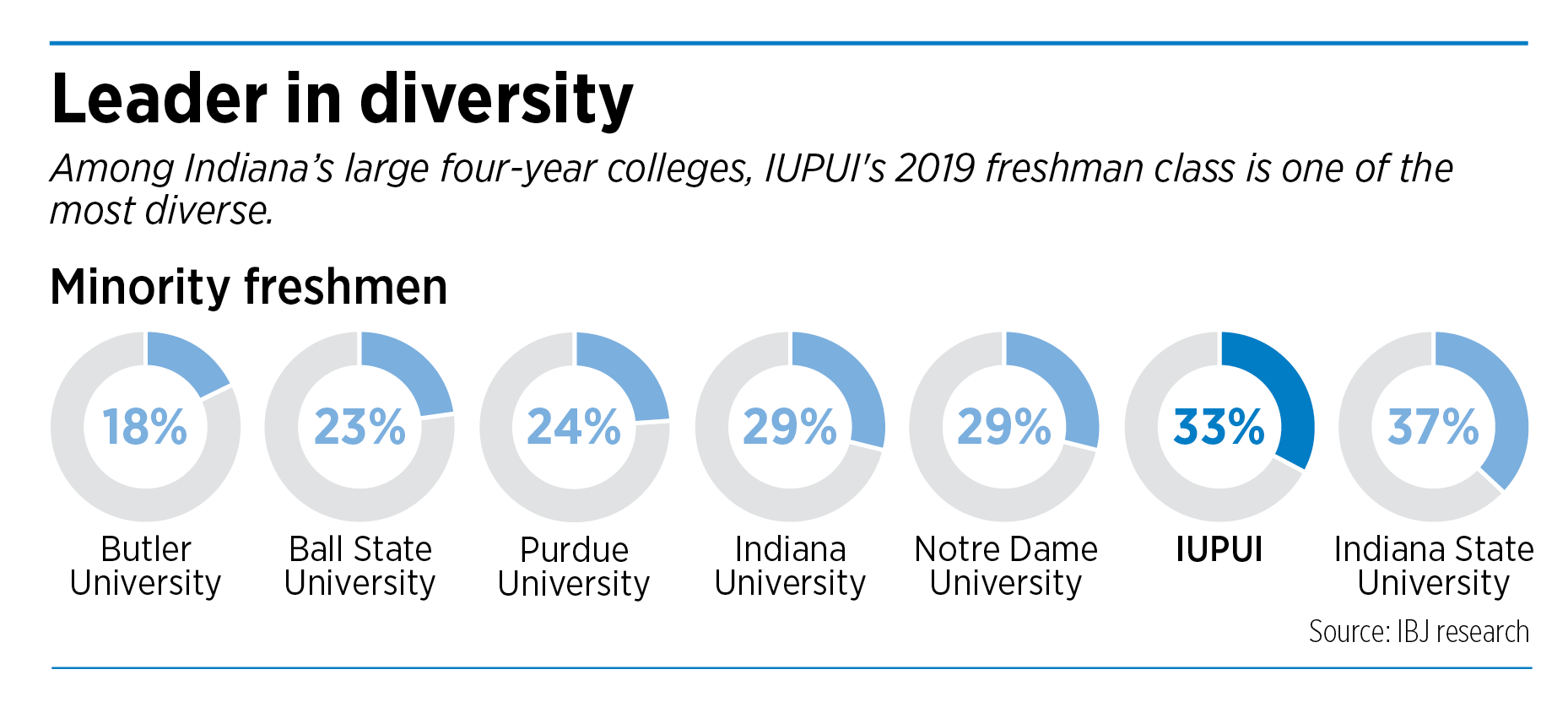 Other efforts include an advising model begun last year that focuses on meeting with every new student to understand how that student is doing and any challenges he or she might be facing, so the school can immediately connect them with resources to help.
And last fall, the university appointed an assistant vice chancellor for student diversity, equity and inclusion, whose responsibility is to collaborate across campus to gauge, implement and assess diverse student support and retention efforts, the university said.
But Davis said retention strategies have to go beyond providing resources for students of color to "survive on campus."
Academic spaces can become isolating if a black student is the only person of color in the room or group, she said.
Students have to feel comfortable on campus and in the classroom, and little things, such as a syllabus filled with white authors, or traditions like Halloween, can have a negative impact.
To that end, with Davis' help, IUPUI in 2018 launched the White Racial Literacy Project, which brought together white students, faculty, staff and the administration to talk about race without judgment, with the hope that participants would develop a better understanding of racial equity.
The goal was to talk about what it means to be white and how white privilege is promoted in academic settings.
While the project was met with some resistance at first, it was valuable for participants, Davis said. She hopes it can be replicated at other universities.
"There needs to be a cultural shift and opportunity for faculty and staff and leaders of an institution to really understand how they affect how black students experience a campus," she said.
"It's important to know how black students often experience a campus; it isn't made up."•
Please enable JavaScript to view this content.