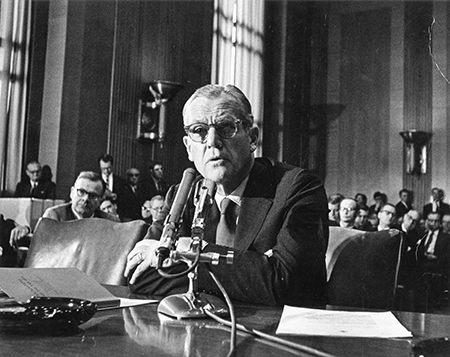 J. Irwin Miller was featured on a 1967 cover of Esquire magazine, with a caption that read, "This man ought to be the next president of the United States." He is remembered today as one of the principal builders of Indiana diesel-engine manufacturer Cummins, a worldwide religious leader, and the man who made Columbus, Indiana, America's sixth most architecturally significant city.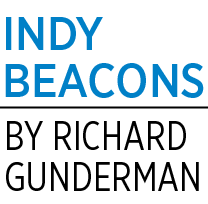 Miller was born in Columbus in 1909. His great-uncle W.G. Irwin, a prosperous businessman, had created a machine shop for the family chauffeur, Clessie Cummins, and together in 1919 the two founded Cummins. The company failed to turn a profit for years, but it remained true to its missions of making the best engines possible and developing the people of the community.
An undistinguished student in Columbus, Miller blossomed as a member of the Yale University class of 1931 and then as a graduate student at Oxford until 1933. He joined Cummins in 1934, eventually serving as vice president, president, and finally as chairman of the board from 1951 to 1977. From 1942 to 1944, Miller volunteered for service in the U.S. Navy.
In 1943, he married Xenia Simmons, a fellow Hoosier who came from a poor family. Cummins was the best man. The couple met while she was working for the purchasing department at Cummins, where at one point they sat on opposite sides of the table during union negotiations. Married for 61 years, the Millers had three daughters and two sons.
When Miller started working at Cummins, his daily responsibilities included opening the small company's mail. Over the years, however, his innovations helped it to achieve profitability, eventually becoming a Fortune 500 corporation with annual sales of more than $20 billion. Today, Cummins employs 58,000 people and markets heavy equipment and trucks worldwide.
Miller was deeply rooted in two Indianapolis institutions, Butler University and Christian Theological Seminary. His paternal grandfather was an Indianapolis minister, and his great-uncle and maternal grandfather were both on the board at Butler. Miller's father, Hugh, a former lieutenant governor, joined a committee to establish a graduate school to train Disciples of Christ ministers at Butler.
Faith permeated Miller's life. In 1950, he helped to found the National Council of Churches and from 1960 to 1963 served as its first lay president. He chaired its commission on religion and race, pressing presidents Kennedy and Johnson to support what became the 1964 Civil Rights Act. Martin Luther King Jr. once called him "the most socially responsible businessman in the country."
In 1954, Miller established the Cummins Foundation, three years later offering to pay the architectural fees for new buildings in Columbus. As a result, the city of only 50,000 boasts buildings designed by some of the greatest architects of the 20th century, including Saarinen, Pei and Meier. A New York Times architecture critic once said J. Irwin Miller and Columbus had become "almost holy words."
In 1958, Miller achieved his family's vision of a new seminary when he helped to finance CTS' independence and build its new home on the south bank of the White River. He arranged for the building to be designed by the architect E.L. Barnes, and when he spoke at its groundbreaking in 1964, he quoted Churchill: "We shape our buildings and then they shape us."
When Miller died in 2004, it was clear he had taken the long view on life. A Latin major at Yale, he regularly read the Bible in Greek. He looked at his business with the same broad sense of history, saying, "Chief executives and boards succumb to pressures and pour out their energies to produce quarterly earnings—at the expense of building their companies for the long term."•
__________
Indy Beacons celebrates the history of Indianapolis in the year leading up to its May 2021 bicentennial by telling the stories of famous city residents. It appears the second and fourth issues of every month. Gunderman is chancellor's professor at Indiana University.
Please enable JavaScript to view this content.