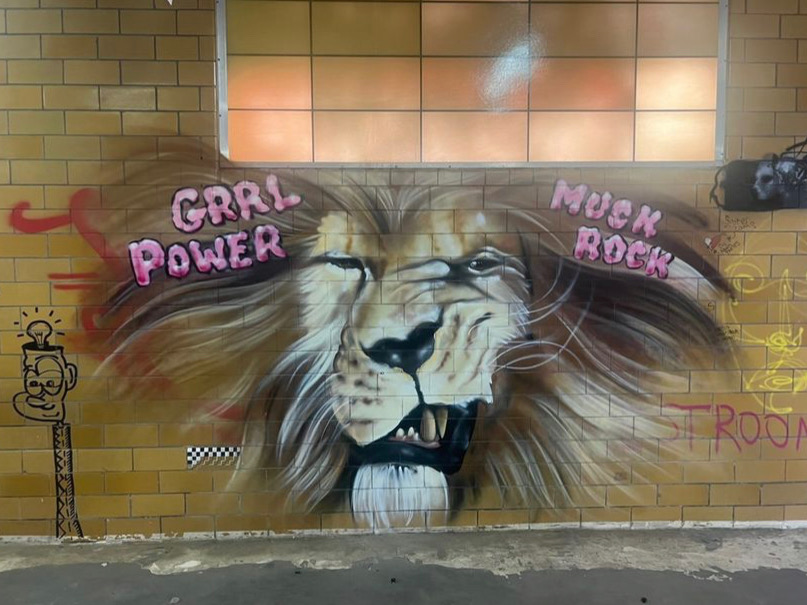 In a relatively low-key return to Indianapolis, mural artist Jules Muck painted at businesses and homes this weekend as part of her summer tour of the United States.
Muck, known for her "Muck Rock" tag that accompanies her artwork, made provocative headlines locally in 2018 and 2019—initially for painting two cartoon rabbits having sex on the side of Woodruff Place restaurant Beholder. After public outcry led to the mural's removal, Muck executed a do-over that riffed on "Bambi" characters Bambi and Thumper.
The California-based street artist, who was born in England, painted dozens of murals in central Indiana in 2019, but two additional Muck originals were removed or altered because of controversy:
After she painted an image of Larry Bird sporting tattoos on a residence in Fountain Square, Bird objected and Muck agreed to remove all the tattoos aside from the word "Indiana" on his left forearm. Eventually, the Bird image was replaced by a tribute to health care workers painted by Indianapolis artist Ryan Mullin.
After Muck painted an image of singer and civil rights activist Nina Simone on the side of Woodruff Place coffee shop Rabble, the store's owner removed it because a past mural that Muck painted in New Orleans was labeled as racially insensitive. In 2018, Muck painted a chimpanzee with a gold tooth and a thought bubble filled by a marijuana leaf near a New Orleans beach that was designated as a gathering place for Black residents during the segregated 1950s.
Always either invited or commissioned to paint by building owners, Muck crafted images of Dolly Parton at Amelia's Bakery, Blondie vocalist Debbie Harry at Indy CD & Vinyl and Indianapolis author Marguerite Young at the Tube Factory art center.
During her latest visit to Indianapolis, Muck painted a lion accompanied by a "Grrl Power" tag at Indy Walls, an art center that opened in April at 205 E. Palmer St., in the Sacred Heart neighborhood.
The Indy Walls building was formerly the site of American Tent & Awning, a business known for making walls available to graffiti artists. Indy Walls co-owner C.S. Stanley said that tradition continues at the new art center, where studios are now found inside and musicians perform during special events.
Stanley contacted Muck via social media after she mentioned Indiana as an upcoming stop on her cross-country trek.
"We gave Jules the grand tour of Indy Walls and her option to paint anywhere in or outside of the building," Stanley said in an email interview. "We didn't discuss much about what she was planning to paint. … She decided to gift us with her Grrl Power Lion, which was just perfect for the spot."
Fling Bungee Fitness, 14640 Herriman Blvd., in Noblesville, commissioned a flowers-and-butterfly mural by Muck.
"I was honored to be so warmly welcomed back to Indy," Muck wrote to IBJ via her Instagram profile. "Happy to leave eight new pieces and grateful for the commissions and community projects alike. Super touched by the locals who opened their homes and their hearts."
Next up on her tour are Ohio, Pennsylvania, New York and Connecticut.
Please enable JavaScript to view this content.