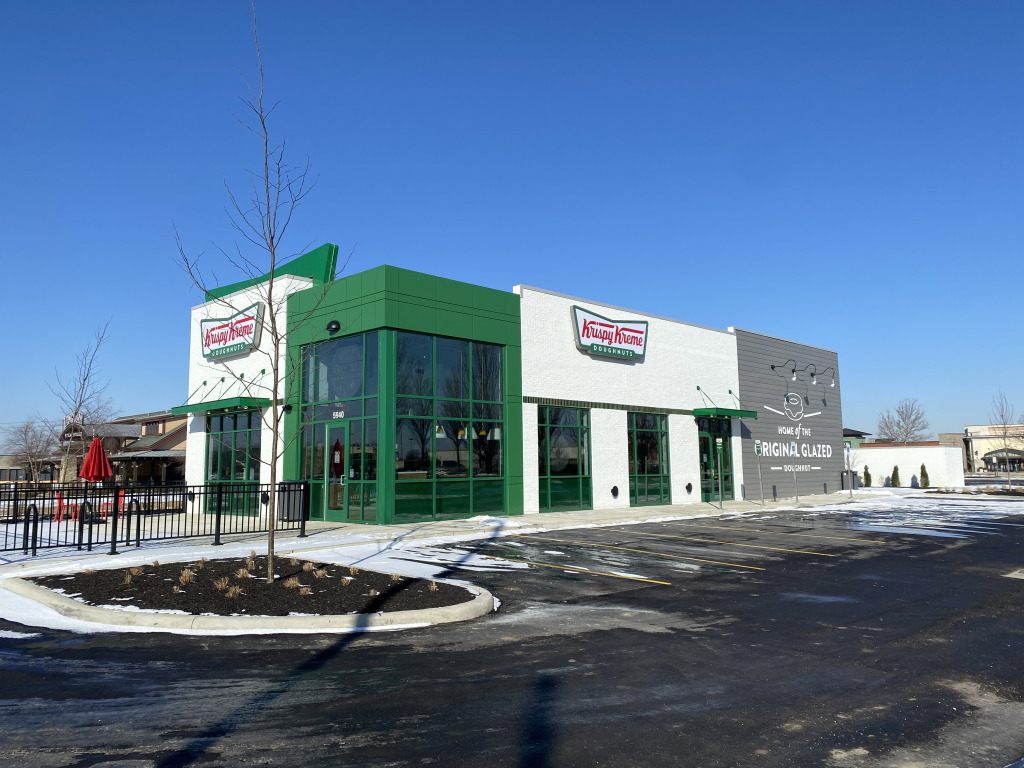 Doughnut maker Krispy Kreme expects to make its return to the Indianapolis market with a physical retail presence next month.
The North Carolina-based company announced Monday an opening date of March 1 for a Castleton location at 5940 E. 82nd St.
The new building, on the former site of a PNC Bank branch, will become Krispy Kreme's first local store in more than a decade. The chain entered the Indianapolis market in 1994 and at one time had multiple locations in the city, including one at 6706 E. 82nd St. and one at 8707 U.S. 31 South. By 2011, Krispy Kreme had closed its local stores.
After Krispy Kreme closed its Indianapolis retail stores, the company maintained its local production bakery at 1940 Executive Drive on the city's west side, where employees make doughnuts that are sold at third-party retailers.
The Castleton site will expand Krispy Kreme's Indiana presence, which exists only along the fringes of the state, with one location each in Evansville, Jeffersonville and Mishawaka.
Krispy Kreme Doughnut Corp. is based in Winston-Salem, North Carolina. The company operates about 1,400 retail shops in 33 countries and sells its doughnuts at some 12,000 grocery stores, convenience stores and other retailers throughout the United States.
Company representatives said the Castleton store's operating hours and menu will be announced later this month.
Established in 1937, Krispy Kreme has experienced its ups and downs over the past 20 years, including a major expansion spree and financial troubles.
When it became a publicly held company in 2000, the company had 174 stores, all of them in the U.S. By January 2016 it had nearly 10 times that number: 1,121 stores, most of them outside of the U.S.
By the mid 2000s, the company was straining under its rapid growth at the same time that the low-carb diet craze was at its peak, curbing customer demand for sugary treats. In 2005, the company announced it would be restating several years' worth of financial reports because it had used improper accounting tactics that overstated the company's financial performance.
In 2016, Krispy Kreme again went private when it was acquired by Luxembourg-based investment firm JAB Holding Co. JAB's other investments include retailers Panera Bread, Einstein Bros. Bagels and Caribou Coffee; beverage brands Dr Pepper, Snapple and Canada Dry; and cosmetics brands Cover Girl, Max Factor and Sally Hansen, among others.
Please enable JavaScript to view this content.