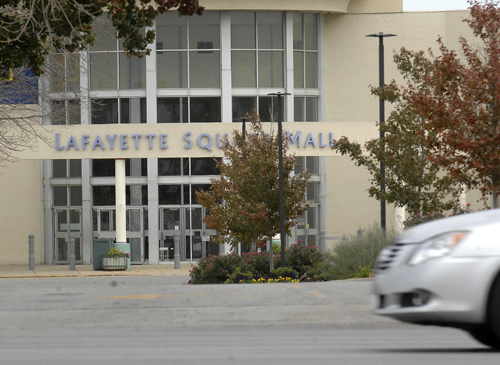 Lafayette Square Mall is up for sale. And whether the 113-acre retail property remains as a shopping center or is redeveloped into something else will be determined by the buyer.
New York City-based Ashkenazy Acquisition Corp., which acquired the mall in late 2007 from Indianapolis-based Simon Property Group Inc., has put the property on the market, according to brokers who will try to sell it.
The 1.2-million-square-foot mall on the northeast corner of Lafayette Road and 38th Street is the third-largest shopping center in the Indianapolis area, trailing Castleton Square Mall and Greenwood Park Mall.
"I think there's a lot of opportunity to create something here (that's) unique," said Newmark Knight Frank broker Matt Kiger, who is handling the listing along with colleague Conrad Jacobs. Both brokers work at Newmark Knight Frank's Indianapolis office.
Kiger said his firm hasn't yet begun to market the site, and details—including the asking price—haven't yet been finalized.
The site's location, and the fact that it is in an opportunity zone, should help spur interest, Kiger said. The opportunity zone initiative, created as part of federal tax reforms in 2017, offers tax advantages for those who invest in real estate developments or businesses within a designated zone.
Given the conditions challenging brick-and-mortar retailers, Kiger said, a new owner might choose to redevelop the site into something else. But a new owner could also choose to buy and hold the property as is.
Until potential purchasers step forward, Kiger said, it's difficult to know what will happen. "It's just too early to tell where this takes us."
Ashkenazy did not return a phone message seeking comment Wednesday morning.
Built in 1968 by national mall developer Edward J. DeBartolo Sr., Lafayette Square has struggled amidst a changing neighborhood and a loss of traditional tenants over the years.
In the 1970s, the mall featured six department stores: Sears, JC Penney, G.C. Murphy, William H. Block, Lazarus and L.S. Ayres. Today, the mall's website currently lists two anchors: discount department stores Burlington Coat Factory and Shoppers World. Three other anchor-size spaces are listed as vacant. Smaller spaces are mostly occupied by a mix of local stores and restaurants, with only a handful of national chains in the mix.
Simon completed $18 million in improvements there in the mid-1990s. But by the time Ashkenazy took ownership, the vacancy rate at the mall was nearly 20%. Former anchors JC Penney, Sears and Macy's left in 2005, 2008 and 2009, respectively, leaving gaping holes in the once-bustling property.
Please enable JavaScript to view this content.