Indianapolis-based Passageways has been on a growth tear.
The 17-year-old company, which makes and markets software that helps its customers' employees and boards communicate and collaborate from various locations, has grown 40% to 50% year-over-year in recent years. And despite the coronavirus disruptions, company officials say Passageways will still be near $20 million in revenue this year.
But these days, Passageways co-founder and CEO Paroon Chadha, has his sights set on something besides growing sales.
Last week, Passageways announced it would give away its software for free to aid not-for-profit organizations and government agencies going through major disruptions due to the pandemic.
"People have lost lives. People have lost livelihoods. We want to do our part to help during this time," Chadha told IBJ. "One key corporate value we have is to be a good partner and that's what we are doing, to our Indiana frontline organizations through this offer."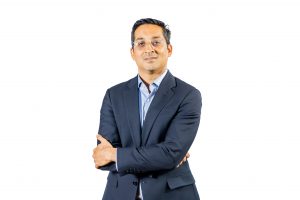 This week, Passageways has extended its offer to members of the Indiana Chamber of Commerce.
"For us, we have been hiring for huge growth this year and are not slowing down and instead staying the plan. We decided to divert our increased capacity towards this offer, as a way to do our part," Chadha said. "Beats the alternative, in my book.
Passageways isn't just giving away its two platforms—one intended for employees and one for boards of directors—it's also offering to fully support the organizations that take up the offer.
The Passageways initiative is led by Adarsh Mantravadi, the firm's director of business development and government strategy. Mantravadi previously served as senior director of policy and research under Gov. Eric Holcomb before departing that post last year.
In the week since launching the offer, Chadha said the response has been "overwhelming" with more than 100 organizations contacting Passageways.
"Our products and teams are ready to support the first 1,000 organizations that take us up on this," Chadha said. "We'll have to re-group after that."
Passageway officials have already discussed extending the offer, Chadha added.
Founded out of Purdue University in 2003 when Chadha was finishing his MBA, Passageways first marketed OnSemble, a platform to help companies' employees stay connected and collaborate. The software helps structure meetings and organize content in ways that other virtual meeting platforms do not, Chadha said.
Many of Passageways early clients were in the financial industry. When the 2008 recession hit—and the financial industry took a blow—Passageways added OnBoard, its platform to help boards of directors communicate.
"Every board meeting is a legal meeting, and there are a lot more security and compliance requirements with those," Chadha explained. "OnBoard is a lot more measured communications channel. It keeps liability to a bare minimum."
In working with Big Brothers and Big Sisters of Greater Lafayette, Chadha said he realized there "is a significant gap" in what organizations had to help boards communicate and what they needed.
"They were using things like Gmail and Dropbox, and those don't scale well," he said.
The company grew steadily, Chadha said, and without taking on any venture capital, became profitable. The company, which has 120 employees, secured its first round of capital—$5 million—18 months ago to accelerate growth. The firm closed on a second $5 million round of capital in January.
The company now has 1,800 customers including Purdue University, Newfields, Nicklaus Children's Hospital in Florida, Supreme Court—Kenya Judiciary, Blue Cross Blue Shield, United Way, IHG, Ohio State University, ETSY, Whirlpool, Oxford University, Central Indiana Corporate Partnership and ShopNBC.
Chadha said the Passageway's success now allows the company to donate top-shelf software and services to organizations in need.
"These software [platforms] we are offering are truly world-class software," he said.
OnBoard is being made available to not-for-profit organizations and state, city and local government organizations as well as members of the Association of Governing Boards of Universities and Colleges and members of the Indiana Chamber of Commerce through Aug. 31.
OnSemble is being made available to health care services and state, city, and local government organization through July 31.
Organizations' need for employee and board communication and collaboration has never been greater, Chadha said.
"Boards are meeting weekly now, not just monthly," he said. "Board meetings have never been more important than they are right now."
Please enable JavaScript to view this content.