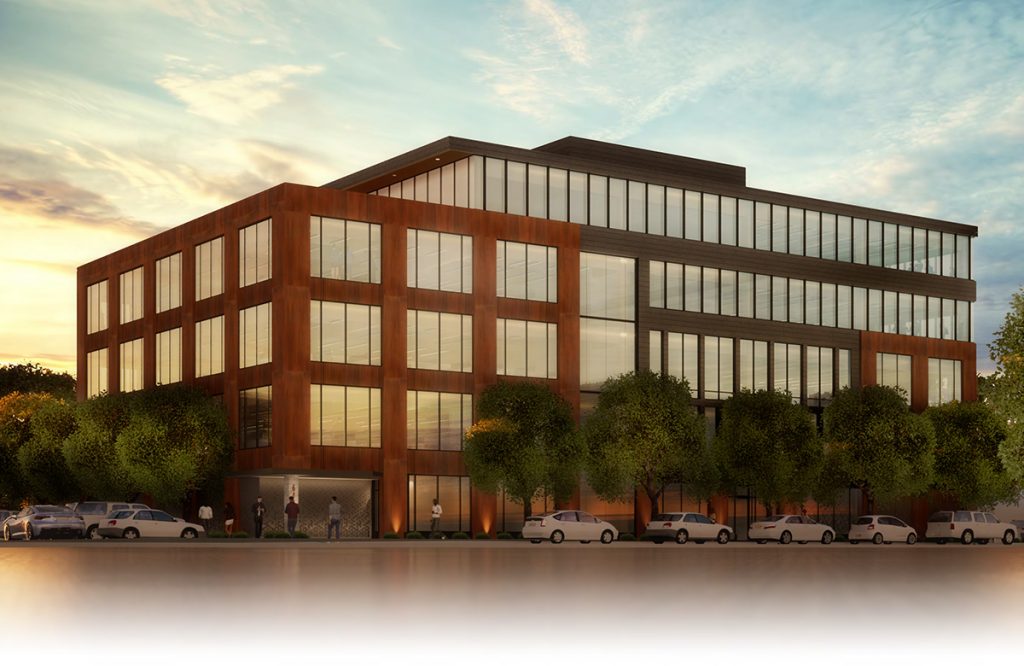 A local developer plans to spend about $20 million to construct a five-story, all-timber office building in Broad Ripple, a block west of the Monon Trail.
Indianapolis-based Gershman Partners is seeking city approval for a variance of development standards that would allow the project on the east side of the 6400 block of Ferguson Street. Construction would begin in mid-autumn.
Eric Gershman, president of the firm, said negotiations are ongoing with a prospective anchor tenant for the 56,375-square-foot structure. He declined to name the group or say how much space it would use, but said it was not expected to occupy the entire building.
The ground floor of the building would be comprised of a 34-space parking garage, bicycle parking and a lobby. While floors two through four are being marketed for single tenants, the top floor is expected to be split into two office spaces with a common area and a 2,600-square-foot rooftop deck. 
The building's design features mass timber and cross-laminated wood, with concrete floors on every level. Such a design is rare for larger commercial buildings.  The exterior would be wrapped with glass, steel, zinc and other materials.
"The tenant is driven by design, and we care a lot about design, too," Gershman said. "So this is kind of a marrying situation—like-minds trying to do something really unique up there."
StructureCraft, a Canada-based firm, has been hired as a contractor and would provide wood harvested and grown in that country.
This would be the firm's first project in Indiana. It also has worked on the high-profile T3 building in Minneapolis—the tallest timber structure in the United States, at seven stories—as well as projects in Atlanta and Nashville.
The Gershman building would be about 60 feet tall. The firm doesn't yet have a name of the project.
Colleen Fanning, executive director of the Broad Ripple Village Association, said in written remarks to IBJ the design is one of several favorable factors for the Gershman project.
"Many aspects of this project are exciting, especially the addition of high wage jobs, evening and weekend public parking, quality of building materials and architecturally unique design," she said.
The project is expected to be heard by the city's Board of Zoning Appeals in early June. It has been continued from its original hearing date of May 12, Gershman said.
The company is requesting a variance of development standards for several issues related to the site, including permitting fewer parking spaces than required—73 total, including a 22-space paved lot to the south of the structure and 17 street spaces.
The building normally would be required to offer 105 parking spaces.
The project would occupy four parcels between 6407 and 6419 Ferguson St., currently populated by a few short-term rental houses and the former business offices of White Orchid Salon and Simon Sefton's Farmers Insurance practice. The buildings would be demolished to make way for the project.

The four parcels are under contract, said Gershman, who declined to reveal the price. The firm is working toward finalizing a construction loan in the next few months.
The proposed development would sit immediately west of an unrelated Gershman project in the now-vacated Books & Brews  building at 6420 Cornell Ave., which faces the Monon Trail. Gershman acquired the property in mid-February for $750,000.
The firm is still determining how it plans to redevelop the site.
In addition to various city approvals, the office project must receive an OK from the BRVA's land use and development committee, which gave preliminary feedback in February. Fanning said a public hearing will occur before the committee takes a vote, but did not say when that might be.
This Gershman development is the second major office project to be proposed in the Broad Ripple area since late 2018. In November, IBJ reported on Indianapolis-based Eight Eleven Group's plans to move to a new five-story office building at 6207 North College Ave.
That project received city approvals earlier this year, although permits have not yet been pulled, according to city records. Local firms Chase Development Inc. and Veritas Realty are co-developing the project under the name Midtown Development Partners LLC.
Please enable JavaScript to view this content.