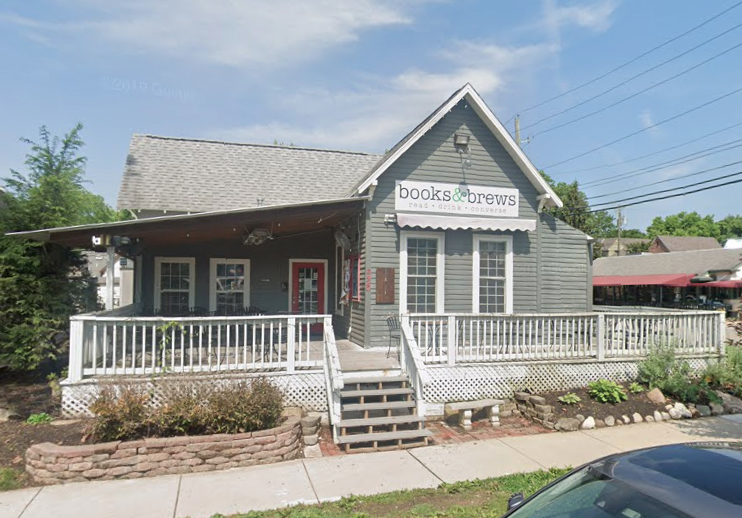 A local development firm is weighing its options for how to utilize the former Books & Brews property in Broad Ripple, after acquiring the prominent retail site earlier this year.
Gershman Partners bought the 2,620-square-foot building at 6420 Cornell Ave. for $750,000 in mid-February. The acquisition came about two months after the Indianapolis-based brewery chain—which had operated in the building since early 2018—abruptly announced plans to close in December.
President Eric Gershman said the firm is keeping its options open for how it could use the site—including improving the existing structure or razing it for new development.
"It's a property we have had our eye on for a while, and when it came available we purchased it," he told IBJ in a Monday evening text message. "We are evaluating opportunities [including] upgrading the building and leasing it, or redeveloping [it] entirely."
Gershman would not offer additional details about what a redevelopment of the 0.17-acre site could look like, indicating no plans have yet been finalized.
He also did not say whether the firm will try to assimilate nearby parcels to form a larger development footprint. The properties near the Books & Brews building have a variety of different owners.
Gershman Partners has several high-profile properties in Indianapolis, including the $45 million Ardmore apartments development at New York and Delaware streets—now under construction—and the Gold Building downtown along Ohio Street, which it co-owns with Citimark. The Lockerbie Marketplace owner has also developed (on its own and through partnerships) several other projects throughout central and southern Indiana in recent years.
Kinkead Family Partnership sold the Books & Brews building to Gershman just a year and a half after it bought the structure from Pinebrook Properties LP in August 2018 for an undisclosed price.
Monon Food Co. occupied the building for about eight years, before closing in late 2017 to allow the restaurant to focus on its downtown location.
The parcel is prominently located in the large cluster of retail properties—largely restaurants, other food service and small shops—in the northern half of Broad Ripple beyond the Central Canal. It's on the southwest corner of 65th Street and Cornell Avenue, and the Monon Trail sits directly to the east.
Gershman's intention to improve the property or redevelop the parcel is part of a continued trend toward redevelopment projects throughout Broad Ripple.
That trend has led to the construction of nearly 800 new apartment units since 2014, accounting for about $125 million in investment in the neighborhood
In the immediate vicinity of Gershman's building, Carmel-based J.C. Hart Co. is building The Line Urban Flats, a 128-unit apartment project along the Monon. And developer Thomas English is developing G-Bloc, an eight-unit apartment and office building combo, just one block over.
Additionally, in late November IBJ reported tech staffing firm Eight Eleven Group's plans to develop a two-building headquarters at 6207 College Ave., a few blocks southwest of the Books & Brews building.
Those plans include a five-story, 69,000-square-foot office structure and a four-story micro apartment and office building, as well as a 49-space parking garage for employees.
The city's Metropolitan Development Commission approved the project in early March, but the City-County Council will have the final say.
Please enable JavaScript to view this content.