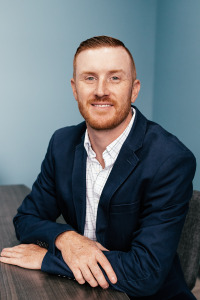 Kyle Armstrong and his small staff aren't playing games.
Although the customers of the serial entrepreneur and sports tech veteran's latest startup are—in growing numbers.
Zionsville-based RefReps LLC is pioneering a platform that is a training aid and video game aimed at officials and referees for a variety of sports. RefReps is growing so fast in the six months since it launched, the company has had to show some fancy footwork and change directions to capitalize on a national, if not global, opportunity.
In 2011, Armstrong founded Zooom, a Zionsville tech company that created a platform to help high schools and small colleges evaluate game officials. The firm now has deals in several states.
Zooom took a big hit during the pandemic.
"COVID threw a big monkey wrench into our business because Zooom breaks down video," Armstrong explained. "From a business standpoint, it was just devastating. Games stopped, so our business essentially stopped."
Zooom is going again, but during the downtime, Armstrong and his partner, former NFL referee Mark Baltz, came up with a new—and fun—idea.
After a chance meeting between Baltz and David Pierce, a sports management professor and director of IUPUI's Sports Innovation Institute, Zooom and IUPUI officials began discussing the idea of creating a simulator for sports referees.
Then Armstrong came up with the idea for a video game. But this wasn't just fun and games. Armstrong came up with an idea for a video game that could not only help train sports referees but also generate healthy recurring revenue.
So the RefReps video game was born.
But any good tech executive—or hoops aficionado—knows to score, sometimes you have to pivot.
Initially, Armstrong's idea was so unique, he had to come up with the hardware to run it.
Then something unexpected happened late last year when the company launched.
"In the first three days, we sold out of our entire hardware inventory," Armstrong said. "We got more units and sold out in the next week. We figured out real fast … we were running a warehouse out of my basement. I thought how can we re-think this? I've been in the software business forever, and I really didn't want to be in the hardware business. In January or February, we realized there's no way we could scale fast enough to meet demand."
While at an Apple development conference earlier this year, Armstrong learned that some of Apple's new devices could support motion tracking software and run his platform.
Armstrong thinks there will be demand from high school and college sports officials and leagues. He's also been contacted by youth leagues—including a large regional YMCA organization—as well as college intramural sports programs.
Now, Armstrong said RefReps is poised for big growth.
"I've gotten calls and emails from all over the world," Armstrong said. "I'm getting calls from Division I referees who are saying 'I want to use this with my study group.' The allure of the video game is due to the uniqueness of it, and with COVID, they haven't been able to go to summer camps and do all the things to work on their craft. There's a gap in referee training even beyond the pandemic, and this new game fills that gap."
With RefReps, the player sees the play on a computer screen—which can be projected to a big-screen television. Players make the referee calls based on what they see, complete with corresponding hand signals. RefReps tracks the video game players' movements and scores them on the accuracy of the calls.
Then an analyst comes on the screen, "like ESPN or Tony Dungy on NBC," Armstrong said, "and breaks down the play on the screen" and describes the correct officiating call.
"We've got the analyst on the screen with all the graphics. It's TV studio quality," Armstrong said. "They're breaking down the flow of the game and the flow of the play as the official saw it so the official can learn from it."
Moving the platform to Apple makes it a lot more accessible, but it has also changed the pricing model. With the hardware package, it cost $325 to get started, and every time a referee wanted to buy new game footage, it cost an additional $125. "With the hardware, we were going to make some profit, but the scaling was on the software side," Armstrong explained.
With its new Apple compatible software, RefReps has rolled out a subscription model in which users pay $15 a month or $160 annually.
"As long as you have Apple phone or iPad, it's just like Audible," Armstrong said, referring to a popular audiobook app. "You can go into the marketplace, subscribe and earn tokens and with the tokens you can buy new games. With the new model, users are paying half the price and getting four times the content."
RefReps will continue to add new content for referees and officials in various sports including basketball, baseball, football, flag football and softball. "All the sports have great potential for our company, but flag football has been really big," Armstrong said. "Some people might be surprised by that, but it's huge."
RefReps expects to drive much of its revenue from youth sports and high school referees and officials, but Armstrong said it is also finding a following with small and big college conferences. "We've even been contacted by the NBA," he said.
Armstrong said RefReps—which is less than a year old and has already grown to eight full-time and eight part-time employees—is in talks with several youth sports leagues, one of which has 4,500 referees.
"If you look at the total addressable market, our growth projections are pretty wild," Armstrong said. "If you look at just high school officials, 350,000 licensed high school officials nationally, if we hit 15% of that target market, our monthly revenue will be just over $750,000 per month or $11 million annually. And I think we can do better than that."
The startup has been launched with $100,000 that came from friends and family, and has done no marketing. Armstrong said RefReps is in the process of kicking up its software production with a goal of having 10 sets of game content for each of its sports by late August.
"The craziest thing about launching a company is you can never can predict as entrepreneur how it's going to go," Armstrong said. "We've certainly beat our own early expectations. We realized if we started marketing this the way we can, we could never meet demand. We're certainly getting that worked out."
Please enable JavaScript to view this content.