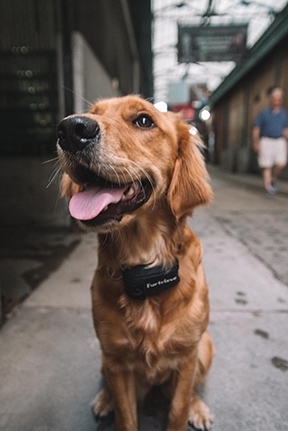 Former police officer Jordan Hetlund knows the value of keeping track of the police dogs that can represent five-figure investments for cities and towns.
As a dog-lover, the native Hoosier also knows how precious pet dogs and cats are to their owners.
So in 2017, he founded Indianapolis-based Furtrieve LLC and spent a year developing a device that helps track the whereabouts of domestic animals—especially dogs and cats.
The device not only notifies owners when their pets leave the yard and tracks their location in real time, it also allows owners to speak to the dog remotely through their cell phones to call them back or to alert bystanders of the loose animal.
"This product provides peace of mind in the palm of your hand," said Furtrieve Chief Development Officer Robert Shula, who leads day-to-day operations for the firm. "The response to this has been incredible."
The Indiana State Police department has helped test the device, and ISP officials have given it rave reviews.
"With the amount of time, training and equipment that goes into making our K-9 program such an integral part of our department's law enforcement capability, this new piece of equipment helps provide a level of insurance to that overall investment," said Sergeant Dennis Wade, Indiana State Police K-9 Coordinator.
There have been a number of incidents during which a police dog has been injured in the line of duty and could not be found for several hours, Shula said.
"Often times when a dog is injured, he'll hunker down or hide in what he thinks is a safe place, making it difficult to find him," Shula said. "We think our device will be a big help with situations like that."
Last month, Furtrieve began marketing the product and is eyeing a national expansion for the tracking mechanism, which has several unique features. The sales effort to date has been online, but company officials are hunting for retail distribution partners.
Not only is Furtrieve trying to fetch business nationwide, it's also pawing after global expansion with interest coming in from far flung markets in India and Brazil.
While the device that fits on a collar looks a bit bulky, it only weighs as much as a thumb drive, Shula said.
"The bulkiness comes from the speaker, but it's very lightweight," said Shula, one of three employees working out of the firm's downtown office. "The components themselves are actually very small."
The device is designed not to get snagged and is water resistant. Furtrieve is working to develop a truly waterproof version, although the current device performs well in rain and would likely survived if a dog jumped in a lake as long as it wasn't completely submerged for too.
In addition to the firm's three employees, Furtrieve has a slew of college interns and contractors that help with much of the technical side of the company. The product is manufactured in China.
There are a number of tracking devices on the market for purses and other objects, but few that track pets. Many dogs and cats have microchips implanted, but Shula said those are far too ineffective in helping owners locate lost pets. According to the American Humane Association, fewer than 23% of lost pets in the U.S. are reunited with their owners.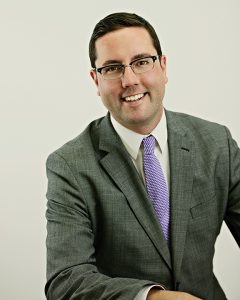 "One thing that makes our product different than most other tracking devices on the market is that we use a cellular network instead of Wi-Fi or Bluetooth, so that greatly expands our tracking area," Shula told IBJ.
The device costs $89.99 and there's a monthly charge of $10 to $20 for the cellular service.
Once pet owners buy the Furtrieve device, they define parameters of their yard or desired containment area through the Furtrieve app on their cell phone. When an animal leaves the designated area, the owners immediately get a text message alerting them of the escape—and continue receiving updated text alerts every 30 seconds.
Owners can designate up to 10 other people to get text alerts with a link to a map of the pet's location. And the owner can send messages through the app to those people.
The owners can track the dog in real-time through the smart phone app and can not only speak to the dog or bystanders through the speaker but can listen through the device as well. That could clue owners into the pet's surroundings or allow them to have a conversation with people who have caught or are near the pet.
"The ability to reach out through the device is very unique and something that sets us apart," Shula said.
There's also a history function on the device that allows owners to see a map of where the dog has gone during the course of the day.
To date, the company is self-funded, but Furtrieve officials hope to raise a round of venture capital later this year to increase production and marketing and begin development of a second-generation product that is fully waterproof and can track health data for the pet including temperature, heart rate and movement level. The latter update could extend Furtrieve's market to farm and other animals, company officials said.
Please enable JavaScript to view this content.