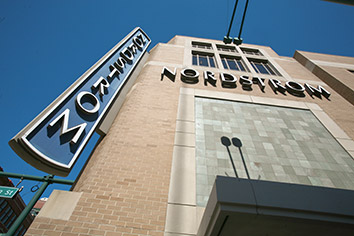 An Indianapolis-based logistics company plans to move its corporate headquarters to the third floor of Circle Centre Mall as part of a larger effort to accelerate the firm's growth over the next year.
Direct Connect Logistix Inc. will take about 52,000 square feet inside the former Nordstrom space at the northwest corner of Meridian and Georgia streets. The space had previously been occupied by The Indianapolis Star, but the newspaper opted to sublease the third floor to the company while remaining on the second floor.
Direct Connect, which was founded in 2009, is about three months into renovations, with plans to spend at least $3 million to ready the office ahead of a targeted December move-in date.
The space is about twice the size of company's current offices at 314 W. Michigan St. and will feature an open-concept floor plan, a full-service gymnasium, collaboration rooms and individual workstations. Employees will be able to use the mall's parking garages.
Nick Likens, president of Direct Connect, told IBJ the ongoing efforts to reposition Circle Centre were appealing to the company, particularly since uses like residential, office and other projects are coming to the fore as possible components of a revamped shopping center.
"We wanted this to be a best-in-class office for employees, but also have other amenities," Likens said. "So as residential comes in, it can be a kind of work, live, play focus—everything being right in one place. It's walkable with entertainment and restaurants downtown, and it gives our employees an opportunity to really engage with that community and build upon the long-term vision that Circle Centre ownership has for the property."
Direct Connect specializes in third-party food and beverage delivery services for grocery stores and refrigerated shipping. It has about 250 employees based in Indianapolis, with plans to hire an additional 150 workers by the end of 2023. The firm is on track to generate about $500 million in revenue this year after doubling revenue in the last year. Likens said Direct Connect hopes to become a $1 billion-per-year firm in the next several years
The company is owned by Detroit-based Huron Capital and has offices in Salt Lake City, Dallas and Fort Wayne, as well as fleet operations in Columbus, Indiana. In April, it acquired Indianapolis-based Hoosier Logistics to expand its workforce and broaden its lineup to include temperature-controlled transportation. It also acquired Utah-based Performance Logistics in February.
Direct Connect competes directly with Indianapolis-based Spot Freight, which has 400 employees across the United States. Spot is also on a growth trajectory, with plans to add 200 employees in Indianapolis by the end of next year. The firm in March said it planned to add to its downtown footprint, taking 42,500 square feet on the 11th and 12th stories of Capital Center, 251 N. Illinois St., in addition to its 36,000-square-foot headquarters at 141 N. Meridian St.
Likens said Direct Connect will have an option to expand in the mall when its growth necessitates more space. Such an expansion could come sometime in 2024 or 2025.
"I hope the large presence and growth of our company will not only show our commitment to the community but also attract other organizations to invest in and consider downtown as a corporate location," he said.
One of the mall's original tenants when it opened in 1995, Nordstrom closed its downtown store in 2011. The Indianapolis Star moved in in 2014 as part of a long-term lease agreement with the mall ownership group (of which Gannett is a part).
Adam Collins, attorney for Wallack Somers & Hass in Indianapolis, which represents the ownership group, told IBJ the decision by Direct Connect to move into the mall is a vote of confidence in the property—even at a time when its future has not yet been fully determined.
"This is evidence that the mall's location is still in incredible demand downtown, and as we look forward to redevelopment options, it's an indication that other uses like office can succeed in Circle Centre's location," he said.
Portia Bailey-Bernard, vice president of economic development at the Indy Chamber, agreed.
"This is exciting because it is bringing hundreds of high-paying jobs to downtown Indianapolis and breathing new life into Circle Centre," Bailey-Bernard said in written comments. "We have long known central Indiana [is] an ideal location for logistics and distribution. To have a national leader grow its headquarters in the heart of the city is a statement and highlights the commitment to restoring underutilized commercial space in Indianapolis."
Please enable JavaScript to view this content.