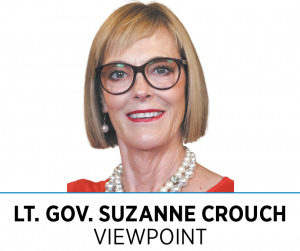 A hallmark of my public service career is the fight for parental school choice. During the past 20 years, the quality education movement, of which I've always been a strong ally, has secured some long-overdue education options for Hoosier families.
The 2023 Indiana General Assembly session will be remembered for many things—new investments in public and mental health come to mind—but at the top of the list is progress toward universal school choice for Hoosier parents and students.
More than a decade ago, the state of Indiana initiated its Choice Scholarship Program, commonly known as school vouchers, through which income-eligible families could receive a set amount of funds to send their child to a school of their choosing.
Currently, Indiana's average voucher amount is nearly $5,500, and more than 50,000 students are participating in the program across the state (thousands of whom come from underserved communities).
Due to legislation passed by Republicans during the 2023 legislative session, it is estimated that 97% of all Hoosier K-12 students will qualify for a voucher. Effective as of the upcoming 2023-2024 school year, any child from a family of four earning less than $222,000 annually will qualify for a voucher to attend a non-public school of their choosing.
We are not quite there, but in practical terms, Indiana is close to universal school choice. I am proud of this accomplishment.
Whether it happens through a public-to-public school transfer, the use of a voucher or the decision to attend a public charter school, we all benefit when Hoosier families have the freedom to choose, and our children excel in the learning environment that is right for them.
Additionally, an ancillary benefit of parents choosing which schools their children will attend is their increased involvement in all-things education. Our children perform more strongly when their parents are more than just homework checkers.
Even though these recent program expansions mean nearly every K-12 student in Indiana can receive a scholarship to attend the school of their choice, we simply cannot rest until we have provided this opportunity to every single Indiana student. As we look forward, we must remove the income requirement for participation in all of our school choice programs.
Additionally, Indiana needs to continue to grow its Education Scholarship Account program, which is currently limited to certain income-qualified, special-needs students.
ESA provides families with a flexible, individualized approach to their child's education by allowing their ESA dollars to be used not only for tuition to attend a private school but also for additional expenses like tutoring, speech or occupational therapy, counseling, technology, and more.
We have added programs to our education landscape throughout the last two decades, and we have grown those programs in an incremental and responsible way. Building on our current successes, Indiana should take the next step in expanding the ESA program by removing the special-needs requirement and allowing all students and families to participate who wish to have a more personalized and customized education tailored to their unique learning needs.
Indiana remains a national leader in providing educational freedom to its students and families. We have much to celebrate, but there is more work to do. For the sake of our children and their futures, we simply must continue working to provide all Hoosier students every possible quality educational learning opportunity.•
__________
Crouch, a Republican, is in her second term as lieutenant governor. She has announced she will seek the GOP nomination for governor in 2024.
Please enable JavaScript to view this content.