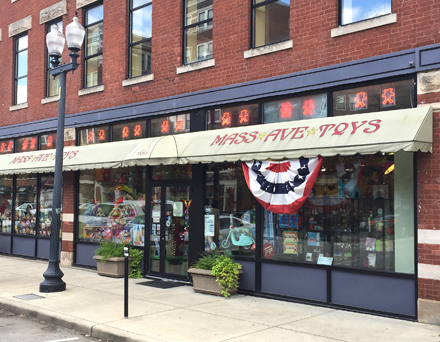 Mass Ave Toys has closed its doors permanently after a 14-year run, the owner announced Wednesday.
The store had operated since 2017 at 1057 E. 54th St., in a 5,400-square-foot space at 54th & Monon Shops just off the Monon Trail. The independently owned toy store took its name from its original location, 409 Massachusetts Ave., where it operated from 2006 to 2017.
Owner Natalie Canull, who ran Mass Ave Toys with her husband, Doug, announced the closure in a Facebook post Wednesday, describing the move as a retirement.
Natalie Canull has more than 40 years of experience in toy retail—she operated another local toy store, Kits & Kaboodle, from 1978 to 2005 before opening Mass Ave Toys the following year.
"We avoided a lot of trends and a metric ton of licensed character toys in order to provide the kinds of playthings that would last, not only through your children's youth, but that could be kept for future generations in your families," Canull wrote in her post.
The Facebook post also thanked the toy stores' many employees, sales reps and customers through the years.
"Thank you for sticking with us and being our friends … we hope we were yours," Canull wrote to her customers.
Please enable JavaScript to view this content.