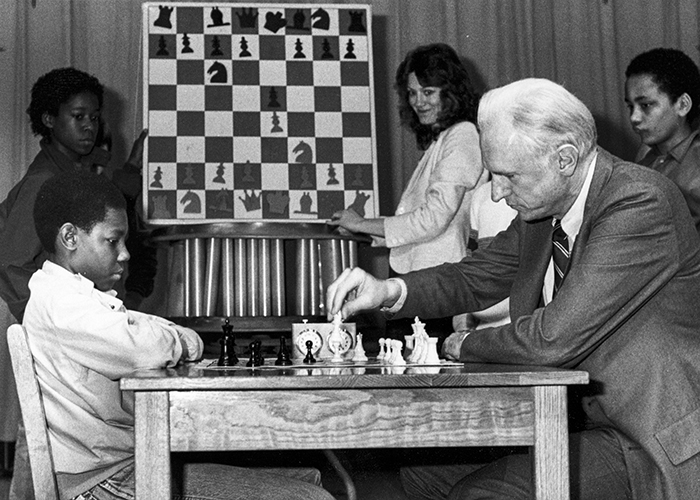 In 1983, a chess team from IPS School No. 27 took on an elite private school from Manhattan in the National Elementary School Chess Championship—and won. The team—known as the "Masters of Disaster"—had started playing just three years earlier, thanks to Bob Cotter, a teacher determined to build the students' confidence. In this photo, taken May 7, 1983, for the Indianapolis Recorder, Indianapolis Mayor Bill Hudnut plays chess with one of the students, just after the team returned from the championship in Memphis, Tennessee. The team would also go to Washington, D.C., to meet with President Ronald Reagan and to Japan to play against students there. Indiana University created a documentary about the team, called "The Masters of Disaster"; the film can be found online in the school's Moving Image Archive.
Sources: Indiana Historical Society, The Christian Science Monitor, Indiana University
Credit: This photo is courtesy of the Indiana Historical Society and is part of the Indianapolis Recorder Collection. More images are available at images.indianahistory.org.
Please enable JavaScript to view this content.