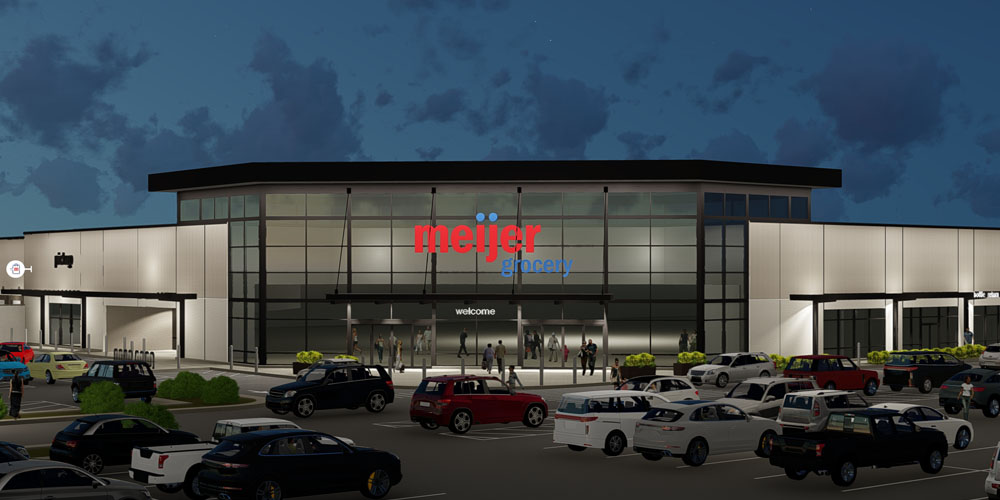 Midwestern retail giant Meijer Inc. plans to build a 90,000-square-foot grocery store on the west side of Noblesville.
Plans call for the new small-format Meijer Grocery and a gas station to be constructed on 17 acres in the Promenade at Noblesville development near the northeast corner of State Road 32 and Little Chicago Road, according to Walt Justus, CEO of Indianapolis-based The Justus Cos., who is leading development of the Promenade area.
Justus made the announcement Thursday during a presentation organized by the Noblesville Chamber of Commerce at the Promenade Apartments.
Grand Rapids, Michigan-based Meijer plans to break ground on the store in mid-2023. The chain also has a supercenter on the east side of Noblesville, at 17000 Mercantile Blvd.
Meijer describes its new line of grocery stores, which will offer food, baby and health products, pet supplies and a pharmacy, as being "built for speed."
While traditional Meijer supercenters average 150,000 to 250,000 square feet, the chain's new line of grocery stores are between 75,000 and 90,000 square feet. Meijer plans to open grocery stores in 2023 in Lake Orion, Michigan, and Macomb Township, Michigan.
Meijer also introduced even smaller neighborhood market stores in 2018 in Michigan that are roughly 35,000 to 45,000 square feet.
Meijer would be the latest large retailer to either build or plan a new store in Noblesville.
Massachusetts-based B.J.'s Wholesale Club opened its first store in Indiana on Oct. 1 at 13210 Tegler Drive at Hamilton Town Center.
And Costco Wholesale Corp. received approval on Oct. 18 from the Indiana Alcohol and Tobacco Commission for a beer, wine and liquor license for a potential store at the southwest corner of East 148th Street and North Pointe Boulevard—near the busy intersection of State Road 37 and 146th Street.
Meijer has more than a dozen supercenters in the Indianapolis metropolitan area.
Please enable JavaScript to view this content.