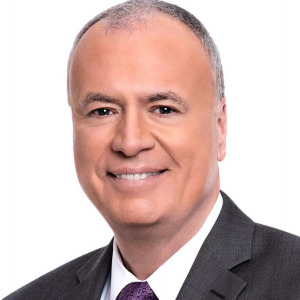 Longtime WISH-TV Channel 8 meteorologist and morning personality Randy Ollis announced Friday—the same day he turned 65—that he soon won't be delivering a forecast first thing every morning, which he has done on WISH ever since 1984.
Ollis emphasized on Friday's morning newscast that he is not retiring and will remain with WISH in a different role, but one that begins about four to five hours later than his usual 4 a.m. start.
"After 36 years of doing the weather on Daybreak, I will be finished on March 3, however, I am not retiring," Ollis said. "I do not like to use that word retiring. I don't plan on ever retiring."
DuJuan McCoy, owner and CEO of Circle City Broadcasting—parent company of WISH-TV and WNDY-TV Channel 23, on Friday announced that Ollis has signed a 2-1/2-year deal to remain with the station in a different capacity that involves fewer forecasts.
"Starting on March 4, I'm going to go to an abbreviated schedule," Ollis said. "I'm going to be doing the weather only on our midday newscast. I will be appearing on Indy Style (from 10-11 a.m.) in different roles and might even appear on the last part of Daybreak in the trending segment. … You can't get rid of me yet."
Ollis said the change was "a tough decision." He added that he signed a new contract so he can evaluate his situation before retiring.
"I plan on leaving [WISH-TV] for sure by August 2023," Ollis said, mentioning that he might opt to do more charity and Christian ministry work after that happens.
Ollis grew up in Elgin, Illinois, went to school at Northern Illinois University and worked in Wausau, Wisconsin and Dayton, Ohio, before coming to Indianapolis.
In 1984, when Ollis moved to Indianapolis, the Colts moved into the RCA Dome. Today, Ollis is best known for his affable personality, silly jokes and his love of doughnuts. He has become one of the most recognizable personalities on local television, and according to WISH officials has the largest Facebook fan-base of any television personality in the state, with more than 100,000 followers.
"Randy's got the kind of TV talent you can't teach," WISH-TV News Director Al Carl said. "He is the genuine article on-screen and off. We're proud to have Randy extend his commitment to WISH-TV."
WISH-TV officials did not disclose who would replace Ollis in the early-morning slot.
"Randy has been a popular fixture on Indy Style since we went on the air in 2009 and we are delighted to have the opportunity to expand that relationship," added Peggy McClelland, Indy Style executive producer. "Randy is family, Randy is fun, Randy is the real deal, and we can't wait for the adventure to begin."
Ollis said he is looking forward to spending more time with his wife of 40 years, Alison, his four daughters and five grandchildren.
"I get to cut back and sleep in in the morning," Ollis said Friday morning. "About 5% of me thought 'I'm really going to miss being on Daybreak,' the other 95%, I'm ready to go. I really am."
Please enable JavaScript to view this content.