Democratic gubernatorial candidate Woody Myers will debut his campaign's first TV ads on Friday with just a few days to go before the election.
The campaign told IBJ that it is a five-figure ad buy, and the spot will be released in high population areas, such as Indianapolis. It will start airing Friday.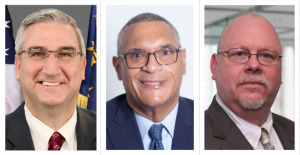 The 30-second ad focuses on the impact of the COVID-19 pandemic. Myers reiterates his message that, if elected, he would impose an enforceable mask mandate.
He also takes a jab at Republican Gov. Eric Holcomb by saying his "agenda is failing you." Holcomb issued a statewide mask mandate in July, but there is no penalty for violations.
Fundraising has been a challenge for Myers, and without the necessary funding, he has not been able to get on TV. In the third quarter this year, Myers raised about $464,000, compared to Holcomb's $1.8 million. As of Sept. 30, Myers had $80,500 cash on hand, while Holcomb had more than $6 million.
In a fundraising email sent to supporters on Thursday, Myers said if he raised $10,000 by the end of the day, he could go on air through Election Day, which is Nov. 3.
"We know that the way to reach as many Hoosiers as possible in the remaining days before Election Day is on television," the email said. "But for a grassroots campaign without a corporate-funded political machine like our opponent's, the cost of going up with TV ads can be a high barrier to entry."
His campaign did not have exact figures immediately available Friday morning, but said they have enough funding to run the TV ad through Nov. 3.
For months, Myers' campaign said TV was not a top priority and that the team was focused on reaching voters through other avenues, such as social media.
Holcomb has mostly had the TV airwaves to himself after launching his first ad at the beginning of August. It wasn't until earlier this month when Libertarian candidate Donald Rainwater went on TV that either of Holcomb's opponents were getting air time.
Holcomb's campaign released its final TV ad this week. It features Holcomb and his wife, Janet Holcomb, talking about his accomplishments over the past four years.
Holcomb is favored to win the three-way race, according to the latest polling data.
Please enable JavaScript to view this content.