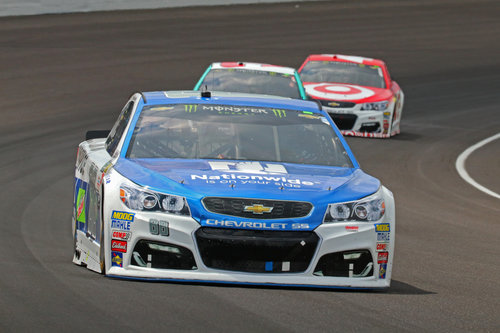 As expected, NASCAR will return to the 2.5-mile oval at Indianapolis Motor Speedway next season for the 30-year anniversary of stock cars racing at the historic venue.
The return to the oval, which was officially announced Thursday, has been speculated for months and was all but confirmed earlier this week when IndyCar released its 2024 schedule.
The inaugural Brickyard 400 was held on Aug. 6, 1994, and was won by Jeff Gordon in the first of his five Indianapolis victories. That NASCAR debut was the first race beside the Indianapolis 500 to be held at the famous track since 1916.
NASCAR raced on the oval from 1994 through 2020, but under Roger Penske's ownership of IMS, the race was held on the 2.439-mile road course the last three seasons as part of a shared weekend with the IndyCar Series.
The Brickyard 400 will be held on July 21, with the Xfinity Series racing on the oval one day earlier.
"While it's been exciting to watch the NASCAR Cup and Xfinity Series drivers tackle the IMS road course over the last three years, being back on the oval for the 30th anniversary is a much-anticipated homecoming for drivers and fans alike," said Doug Boles, president of IMS. "Whether you've been with us all 30 years or are a new fan, the celebration as we 'come back around' will be can't-miss and truly unforgettable."
The last NASCAR driver to win on Indy's oval was Kevin Harvick in 2020. He's retiring at the end of the season. Michael McDowell won the Cup race in August, and Ty Gibbs won the Xfinity race.
"It's always an honor to race at IMS, but it's no secret that I'm excited for NASCAR's return to the oval," said 2021 Cup Series champion Kyle Larson. "The Brickyard 400 is one of the crown jewels of the sport's season. To win on the oval, especially during NASCAR's 30th anniversary at the track, is to add your name to the history books."
Larson is also running the Indianapolis 500 next year.
The Brickyard 400 was a huge draw for years after its debut, drawing 200,000 or more spectators, but crowds began to shrink dramatically after the  infamous "tire-debacle" race in 2008, in which the longest stretch of racing not under caution was 12 laps. Attendance fell to only 20,000 in 2018, when rain delayed the race until Monday.
Please enable JavaScript to view this content.