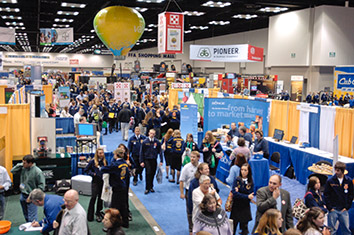 In a huge blow for a downtown already reeling from a severe slowdown in tourism and convention business, the National FFA Organization has decided to cancel the year's edition of its annual convention that typically brings tens of thousands of people to Indianapolis' core.
Last year, FFA brought over 68,000 people—mostly high school students—with an economic impact of $38 million. This year's convention, scheduled for Oct. 28-31, was expected to generate about $40.3 million for the city.
The Indianapolis-based group devoted to agricultural education cited lingering concerns over the coronavirus pandemic as the rationale for scuttling the event. It instead plans to host a virtual convention on the same dates.
Mark Poeschl, CEO of FFA, said the organization's board of directors decided this week to halt planning for its in-person event and instead focus on online programming to "ensure that our members and guests [have] the full convention experience."
The decision to go virtual this year came after consulting school administrators and instructors, attendees and sponsors, Poeschl said.
"As we continued to plan for our national convention, it became clear that travel restrictions and public health concerns, among many other pandemic-related challenges, made hosting our in-person event impossible in 2020," he said.
However, the group has extended its contract with the city for two years, keeping the convention in Indianapolis through 2033. It has been hosted in Indianapolis since 2006, with the exception of a three-year stint in Louisville from 2013-2015.
Mayor Joe Hogsett said he understood the group's decision and appreciated its concern for its members.
"In the coming years, we look forward to once again seeing Indianapolis streets filled with thousands of young leaders in blue and gold jackets and are excited to continue our city's relationship with the FFA convention through 2033," Hogsett said in a media release.
"We understand and appreciate the time and thoughtfulness that National FFA has invested in arriving at this difficult decision," said Chris Gahl, vice president of local tourism advocacy group Visit Indy. "As they convene here through 2033, we feel that's emblematic of our partnership and our relationship and their overall health. They've grown the meeting here in Indianapolis and it's welcome news they want to stay here in their home city."
Still, the loss of this year's FFA convention is a dire milestone for the Indianapolis tourism industry, which has struggled for the past several months due to the pandemic.
Visit Indy estimates more than $300 million in economic impact has been lost from canceled conventions this year, across more than 225 events.
The FFA's decision comes just one month after Gen Con—the single-largest annual event hosted in the city, expected to bring about 70,000 people—decided to forgo its in-person August event and move to a virtual platform.
And while other major events, including the Indianapolis 500 and the Performance Racing Industry convention, are still planned for later this year, the cancellation of FFA could lead other events to hit the brakes.
Gahl said he expects FFA's decision "will have a ripple effect," similar to the one Gen Con had when it announced its cancellation  in May. Soon after that announcement, several smaller events decided to call off their own events, although others decided they would move forward.
"It could ultimately lead other meeting decision makers to tip one way or the other," he said. "But what we have seen through the COVID-19 crisis is that each and every group is significantly different from one another, so the needs for one meeting are completely different than others. It's truly a case-by-case basis scenario."
FFA is still finalizing details for the virtual convention but plans to share registration and programming information on Aug. 12. 
The group expects to see an increase in participation during the 2020 virtual event because it will not be limited to small groups visiting the city from member chapters. Instead, entire chapters will be given access using tiered registration options.
Kolesen McCoy, 2019-20 National FFA president, said the opportunity to engage with more members is something he expects will continue even after the convention returns to its regular programming format in 2021.
"This isn't a normal year for FFA," he said. "I think if anything, [the virtual event is] going to be able to strengthen the programs that we already have in place, but not necessarily replace certain aspects. The convention has always been an in-person experience since our founding, and we plan to continue that."
"What this provides is an opportunity to create some unique experiences for all involved in FFA," Poeschl said. "Our objective is to be able to turn this into an event that actually is going to reach a broader audience—not only those that attend, but a lot of folks that are still in school or at home."
The organization is working with chapters to ensure students have adequate internet access to participate in the event. About 60% of FFA's membership is rural, with many households lacking reliable broadband connectivity, Poeschl said.
The group also has a partnership with RFD TV, a rural farming television network, that broadcasts portions of the convention. FFA hopes to extend that partnership in new ways this year.
The organization has not determined its speaker schedule but plans to firm up the list over the next several weeks.
In recent years, the list has included President Donald Trump, Vice President Mike Pence and Indiana Gov. Eric Holcomb. But Poeschl said FFA generally does not invite sitting political leaders to speak at the convention during their respective election years—something he expects will continue in 2020.
Please enable JavaScript to view this content.